One of the key components of any successful DIY home improvement project is simplicity. It's amazing just what you can achieve when you keep things simple.
That's a rule reinforced by the incredible job Duane did transforming the ceiling of his room with our faux wood Rustic Ceiling Beams.
Rustic Ceiling Design with Faux Beams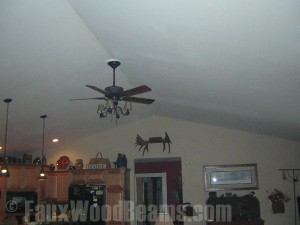 BEFORE: Duane's ceiling was broad and bare.
As you can see from the "before" pictures, Duane's beautiful Maine home had a stunning arched ceiling that looked kind of bleak. A ceiling fan, dark wood furniture and hunting trophies created a beautiful rustic vibe that didn't quite live up to its potential, overshadowed by the wide expanse of plain, white gypsum board on the ceiling.
Duane's answer was that simplicity I mentioned: Installing five rows of faux wood ceiling beams to help add depth and gravitas to the arched ceiling and match the rest of his stylish décor. That's where things go complicated, though. Settling on faux wood was easy – but which particular beams to go for was a little tougher!
"The number of products available surprised me," Duane admitted, when he sent us pictures of "before" and "after." "That meant the ability to order samples was extremely handy." Eventually, Duane selected a row of our Rustic Ceiling Beams, which were molded from an authentic, hand-hewn wooden beam.
Rustic beams are available pre-finished, intricately detailed to perfectly resemble real timber beams. Duane, however, wanted his to match the rest of the wood in his home, so ordered them unfinished.
"The only problem we had was with the color formula for staining. The color as mixed at our local store was not just right." Fortunately, this was another problem Duane was quick to find a solution to. "The clerk was able to add the right amount of colorant to get the color close enough for us."
AFTER: Faux wood beams add a beautiful rustic touch
The results speak for themselves – and almost as remarkable is the short length of time they took to accomplish. Installing real wood beams would be a lengthy process, involving several big, strong men to lift the weighty wood into position. Duane's incredible ceiling design took just three days, instead.
"We spent three days on the project: one day for staining, one day for laying out the ceiling blocks and one day putting up the beams." It's astonishing just how much the room was transformed in such a small space of time – and it's clear that Duane and his family are very satisfied with how it turned out.
"We are very happy with the product," he signs off, "and it gave us the look we wanted in our great room."
Have you had results that rival Duane's? Why not do what he did, and send in your pictures. We'd love to feature them right here!