Gerri Wallace from Boston recently sent us pictures of her living room's wall alcove which she beautifully transformed with Stacked Stone paneling.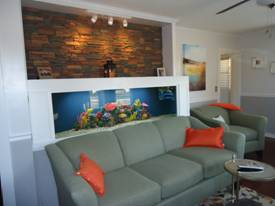 AFTER: With bright white paint, rail lighting and the new stacked stone texture, the remodeled alcove looks amazing
You've heard us say it before, but we'll say it again - less is often more.
Revitalizing a Living Room Alcove
That's certainly the case with this amazing project recently completed by Boston homeowners Gerri and Scott Wallace.
They were faced with an ugly, dated alcove bookshelf above the sofa in their living room, made of regular wood board that had been painted a vintage orange color.
Gerri's idea for the space involved adding the family fish tank; and to that end they looked for a complimentary surface that would fill in the alcove space and allow them to showcase their collection of fish.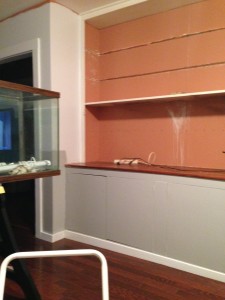 BEFORE: The ugly alcove bookshelf had to go.
The answer came in the form of Norwich Colorado Stacked Stone Fresco panels; which Gerri and her husband, Scott, used to fill in the alcove space.
The panels are made from durable, high-density polyurethane foam, and attached directly to the existing alcove surface with regular construction adhesive and screws.
The only challenge was cutting the panels to fit - something Scott could accomplish with a regular wood saw (and careful measurements!)
Once installed, the look was completed by adding rail lighting at the top, and updating the paint trim from a dated orange to a bright, modern-looking white.
The white opened up the entire room, while the lights created a warm, natural glow and showcased the panels' realistic stone texture beautifully.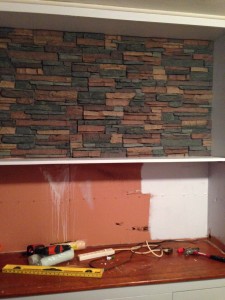 DURING: The panels attached directly the existing wall. Paint completed the rest of the transformation.
Once it was paired with blue paint trim and the gleaming glass fish tank, the project was finished - and the results were stunning.
As you can see from these before and after pictures, Scott and Gerri's project made their room look bright, open and modern; and the subtle addition of just a couple of stacked stone panels added a sophisticated element that really brought the room together.
What do you think of the results? Be sure to let us know in the comments section below!