Restaurant renovations have special considerations. An office or a retail store might be able to get away with sectioning off part of the business to keep customers away from the work and stay open.
Speed is the Key Ingredient in Restaurant Renovations
However, restaurants typically can't do that due to health code regulations. That means if they want to renovate, they have to close, and that downtime costs them money. Luckily, FauxWoodBeams™ can help.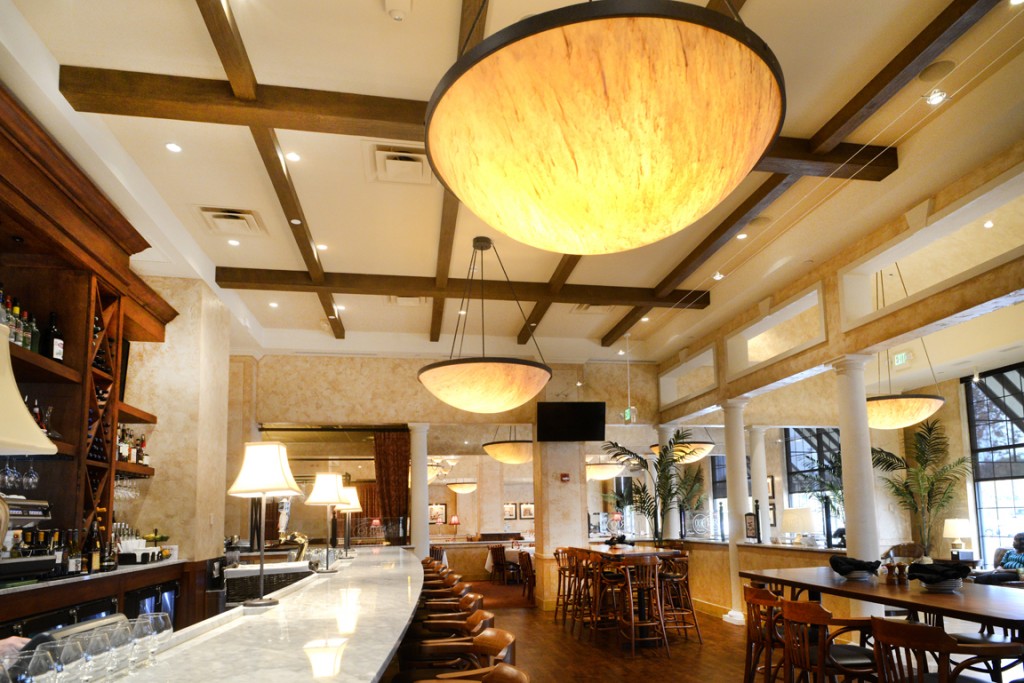 Brio Tuscan Grille has used Woodland beams at several of their restaurant locations.
Just because a restaurant needs to reopen as quickly as possible doesn't mean they want to sacrifice great results. After all, creating the right atmosphere is a big part of the dining experience. Our beams can be used to set any kind of scene from rustic and home-y to sophisticated and elegant with every style in between.
Real wood beams are very heavy so a solid wood beam two feet wide and 42 inches long could weigh more than a thousand pounds, which means you'd need hoists or forklifts to install the beams, as well as a large crew to handle the installation. It's also not an easy process to ensure that heavy, solid wood beams are installed properly.
Even then, you're not done. Real wood requires regular maintenance, like resealing. It can even attract pests like termites and carpenter ants. If used outdoors, it can rot or warp within a few years.
Our beams don't have any of those problems. A faux beam 6 inches wide and 8 feet long might weight approximately 11 pounds, so heavy equipment isn't needed, and it can be installed by fewer people, saving you labor costs.
Even better, all of our beams are hollow, making it easy to run wiring for lights, speakers, etc. through them. Real wood has to have channels drilled for such purposes, which can become complicated.
This hollow design can also accommodate the need to hide ugly support beams or duct work. This way you get the style you want without interfering with the practical side.
Their flexibility, practicality and great looks is why restaurants choose faux beams over and over again. Brio Tuscan Grille has used our beams in several locations, including their most recent addition in Huntington Station, NY. Depending upon the location, Brio uses our Woodland or Tuscany style beams to accent their restaurants' welcoming atmosphere.
One restaurant created a very striking ceiling design. First they installed faux bamboo panels from our sister site, FauxPanels.com™, and then added our Sandblasted beams on top, creating a unique look to go with its elegant décor.
Timber beams at Barrique Kitchen & Wine Bar
Barrique Kitchen & Wine Bar in Babylon, NY wanted to create a rustic, old world look for its tapas-inspired menu. Timber beams and ceiling planks combined to create the perfect look that evokes a cozy Spanish vibe.
Woodland at Sweet Tomatoes Restaurant
Sweet Tomatoes in Miami wanted to add style to the standard drop ceiling. They chose our Woodland beams and secured them over the existing ceiling to create an interesting angled design. The darker beams also worked perfectly with the deep coral-colored walls, creating an inviting décor.
Woodland was also the choice for All Star Burger in Bee Cave, Texas. The beams went well with the other wood accents and mottled brown floor while also ensuring a low maintenance future for the popular burger joint.
Mannino's Restaurant in Smithtown, NY, used Sandblasted beams two different ways. In the main dining room they used a lighter stain whereas in the bar area they used darker stained beams to contrast the light ceiling. Touches like that create a cohesive design.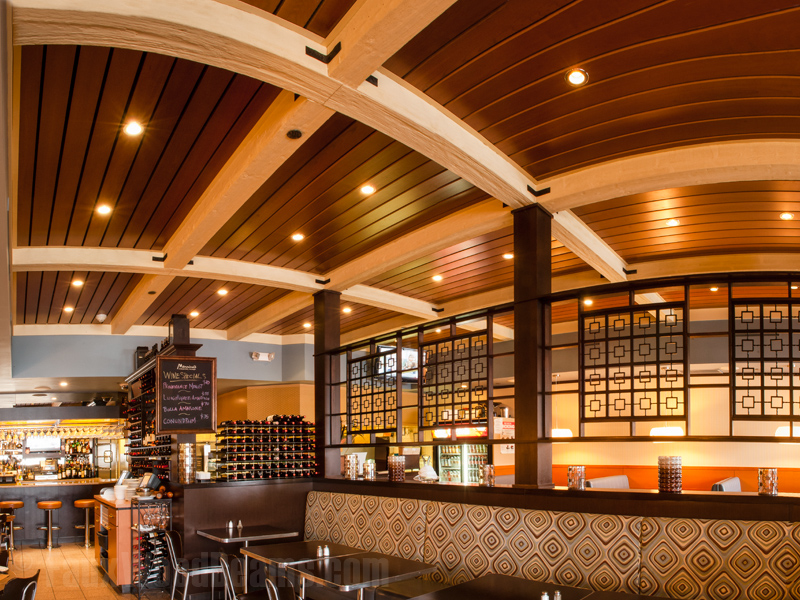 Sandblasted beams in a light-colored stain accents the darker wood in Mannino's Restaurant.
Even Starbucks has come to us. A Montreal franchise owner wanted to make its small location a bit cozier so he added Resawn beams to accent the exposed brick wall and contrast the white ceiling. The final look definitely makes you want to linger over coffee.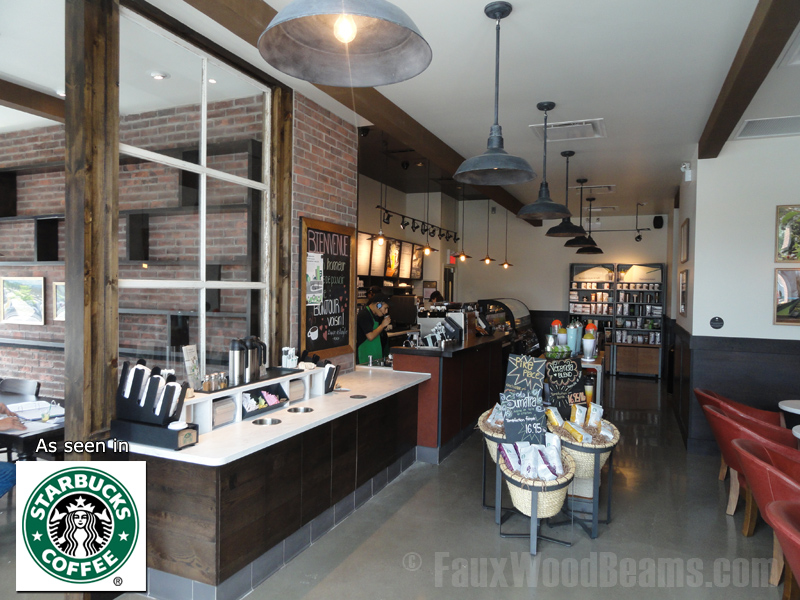 Resawn beams blend perfected with an exposed brick wall, adding a cozy touch to this Montreal Starbucks.
One Olive Garden location wanted an eye-catching sign that evoked its hearty Italian food. Timber beams framed and helped to create a rustic sign that was both durable and perfectly fitting for family restaurant's mood.
Timber beams accecnt a rustic Olive Garden sign that perfectly captures its Italian family-style atmosphere
So no matter what type, style or size restaurant you have, when it comes time for a renovation or expansion, think FauxWoodBeams™ to create the perfect design quickly and cost effectively.