Brick Replaced with Stacked Stone for Fireplace
Tis the season for one of the most popular applications of our panels, fireplaces, and this project showcases how one homeowner replaced her old brick fireplace with stacked stone elegance.
While the television has replaced the fireplace as the centerpiece of most living rooms, there's still no question that a roaring fire can instantly transform a house into a home. That's especially true this time of year, when the temperature has plummeted and many of us are spending more and more time with friends and family gathered around the hearth, rather than watching the TV.
This week, we received these pictures from BarronDesigns.com customer Leigh that demonstrates how the look of stone can make a huge difference to a room. Leigh lives in a beautiful, comfortable modern home but the original fireplace was lacking something.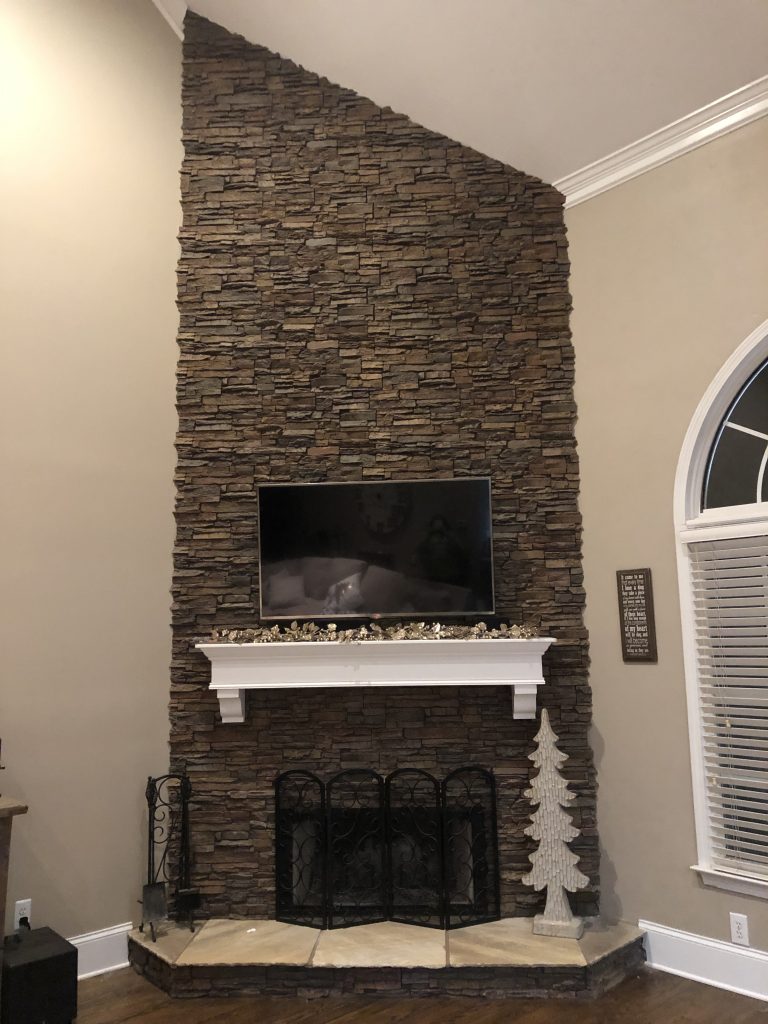 On paper, a red brick fireplace seems like a great idea; but as you can see from the BEFORE picture, the old fireplace seemed incongruent with the clean, modern design of the home - and was kind of intrusive into the space itself. That's what inspired Leigh to replace it with something a little sleeker and more elegant.
Leigh really wanted to use stone - since that's almost like a signature of a 'real' fireplace. In this particular home, though, it would have been difficult and expensive to use real stone as a facade, or to build a fireplace from, and it raise all the same issues that the original brick fireplace presented. In addition, it was unnecessary; since the fireplace was installed into the wall of the house itself using modern ducting - so the 'chimney' area was covered with regular drywall and there was no requirement to use a material like stone or brick to protect against or dissipate heat.
Instead of presenting a challenge, though, this actually provided Leigh with an opportunity. Our best-selling Norwich Colorado Stacked Stone panels in Earth color provided Leigh with a 'look' that was appropriate for the sleek, modern home, and was much more affordable and easy to bring together than any real stone or brick options might have been.
The first step was the get rid of the original fireplace - and that was probably the most difficult and time-consuming part of the operation. Leigh had to go into full demolition mode with a hammer and chisel, and the heavy bricks needed to be carted out and disposed of appropriately. This demonstrates one of the drawbacks of using real brick; especially in modern homes in which people want the versatility to change the decor and design to suit their individual tastes.
Once the demolition was complete, it was time to begin the panel installation itself. This began with measuring and trimming the panels to size, so they fit flush with either edge of the wall. Leigh carefully mitered the edges to fit flush with the angled edges, and also trimmed out a hole to allow access to the recessed fireplace itself.
Fortunately, our wall paneling is manufactured from lightweight and durable polyurethane foam which can be trimmed to size with regular woodworking tools; making installation accessible for anybody with basic carpentry skills.
Once that step was accomplished, Leigh began installing the panels from the baseboard up - slotting each additional panel row on top of the other to create a seamless stone texture from floor to ceiling. The higher panels required some additional measurement and trimming to fit with the angled roofline; but Leigh achieved that effortlessly - and the photo demonstrates how great it looks.
The panels were installed directly onto the drywall with screws and construction adhesive, and Leigh also added trimmed sections to the hearth itself to complete the 'look'. The final detail was to install a fully functional mantel - which was secured by drilling through the faux stone material into the wall studs beneath the drywall. The mounted television was also secured that way. These are, once again, little things that are much more difficult to achieve when using real stone or brick materials.
Yet, once installed, it's practically impossible to tell that this fireplace isn't made from real stone; and it looks so much sleeker, stylish and more in-keeping with the decor than the original red brick fireplace ever did. A perfect demonstration of how 'going faux' can often result in a better result than using authentic stone or brick materials.