Welcome to Creative Columns! Our plan for this blog is to provide helpful information, tips and inspirations for new design or remodeling projects using faux stone and brick columns.
Lingo Related to Remodeling with Columns
The columns and posts available at FauxColumns.com are not structural, but offer rather an affordable and DIY-friendly way to add the impressive elegance of real stone and brick columns to your home or business.
Ready to start your project? To get you better acquainted with faux columns, we present a quick rundown of all the available options.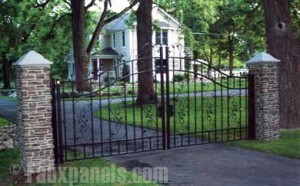 Ashford Ledgestone columns flank a wrought-iron driveway gate
Driveway Columns
The name driveway columns, while accurate, only tells part of the story. These columns' stately stone appearance also lends great appeal to fences, gates, porches or as stand-alone landscape accents.
The columns ship in one molded piece and install over a structural wooden post. Windsor Drystack and Random Rock columns also include a free solar panel kit for night illumination.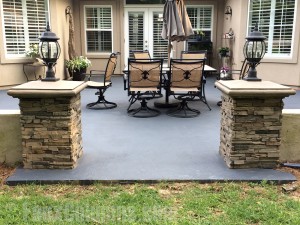 Wellington Dry Stack wraps offer a warm greeting to this home's patio.
Column Wraps
Column wraps also offer the look of real stone or rock, but are shipped in four flat pieces -- lightweight for quick assembly and interlocking to ensure a seamless final result. Wraps are particularly useful when you have existing support columns or posts that are in dire need of a facelift.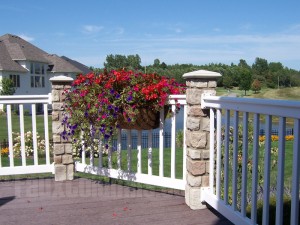 Carlton Cobblestone covers in Summer Tan accent this water view deck.
Column Covers
Column covers or sleeves are shipped in one molded piece, designed to easily slip over existing 6"x6" or 4"x4" support posts. With a stackable design that allows you to reach any desired height, these covers can be custom fit to front porches, lamp posts, deck posts -- even business signs.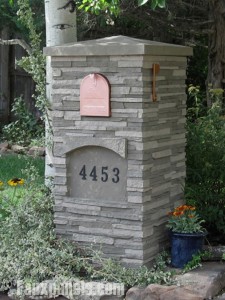 Windsor Dry Stack mailbox column in Tri-Gray
Mailbox Posts and Columns
There's no reason function can't rhyme with style. These posts convey the same sophistication as the decorative columns, but with the added bonus of housing your mailbox.
Ashford posts can be partially buried for shorter applications, and Windsor columns include a free solar lighting kit. Even better, both include the mailbox!
Now that you're up to speed on all the lingo, take a few minutes to browse through our photo galleries to see what else is possible with faux columns.