Character combines with functionality when you reface a fireplace with faux panels.
One of the reasons our stone, brick and wood style panels are popular is because modern building techniques have largely eliminated the need to use the real versions of these materials - but they still look great!
In fact, sometimes there are perfectly practical features in your home that simply don't look 'right' because they're not made from the materials you'd traditionally associate with that sort of feature.
Nowhere is this more obvious than with fireplaces.
In traditional and historic homes, fireplaces were often the centerpiece of the home - and made of brick or stone because those materials absorbed residual heat, were fireproof, and served as a sturdy foundation for a hearth or furnace.
With modern building techniques and the use of ducting and insulation means that it's no longer required to have a stone or brick fireplace. In fact, some homes have chimneys that run seamlessly behind the drywall; posing no risk of fire or heat damage due to the modern flues and ducting.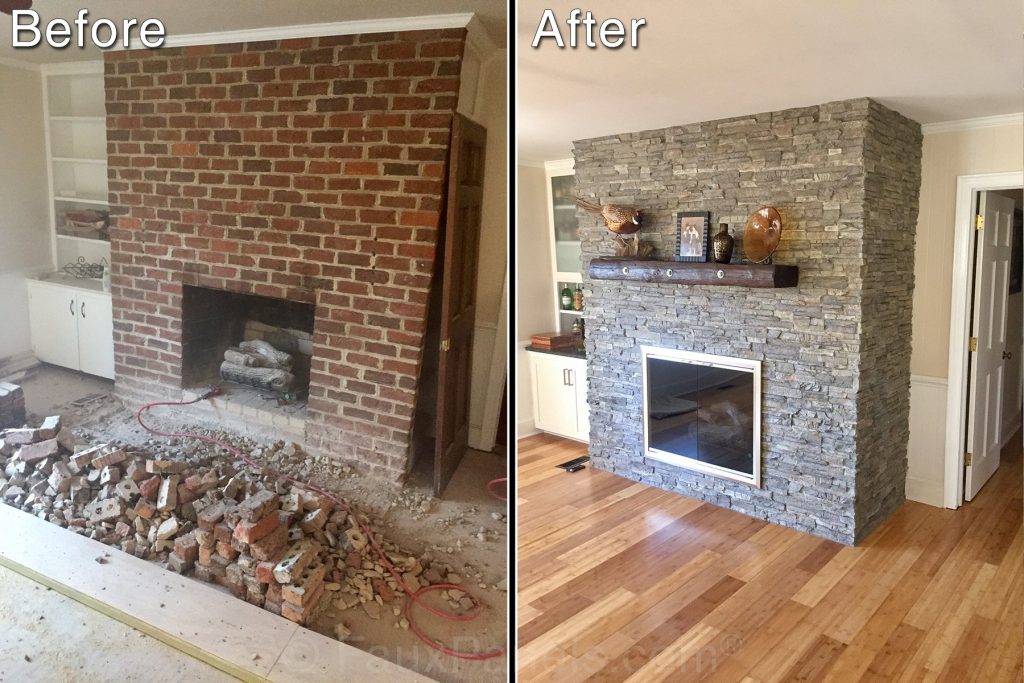 And while this makes fireplaces efficient and cost-effective to install, it does leave a lot of homeowners thinking that they're.... somewhat lacking. After all, what is a fireplace if it's not the sort of stone or brick structure where you can hang your holiday decorations or memorabilia.
This is why one of the most popular uses for our panels is for resurfacing fireplaces and chimneys. Every week we get sent new photos from enterprising homeowners who've covered up their boring drywall or tile with the look of real stacked stone, ledgestone, brick and more.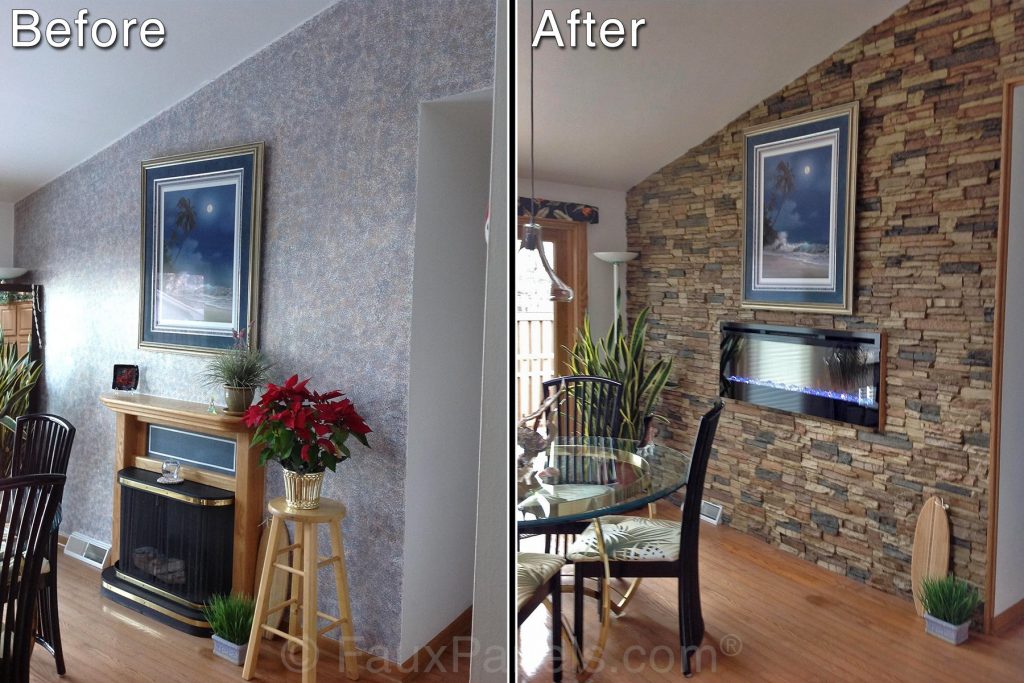 What makes our products so perfect for fireplaces is that they look incredibly realistic. Whether you choose Stacked Stone, River Rock or Old Chicago Brick, the panels themselves are practically indistinguishable from the real thing once installed; transforming a fireplace without costing anything near what using real stone or brick might.
Getting this look is easy and straightforward. The first step is to decide how much area you want to cover and then choose the style panel that best fits your decor.
Once you've decided on that, it's time to address any potential challenges, like corners. These are what make all the difference with a fireplace project - and you'll be happy to know that there are a number of different options open depending on your level of carpentry experience.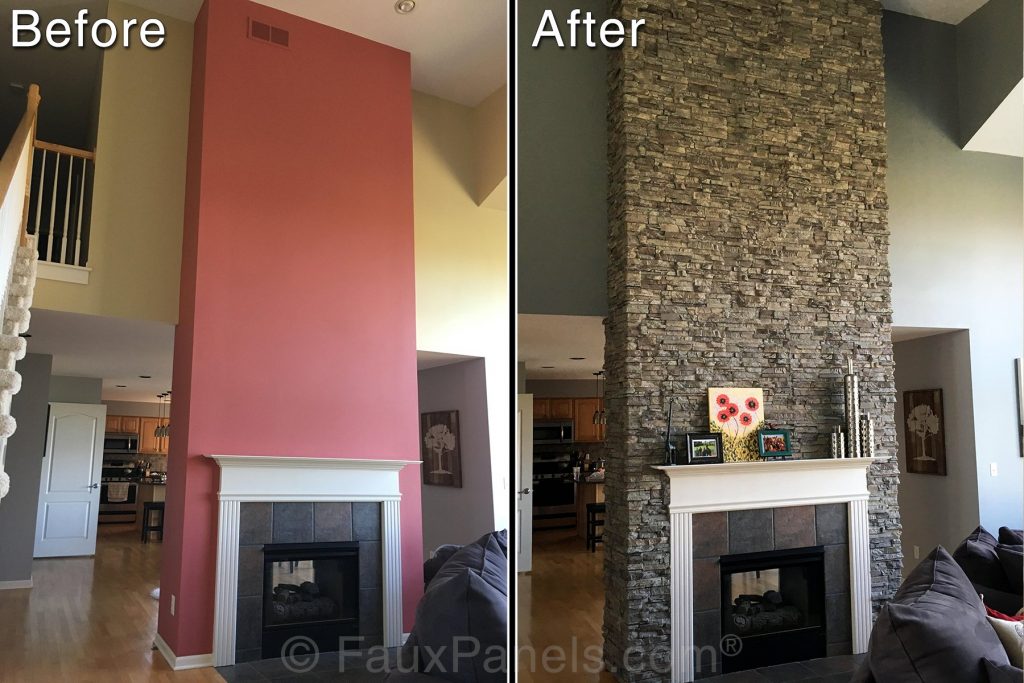 For pros, you can miter the panels quickly and easily - basically 'folding' them around the corner of your fireplace for a totally seamless texture.
If that sounds a bit challenging, we have pre-made corner pieces that can help you get a stunningly realistic look without having to do anything complicated like mitering.
Once those challenges have been considered, the installation process itself is fairly simple. The panels need to be cut to size, and that can be done with any regular wood saw. They are then attached to the fireplace's original surface with regular construction adhesive and screws.
A customer recently sent us this great video he and his wife installing Norwich Stacked Stone panels over their brick fireplace.
You can also see more examples of fireplaces remodeled with the panels in our Fireplace Design Ideas inspiration page!
It is worth nothing though, that while our truly capture the texture of stone or brick, they are ultimately not made from those fireproof materials. When installing them on a fireplace opening or insert, or a stove, you need to follow the Fireplace Insert/Stove Manufacturer's specifications for required clearances to ensure that the panels are safe.
Anywhere there will be a "live flame" (i.e., wood, coal, etc.), it is recommended that you use some type of a stone or non flammable border (minimum 6") before starting our Panels, and then use Class A fire-rated panels for the area immediately surrounding the opening. Fortunately many of our top-selling panels are available with the fire-rated option.
That being said - a Class A fire rating makes the panels more fire and heat retardant, but it doesn't make them fire proof. Therefore, our product is not suitable for the inside of your hearth or firebox.
Other than this, our standard panels can be utilized with the same clearances observed as the Fireplace/Stove manufacturer recommends for any standard paneling material or sheetrock (Class B Materials). You also must adhere to any, and all, building and/or fire codes concerning clearances that are applicable in your area.
With just a few considerations, you can use our panels to resurface and transform any modern fireplace into something classic - and, if you do, we'd LOVE to see pictures!