This week, the famous New York Renaissance Faire opens in Sterling Forest. Many Renfaire fanatics use our faux wood products to get their own renaissance look and feel at home.
Recreate the Ren Faire Look with Faux Wood Beams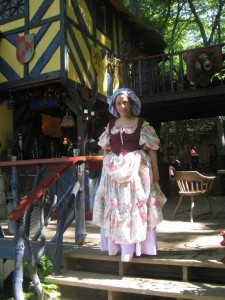 The renaissance faire is a great place to find inspiration for a false beam project.
All year long, thousands of New Yorkers look forward to the opening of the New York Renaissance Faire.
Located in the forests and mountains of upstate New York, it features a host of live-action fun and adventure for the whole family, set in a village lovingly created to bring the middle ages to life.
Our faux beams are incredibly popular among fans of the renaissance lifestyle, because they offer a chance to get a period look and feel at home without the cost and inconvenience of wood.
Molded directly from real timber, they're vividly realistic - and incredibly easy to install almost anywhere.
From a city apartment to a modern home, all it takes to install our false beams is a tape measure, a wood saw and a screw gun. You can also get the look of an authentic Tudor building - just like the pub in the picture to the left - using our faux wood planks.
All you need to cut our beams to size is a regular saw, because they're made from light, yet durable polyurethane.
It takes just one person to maneuver them into place - although we recommend two for ease-of-installation.
Using wooden blocks to mount them, they can be easily attached to ceilings or walls with regular screws.
Using just a few wooden beams can bring any renaissance-inspired design to life - your only limit is your imagination!
If you've used our wooden beams for a historical-themed project, we'd love to see pictures of it! Send them to info@fauxwoodbeams.com.