Building with Reclaimed Wood Beams
Yes, we love the "faux-ness" of it all. But we also love to build re-using timbers saved from old barns and buildings. Nothing beats the patina look that comes from wood that is actually 100 years old.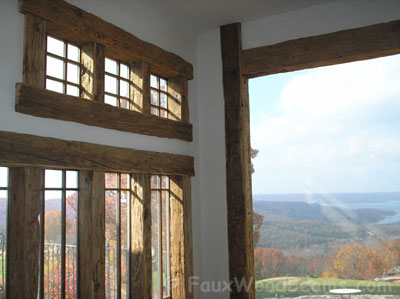 Reclaimed Wood Beams Accentuate A Stunning View
Where does all that character of reclaimed wood come from? Well, we have white pine from a peg and post barn in Minnesota. Or you could install a tamarack wood beam piece made by hand in the early- to mid-1800s from a Wisconsin barn. Classic milled beams are sturdy rock elm wood from near the Mississippi River.
All of the vintage, reclaimed beams are unique – so expect nail holes, distress marks, checking or peg holes. Each beam will have an individual look due to warp, twist, wane and inconsistency of material thickness. These reclaimed beams are left about 6" to 10" long intentionally for the finish carpenter to cut to length on site.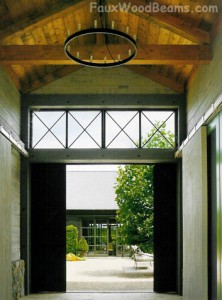 Reclaimed Wood Beams Above an Entranceway
See all the varieties of reclaimed wood beams here.