Chic and timeless, red brick is a great building material for adding foundation and flair to your design projects; and FauxPanels.com has a new selection of products that perfectly capture that timeless look.
An Affordable Alternative for Reclaimed Brick Veneer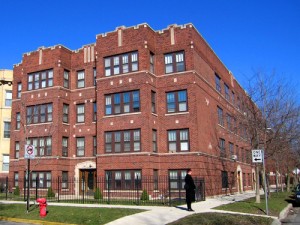 Red brick is one of the most iconic design materials in Chicago
During America's golden ages of construction – in the late 19th century, the "roaring twenties" and following World War II – huge quantities of red brick were used to build towering structures in major cities across America.
Perhaps nowhere was the use of red brick more prevalent than the Windy City, Chicago; where brick offered the perfect insulation against the bitter Illinois winters.
Today, as glass and steel become the building materials of choice, a thriving business in salvaging red brick from demolished buildings has emerged; re-purposing these building materials for use in the home, garden and for interior design.
The appeal of reclaimed brick is obvious. Beautifully imperfect – with color and texture earned through decades of exposure to the sun, wind and rain – it adds an instant air of timeless solidity to any surface it's used on.
However, even though this brick is "reclaimed", it remains a fairly expensive material to use and is labor-intensive to install correctly. Some walls may even need to be reinforced to mount the brick because of its weight.
That's why FauxPanels.com recently added some great new products to the lineup intended to offer an affordable, easy-to-use alternative.
Their two new Regency panel designs, Old Chicago Brick and Regency Contempo, are both inspired by the beautiful brick surfaces found in historic American cities like Chicago. The brick veneer panels are stunningly realistic, because each design was molded from the authentic brick face itself; perfectly capturing every detail in tough, light and durable molded polyurethane.
Regency Old Chicago Brick perfectly captures the look and feel of reclaimed brick
These panels even offer an improvement on the authentic; that they're are available in a variety of intricately rendered colors and hues perfectly matching whatever project you intend to use them for. You can also order them Class A Fire Rated, which makes them ideal for use as fireplace surrounds and on chimneys.
We're already receiving before and after pictures of home design projects our customers have accomplished using our new Regency panels - keep checking back here and we'll post them soon. In the meantime, if you decide to add a little old Americana to your interior or exterior walls with our new brick panels, don't hesitate to send us all the details, at info@fauxpanels.com.