Rustic Designs with Reclaimed Barn Board Paneling
We've recently added a new line of faux panels, which we're proud to announce here on the blog. Made in the unique style of reclaimed barn board paneling, they are a complete innovation in the design industry. Nothing like them has been seen before.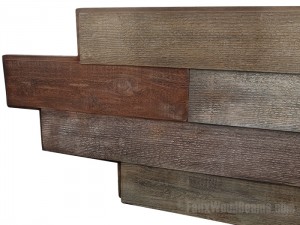 The panels are highly durable polyurethane replicas crafted from master molds made of wooden boards that were salvaged from beautiful old country barns. The result is a strikingly realistic decorative panel that has the same alluring charm and texture of real antique barn wood.
The beauty of these panels consists in the fact that they offer a consistently uniform color style and texture that can't be achieved with actual barn board, since the wood on barns comes from trees of varying species, locations, climate conditions, and soil mineral exposure. The naturalistic variation in color of these panels resembles ones taken from a real barn. The result is a gorgeous design element that adds a rustic flair to any décor.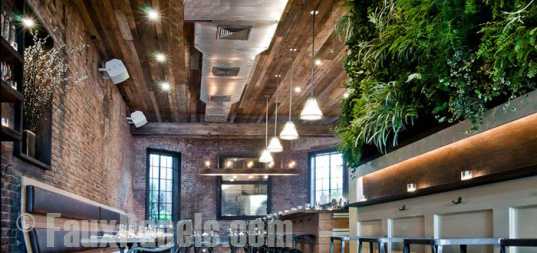 Barn paneling adds style and taste to restaurant settings.
Easy to install, the reclaimed barn board panels weigh under a third the weight of real wood barn boards of the same size. In fact, the DIY installation of these panels is easy enough to complete in a short amount of time, using just a few basic tools.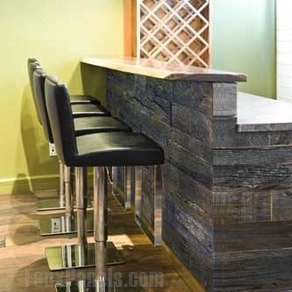 Barn board panels are a lovely accent for bar counters.
Another advantage offered by these panels is that they are maintenance-free, thanks to their sturdy polyurethane construction. With a weatherproof quality, they can be used for outdoor designs, and will effectively resist harsh climate conditions, never chipping, cracking, warping, or rotting. The polyurethane material is also resistant to termites. In addition to weighing less than real wood, these panels also cost much less than genuine barn boards would.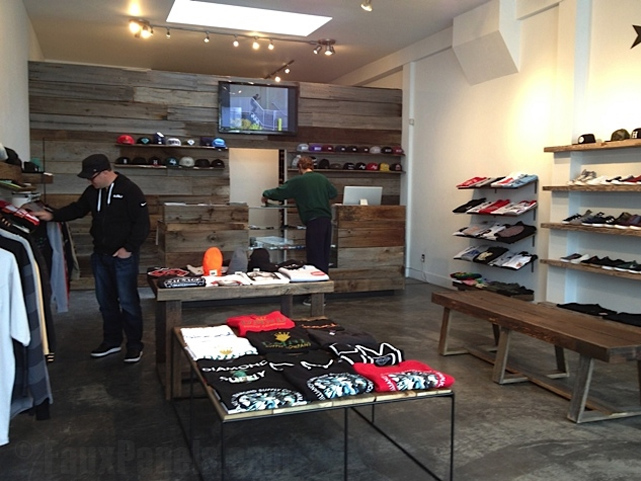 Reclaimed Barn board paneling adds a cozy feel to retail environments.
You can be sure that the impressive décor these panels create will retain a charming look throughout the years.
Take a look at the two additional photos below to see how Faux Reclaimed Barn Board can be used to add charm to any design.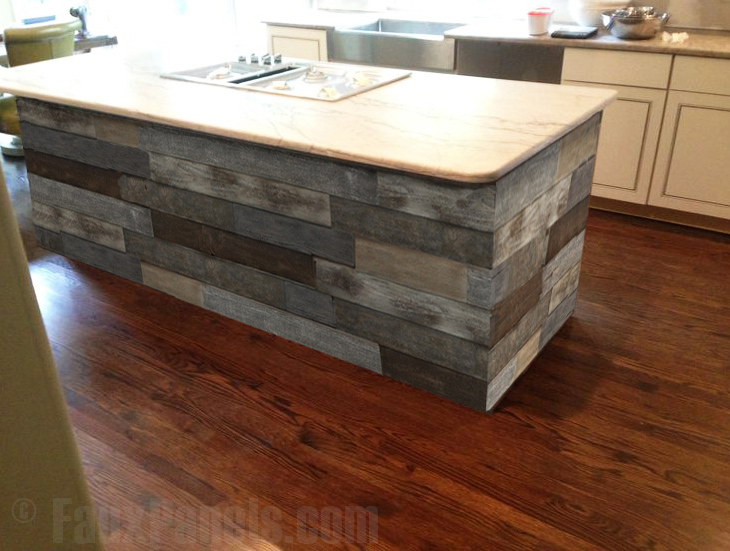 The paneling looks great on kitchen islands too!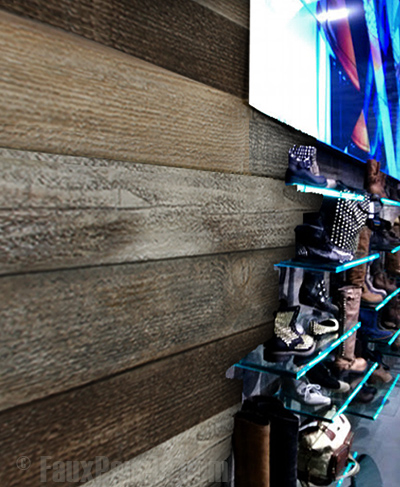 The paneling provides an excellent background for product displays.
Be sure to also take a look at our new fake reclaimed barn board panels in the Shiplap style. They are perfectly designed to replicate the look of overlapping boards traditionally associated with the outer walls of coastal cabins and cottages. The result is a decorative element that adds a cozy and rustic touch to any design. Below are two pictures of the new fake reclaimed barn wood shiplap panels.

The Wellington Reclaimed Barn Board Multicolor Shiplap Panel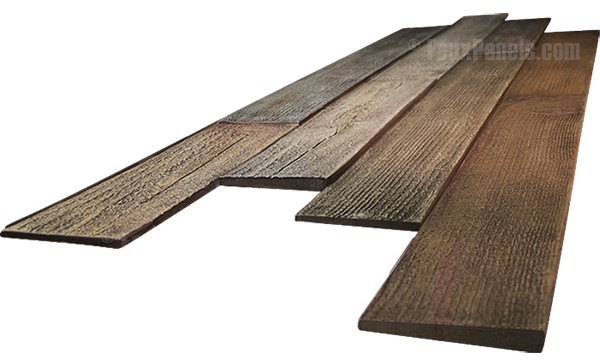 The slightly overlapping panels of the shiplap reclaimed barn board is a style reminiscent of coastal cottages.