Regardless of how much work you've done inside, an unattractive exterior home design can make a negative first impression on visitors. That's what led customer Ryan Soto to update his ranch home exterior using faux stone panels from Barron Designs.
Ryan wanted his home's exterior to reflect the same kind of character as the inside. Before beginning his project, his home lacked individuality and it looked dated. Since Ryan takes great pride in his house, he wanted his home to reflect his more modern style.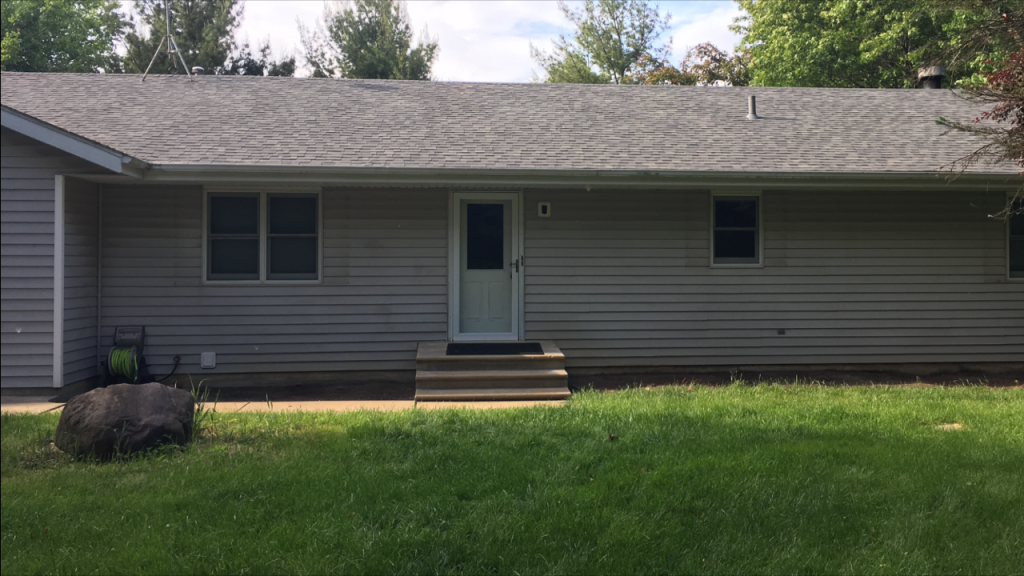 BEFORE: Before Ryan's ranch home exterior facelift, his house did not stand out or look particularly modern.
Ranch-Style Home Exterior Gets a Facelift
Ryan wanted to improve his curb appeal with an exterior remodel of his ranch-style home, but didn't have the budget for such an overhaul.
And, since he is a DIY-er, he didn't want to hire a crew to do the work. He knew, from experience, that he would put more heart into the project than any contractor, so he turned to Barron Designs for help.
Ryan decided his ranch home exterior would benefit from the addition of faux stone.
This solution aligned perfectly with his other design idea: to add a covered porch to the front door, with matching columns to protect against the elements. He wanted to create faux columns at the base of his porch, then mirror that texture by siding the front of his garage with the stacked stone panels.
Ryan knew that the Regency Stacked Stone panels in the Iced Coffee color would pair beautifully with the exterior house color for his ranch style home, a darker blue-gray paint he had used to cover the existing siding.
Together, the three elements of his redesign – the siding, porch and paint job – would work in perfect harmony to create the ranch home exterior of Ryan's dreams.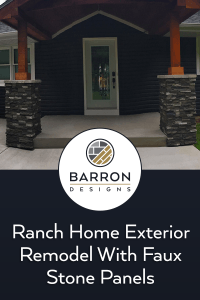 Steps for the Ranch Home Exterior Remodel
Ryan took a number of steps when remodeling his ranch home exterior. They included:
First, Ryan watched our easy DIY tutorials on installing the Regency Stacked Style faux panels, corners and ledgers. These

panel siding installation tutorials

contain simple-to-follow steps along with clear photos, making installation a breeze. He followed all safety precautions and knew that if he needed help, he could reach out to us at any time through email or phone.

Next, Ryan built out the covered porch. He removed the existing stone steps and created a new porch base with concrete, then built a porch out of timber.

After that, Ryan covered the base of the supporting columns, using faux stone corners

, which gave them a sturdier look. One of the corners was used on the right-hand edge of the garage, but the others were created using the standard-size panels.
By limiting the amount of covering used – just a single row of panels across the front of the home – Ryan demonstrated the value of the philosophy "less is more." This also kept his budget lower and reduced the length of time required for installation.
Although Barron Designs offers pre-made columns in a variety of faux stone finishes that would have perfectly suited the task in hand, Ryan wanted to customize his columns, which is why he used pre-made corners instead and simply installed them as a four-sided square.
Ryan topped the custom-made columns with

matching stone ledgers

to finish them off.
The final step was to match the

faux stone ledgers

with the panels on the front of his garage, which he did using the same stacked stone pattern as the columns.
He framed the panels with white stone edges, matching the new window edging and doors. The end result blended perfectly into the overall design he'd envisioned.
The Results of the Ranch Home Exterior Upgrade
AFTER: The new front porch with stacked stone-style column bases.
The results of Ryan's ranch home exterior upgrade were impressive. Even better, it's impossible to tell that this renovation was done with faux stone. It immediately transformed his home from ordinary to elegant and modern.
While custom-made columns are generally recommended for an installation like this, Ryan used his DIY intuition and created a custom project he could be proud of. The fruits of his labors paid off and the comparison between the "before" and "after" photos demonstrates what a dramatic transformation he was able to achieve using faux panels.
Ryan was thrilled with the end results – and based on the pictures, you can understand why. In fact, after finishing his project, he told the Barron Designs customer service team, "I'll be ordering more for our next project around back!" It looks like this DIY enthusiast just can't get enough of the faux panels.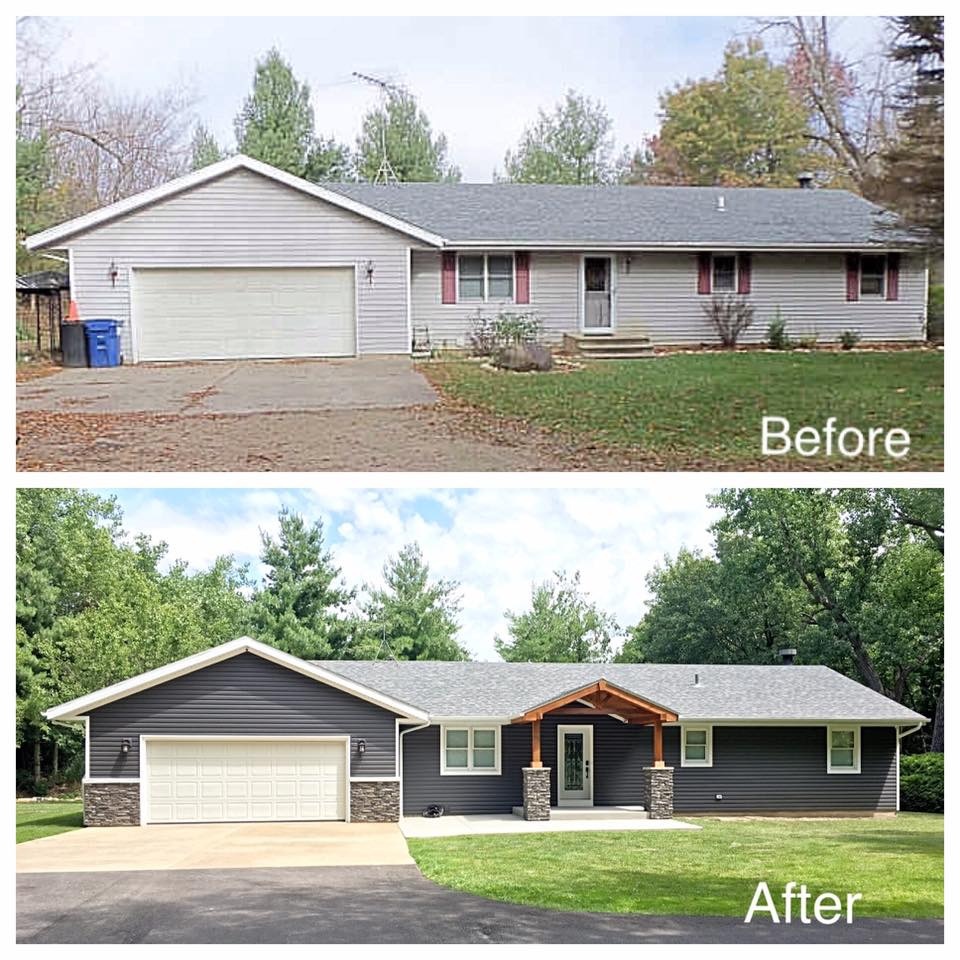 What do you think of Ryan's new ranch home exterior? Is there anything you would have done differently?
Want to give your home exterior a facelift? Shop our faux panels and siding and easily install them on your own home for an immediate upgrade.