This week we're putting the spotlight on this DIY range hood project done by customer Sherry Stark.
Sometimes the simple things end up looking the most sophisticated, and this is certainly true of the latest project. Sherry revitalized the look of her kitchen by covering her range hood with a Norwich Colorado Stacked Stone Tall column in the Birchwood color.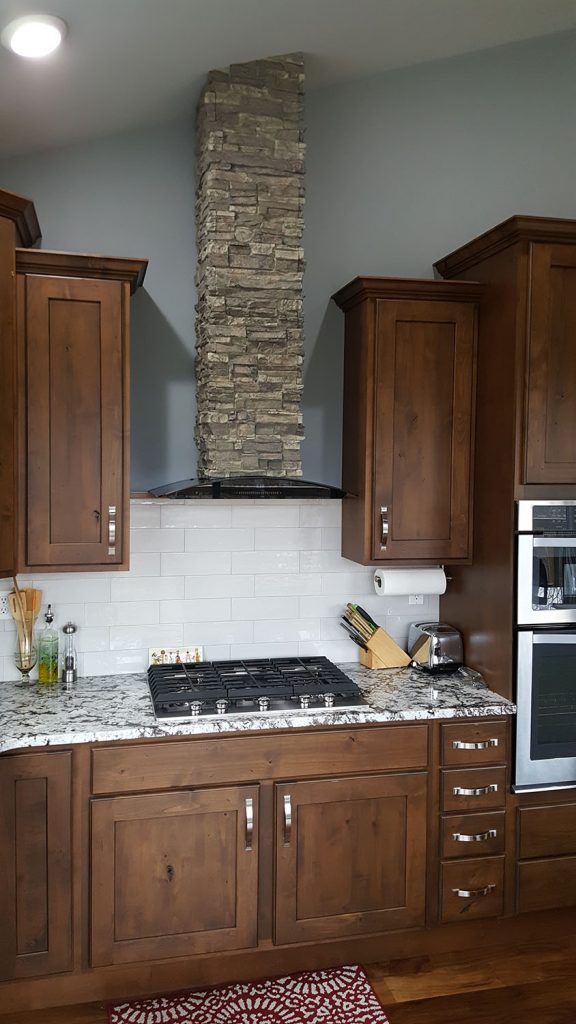 Molded from authentic stacked stone, and then beautifully finished in a hues, the column looks realistic; but its lightweight and durable polyurethane material makes projects like this much easier and more practical than those using heavy, unwieldy stone.
What made Sherry's choice of product so smart was that she bought a column instead of panels. Columns are shipped with four separate, but interconnecting sides; and effortlessly assemble like a jigsaw puzzle around whatever you want to cover. They're a popular choice to cover fence posts or basement columns; but versatile enough to use on something like this range hood. The column also eliminated the need to miter corners -- all the hard work was already done for her.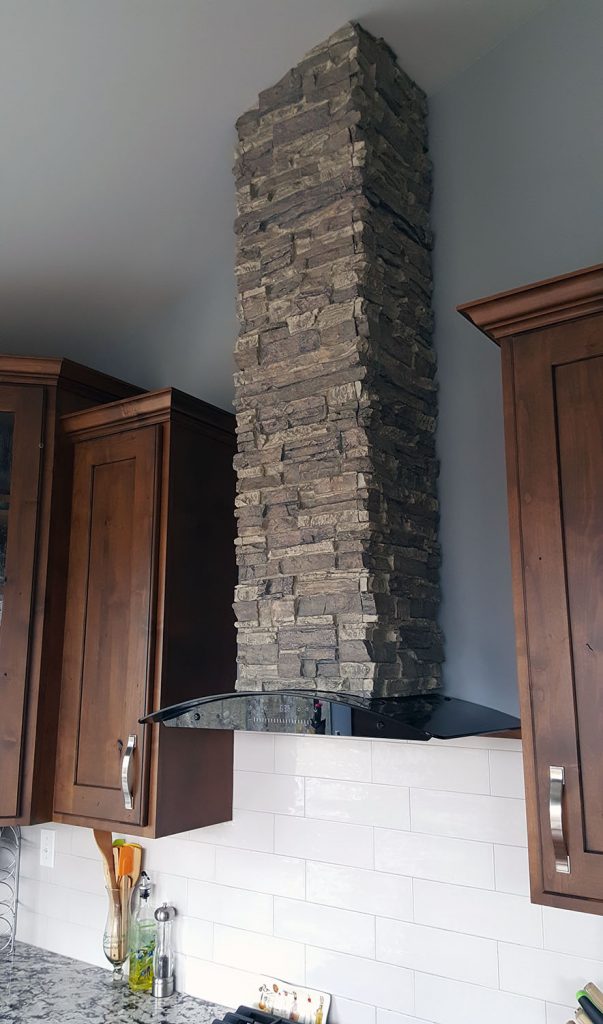 The only challenge Sherry faced was cutting the top of the column at an angle, to seamlessly fit flush with her angled ceiling. Fortunately, our products can be cut to shape with a regular wood saw, and all it took were some accurate measurements and basic carpentry skills for Sherry to get the fit she needed.
Once that was done, she simply assembled the four sides of the column around the hood, and secured them in place with construction adhesive. And the finished result? You'd never know how quick and easy it was.
Now Sherry's range looks like it has a unique and authentic stone 'chimney' rising into the ceiling; and only by reaching out and touching it can people tell the stone isn't real!
It's a project that's elegant in its simplicity; and we're thrilled to share it here. Hopefully it'll inspire some people to try a similar design; and if they do, we hope they send in pictures so we can share them with everybody.