Hollow Mantel with Built-in Speakers for a Super- Powered Design
Think fireplaces are old-fashioned? Brings yours bang up-to-date with a hollow mantel.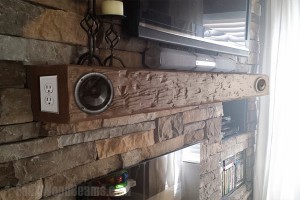 As it is hollow, you could run cables, or install recessed lighting or speakers in a faux wood mantel.
We recently got an email from Marc Briggs, from Rhode Island, who was asking about just how customizable our mantels really are.
"I've got a flat screen TV attached to the wall above the fireplace, and tons of cables and wires all over the walls. I know your mantels are hollow - can I run those cables inside it?"
Actually, Marc - you can do a whole lot more than that.
In fact, Marc's question got our creative juices flowing, and we mocked up what we called the 'super-powered mantel.' It's a regular mantel, with a little extra.
Exactly as Marc suggested, these mantels are hollow. They're actually mounted directly to the wall by slotting them over mounting blocks. That means there's space inside for a lot of things - not just wires.
We dreamed up the perfect mantel for Marc's situation. Not only does it seamlessly hide the wires from the wall socket and cable box - but we've added more.
Like, how about a regular 110v socket at the end? For plugging in lights? Another suggestion were USB ports, for charging phones and iPads.
Because the mantels are made from lightweight polyurethane, you could easily cut holes to size with a regular wood saw, and seamlessly install sockets right into the surface itself.
And why stop there? If you're a fan of surround-sound, you could actually cut holes in the mantel and install speakers in there! One member of the team even suggested having an Aux-In jack, so people could plug their iPhone into those speakers.
We haven't done any of these things - but there's no reason why you couldn't. In fact, over a big solid lump of timber, we think these ideas are even more reasons why 'going faux' beats what can be done with the real thing.