Check out how Milissa's husband and father installed beautiful patio columns in just one weekend with Colorado Stacked Stone column wraps and a coordinating column cap.
One of our most innovative products is our four-sided column wraps. With the authentic look of stone or brick, they give an instant facelift to supporting columns and posts, but without the complication of detailed mitering or cornering. These project photos sent in by customer Milissa demonstrate just how amazing the wraps look – and how simple they are to install.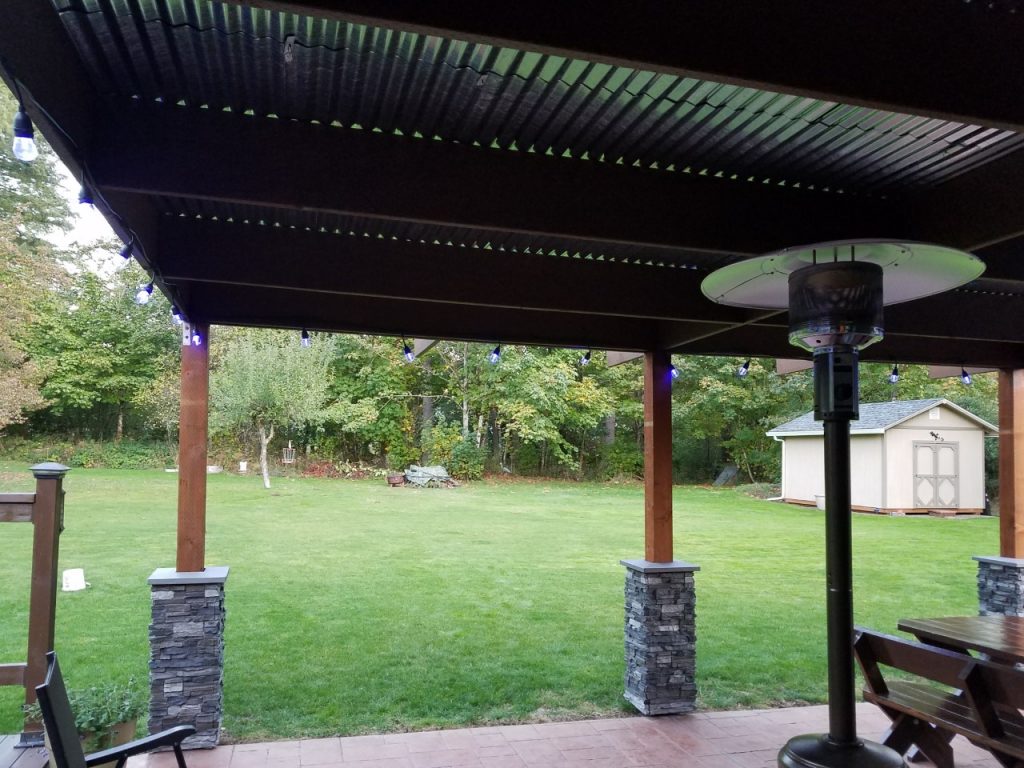 Why Use Faux Materials for Patio Columns?
Milissa's home has a beautiful paved porch with sturdy load-bearing columns made of timber cemented directly into the ground. She wanted to add something to give her outdoor seating area a more structural, developed look. In her mind's eye, she envisioned the stacked stone columns you might see on a traditional Craftsman-style home.
Unfortunately, a real stone base comes with an immense cost of materials and labor, not to mention maintenance headaches. Once you encase timber in solid stone and mortar, it becomes very difficult to swap out or repair rotten wood years down the line.
All in all, Melissa's desire for stone columns didn't make much sense practically or financially. So here's why she chose faux stone columns instead of the real thing.
Faux Stone Backyard Columns Save You Money
While impressive, columns made of real stone are difficult to extract from the ground and are extremely heavy. This increases the cost of both the purchase and shipping. Plus, you likely need to pay for professional installation. By contrast, faux stone is affordable to buy and ship, saving you money at every step of the process.
Faux Materials Look Like the Real Thing
Faux stone columns are a smart choice when you want the look of real stone columns, but don't want to pay the price. The columns can be customized to fit your vision and budget and look indistinguishable from real stone.
You can find various column styles in a range of textures to mimic the character of almost any type of stone, so your new columns will look as if they were originally built into your backyard and can effectively complement your potted plants.
Milissa chose our Colorado Column wraps in a realistic Ice Coffee finish. Browse our samples and pick out your favorite among diverse styles like Colorado Dry Stack Stone or Carlton Castle Rock.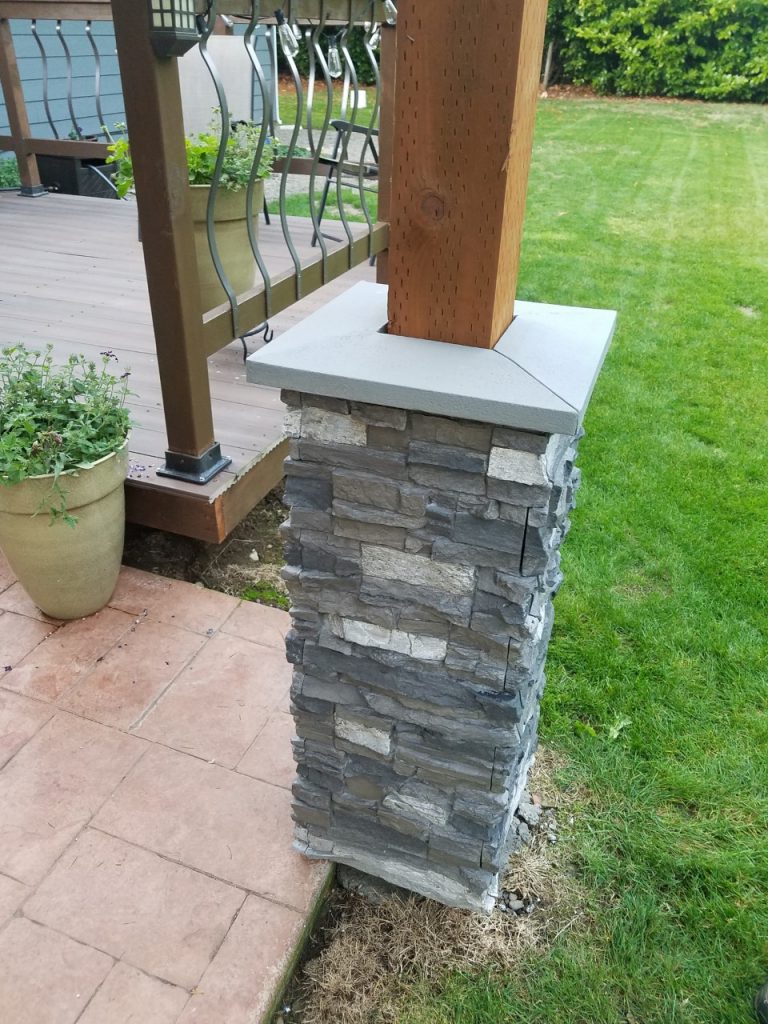 As You can see from this close-up, the wraps look just like real stone.
Our Patio Columns Are Built to Last
Our faux stone columns are made from weatherproof polyurethane that stand up to the elements and are pest-resistant. They eliminate the cost and other issues that come with using real stone. They're available pre-cut, pre-measured, and pre-colored.
Our Patio Columns Are Easy to Install
Milissa kindly included step-by-step pictures to demonstrate what's required. Because she chose lightweight faux stone columns, she didn't need to call in the professionals.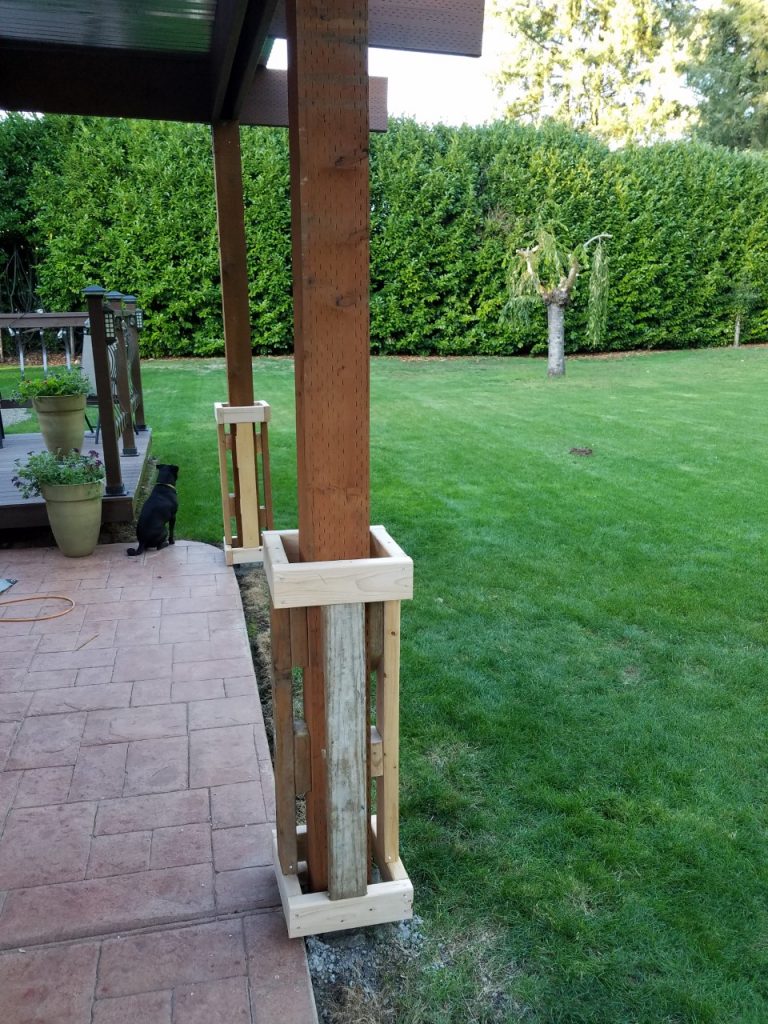 The panels were attached to a wooden framework built around the supporting patio posts.
Instructions
Step 1: Measure and build a wooden frame around each column, which can be accomplished with a regular wood saw, screws, and a tape measure.
Step 2: Attach each of the four sides of the wrap to the wooden frame using construction adhesive and exterior-grade screws, with the pre-cut corners seamlessly connecting together like a jigsaw puzzle. This ensures a flawless stone texture all the way around.
Step 3: Place a two-piece column cap on top and secure it with construction adhesive – and you're done!
This process can be accomplished in a matter of hours, and the photographs speak for themselves with how great the end results look. Over the course of a single weekend, Milissa's father and husband managed to install all the column bases, and her patio was transformed as a result.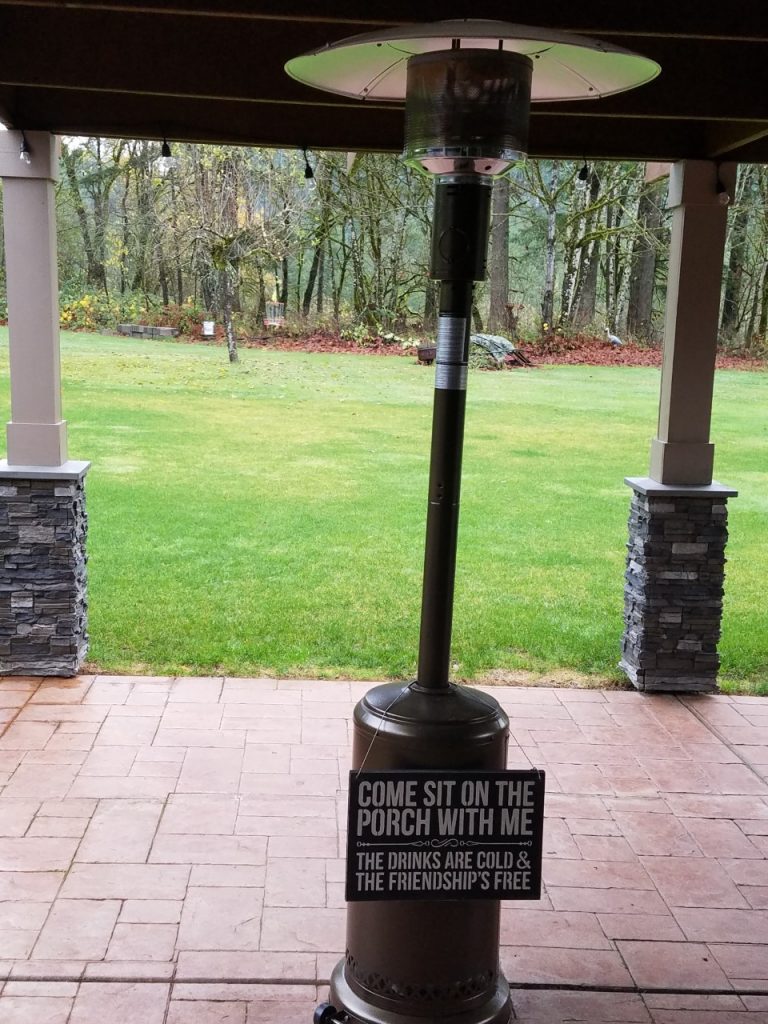 The finished product.
"They turned out beautiful!" Milissa wrote in her email to us – and we couldn't agree more! If you've got similar home design project photos to show us, don't be a stranger. You can email them to us at contact@barrondesigns.com or click here to submit them through our website. We might even ask to include them in a blog!
For those of you just getting started, click below to see our collection of faux stone and faux brick column wraps and sleeves that can improve your outdoor living experience.
More Patio Column Ideas and Exterior Inspiration
If you're not quite sure what look you're hoping to achieve with your backyard or porch design, you might need some ideas and images to bring your concept into focus. Below are more inspiring photos of completed projects from happy customers, whether you want patio pillar ideas or plan to install backyard columns.
Stacked stone faux column wraps add depth to these front porch posts and complement the porch railings.
Another great porch idea is to use column wraps for a stately effect.
Caps add drama to these front porch columns.
A mailbox kit gives your letter box a permanent look.
4-sided beams lend charm to this sunny porch.
Faux stone panels create a striking effect in the space between tall exterior windows.
Faux brick panels enhance the columns on either side of the front door.