Many of our customers are so satisfied with the difference faux stone outdoor columns have made for them that they send us Before & After photos of their remodeling projects. Take a look at their pictures below to get an idea of how faux stone columns can easily upgrade your home or business.
Carlton Cobblestone Summer Tan Column Cover
I just wanted to share the before and after pictures of our home after using your products. We can't believe the difference it has made, we are so happy with it. We have received so many compliments. Most people don't even know that it isn't real stone. Great job and a great product! Thanks for all the tech help as well. - Thomas P. - Brockway, PA
Norwich Colorado Stacked Stone Graphite Column
Let us start by saying, we couldn't be happier with your product and the look that was achieved; just as we imagined it… - Denise C.
Wellington Dry Stack Earth Wide Column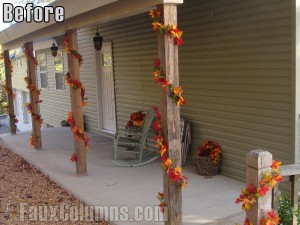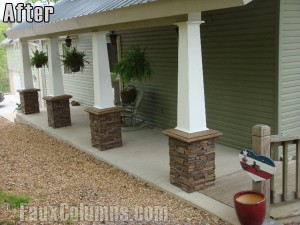 We endeavored to modify our basic lake house into a craftsman style cottage appearance and the Wellington Dry Stack column wraps helped us move in that direction. My neighbor and my sister were so impressed with the appearance they are in the process of placing orders for use on their homes. - TennGriff, Middle, TN
Wellington Dry Stack Earth Wide Column
Here is the new Mailbox that we just completed yesterday. We used the Wellington Earth Dry Stack Wide Column to make the body of the mailbox. Then we used on of your Wide Column Caps for the top. - Holly B.
For more photos, please see our Photo Gallery.