This November, you can save 10% on any orders from our Norwich line of panels.
As we pack away the Halloween decorations, and try desperately to resist the leftover candy, it's apparent that fall is most definitely upon us. That's why, as the weather cools down, we've decided to heat up the reasons to get started on any projects you had planned which involve our Norwich line of panels.
Throughout November 2017, you can save 10% on any Norwich panels - and depending on the scope of your project, that could add up to big savings.
Norwich features some of our most popular signature stone and rock styles, which are perfect for adding some cozy warmth to any home. Available in a wide variety of colors and styles, all Norwich panels are made from lightweight and durable polyurethane foam, and vividly capture the texture of real stone in incredible realism. Our panels look spectacular, yet cost a fraction of real stone and are infinitely easier and more practical to install.
Here are the styles you can save on this month:
Norwich Colorado Stacked Stone Panels
Colorado panels vividly recreate the look of 'stacked stone.' This is a classic style of construction used throughout the world, in which people hand-lay flat sections of stone to create walls and foundations. We named these panels "Colorado" because it's a style of building that was used extensively on the American frontier, where, with the right blows, the boulders of the Rocky Mountains would naturally splinter into sections ideal for constructing this type of wall.
We offer Colorado Panels in no less than 25 different colors, all subtly detailed to match the hues and tones of real stone. Earth, Sierra Brown and Desert Sand are the best-selling colors; each with different colors for different rocks.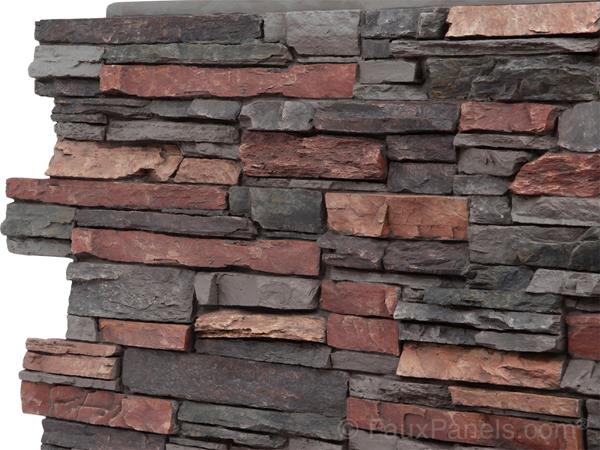 Norwich Colorado Stacked Stone panel
Norwich Dakota Stone Wall Panels
Dakota Stone Wall is subtly different to the Colorado line, characterized by larger and more varied stone patterns, which reflect the different type of stone often used in America's Midwest to construct walls and foundations. South Dakota's most famous landmark is Mount Rushmore, and our panels were created by taking molds of hand-laid stone walls built from slabs of the same granite as America's most famous landmark was constructed from.
There are 13 different standard colors of Dakota panels, and 12 premium colors available for a slight premium. While the colors themselves are varied, each one is vividly realistic once installed, and offer the opportunity to find the color that's perfect for your project.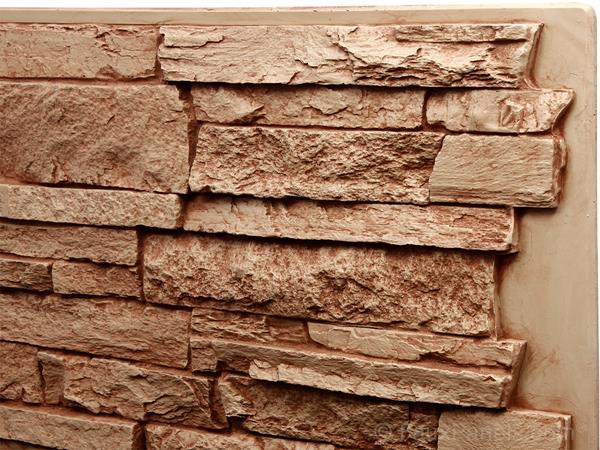 Dakota panels, (shown in Cajun color), feature a flat section with 'slots' into the adjoining panel for a seamless texture.
Norwich Carolina Random Rock Panels
Carolina panels follow the naming system of Dakota and Colorado, featuring a realistic stone texture inspired by the geology of North and South Carolina. These states feature a wide variety of geology, with boulders from the Blue Ridge Mountains, for example, having a very different consistency to the rocks of the Sand Hills or Piedmont. This is what inspired the name "Random Rock" - because homes built from stone of this region often feature a cocktail of different rocks in the same walls and foundations.
The other characteristic of Carolina walls is that the rock is hewn in varying different sizes, resulting in larger square and rectangular 'bricks' as opposed to the more uniform-sized stacked stone of the Colorado line. Our best-selling colors, such as Canyon Gray and Misty Morning, have different hues to the different brick textures, to represent the different types of rock characteristic of Carolina masonry. Our Toasted Brown and Creamy Beige colors are more uniform, to align more closely with the color-scheme of a particular room.
Carolina panels resemble hewn rock 'bricks' of varying sizes and materials.
Norwich Kentucky Dry Stack Panels
Continuing with the theme, Kentucky Dry Stack takes its name from the great state of Kentucky, and the style of masonry that was used during much of the frontier era in that state. "Dry stack" refers to the practice of building walls and foundations by stacking one stone on top of the other without mortar - similar to the Colorado Stacked Stone above.
Kentucky is in America's coal belt, and as a result the rock and shale is characteristically brittle. This is why the hand-laid walls from that region feature narrow, mostly-uniform slates of rock which we perfectly replicate in our panels.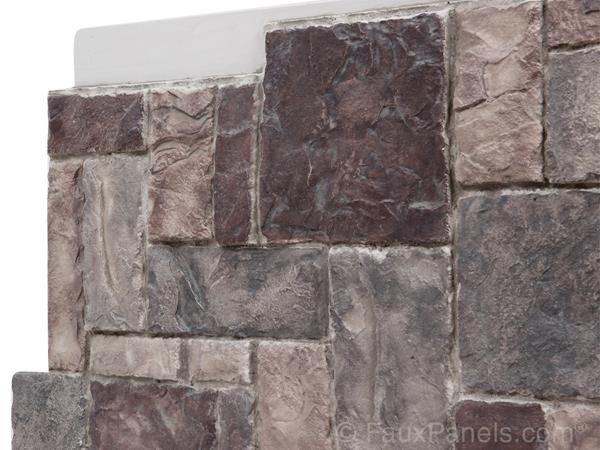 Norwich Kentucky Dry Stack panel
Norwich Coral Stone Panels
Our final panel in the Norwich line is molded from walls made from coral blocks; the stuff that grows in the sea.
Coral is a pretty fascinating material. Unlike stone, which is hewn from the earth, or bricks that are molded and manufactured from materials like clay, coral is grown by tiny microorganisms that ingest raw materials like silica and literally build their homes out of it. Coral is tough, rigid and comparable in strength to rock and brick; but noticeably lighter and unique in pattern and texture.
The problem is that coral takes years to grow, and carving bricks out of coral is devastating to the environment. While there have been innovative moves to manufacture artificial coral (like North Carolina-based bioMASON) the truth is that the only environmentally-responsible way to enjoy the look of coral in your home currently is to use a product like ours - molded from real coral bricks, and recreated in vivid, three-dimensional detail, but manufactured in lightweight and sustainable polyurethane foam.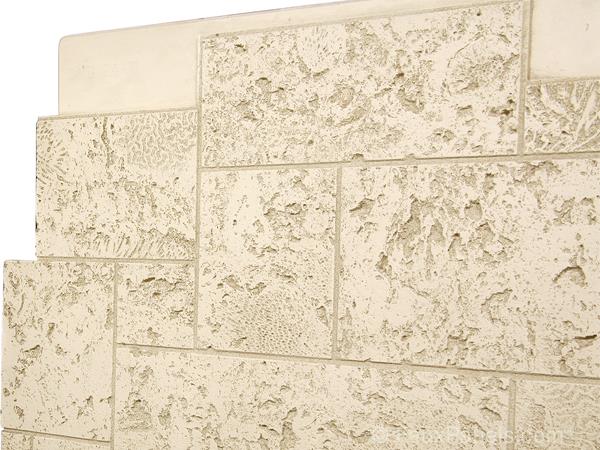 Coral panels recreate the look of real coral blocks in varying sizes.