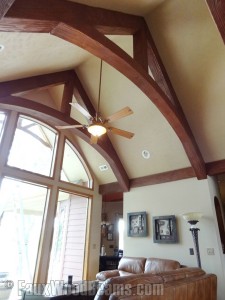 No Trouble with Curved Trusses
Arched king truss created with Woodland curved beams
A decorative curved truss can add great dimension to a ceiling design. However, making real wood curve is not a simple process, requiring a band saw and a good amount of carpentry skill.
Luckily, those of you who want this look but don't have the know-how are no longer left out. Faux arched beams are "pre-curved" and super lightweight for an easy DIY installation.
If you are a super-novice and require assistance, Barron Designs provides planning and design support for you or your contractor.
Kelly H. from Wichita, KS, received such design support with her truss project using Tuscany Arched Beams.
I thought you might like to see the pictures of my house after the installation of the faux beams you designed for my living room, dining and kitchen areas. As you can see, the beams are FANTASTIC! The beams look as if they were put in when the house was built and they really warm up the rooms. With the tall ceilings I have, it felt a bit cavernous in my living room especially, but now it fells warm and truly gives that rustic farmhouse feel to the room that I wanted. I can't say enough good things about how it looks now. Everyone who has come over to see them thinks they are real wood beams and ask me how much the "reclaimed lumber" cost. They are shocked when I tell them the beams are faux.
For more information and photos of building trusses with curved and straight faux beams, visit our site. We're ready to help you get your curve on!