Mike Waters sent pictures of a truly incredible trade show exhibit, created using our beams, planks and faux panels.
The National RV Trade Show is a private event held in Louisville, Kentucky every year - attended by recreation vehicle manufacturers and their component parts suppliers - who together build more than 98 percent of all RVs produced in the U.S.
This year, attendees got a treat at the entrance to the show - this stunning trade show display owned by custom RV designers The Newmar Corporation.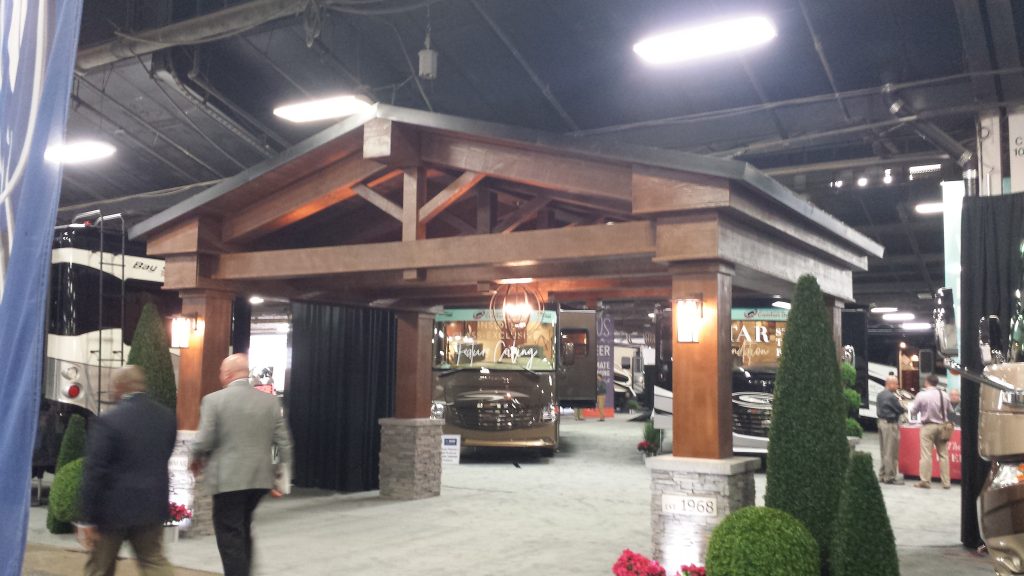 This stunning trade show exhibit is completely 'faux' on the outside
With stone columns and dark, thick wood, this structure looks like the sort of thing you'd expect to see in the grounds of a mansion or estate. Yet remarkably, the entire thing is made from aluminium covered with faux wood and stone - and disassembles for quick and easy transportation.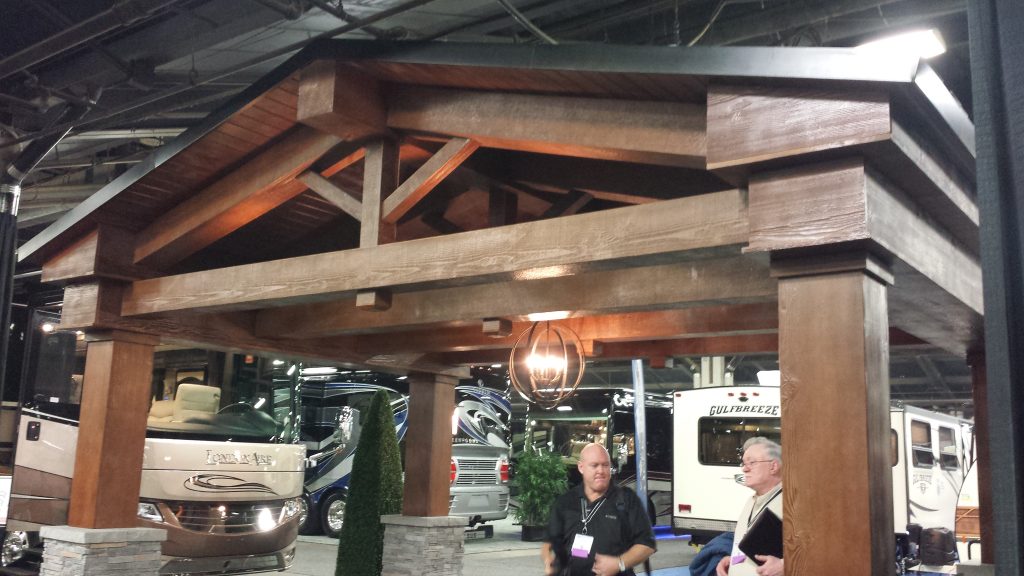 Even close up, it's impossible to tell the exhibit isn't made from real wood and stone.
We've featured trade show displays created with our products before, but this one has to be one of the most dramatic. Senior CAD Coordinator for the Newmar Corporation, Mike Walter, outlined some of the details:
"We started with a heavy aluminum structure that we then covered with the faux wood and the stone columns. All of your faux wood material is held in place with heavy magnets except for the ceiling panels."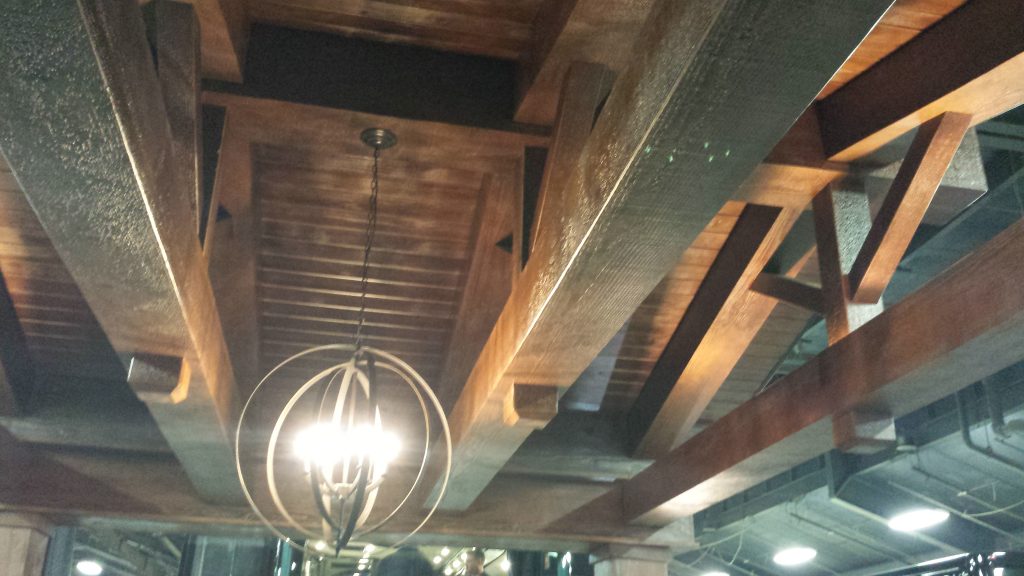 The beams and planks were ordered unfinished, and custom stained for this ultra-realistic finish.
So not only is this massive wood and stone structure completely faux - but the decorative components aren't even attached by anything other than magnets! It shows not only the versatility of products, but also the engineering and design genius of the Newmar Corporation; who dreamed up and created this incredible display.
Mike's vision and expertise in design are renowned throughout the custom RV industry, but one additional benefit the Newmar Corporation enjoyed in choosing to 'go faux' was access to our skilled and knowledgeable customer service team. They were on hand to answer all of Mike's questions about the products he chose to use - and because of the exciting and unique nature of the project, were as invested as he was!
"I again thank you for all of your help along the way," he mentioned, in the email that accompanied these pictures.
As for the fate of this incredible booth - it will return to RVIA next year, and many more years to come.
"The display will be taken down and stored and then used again next year for this show," Mike explains. "And we received numerous comments about how well this display entrance turned out."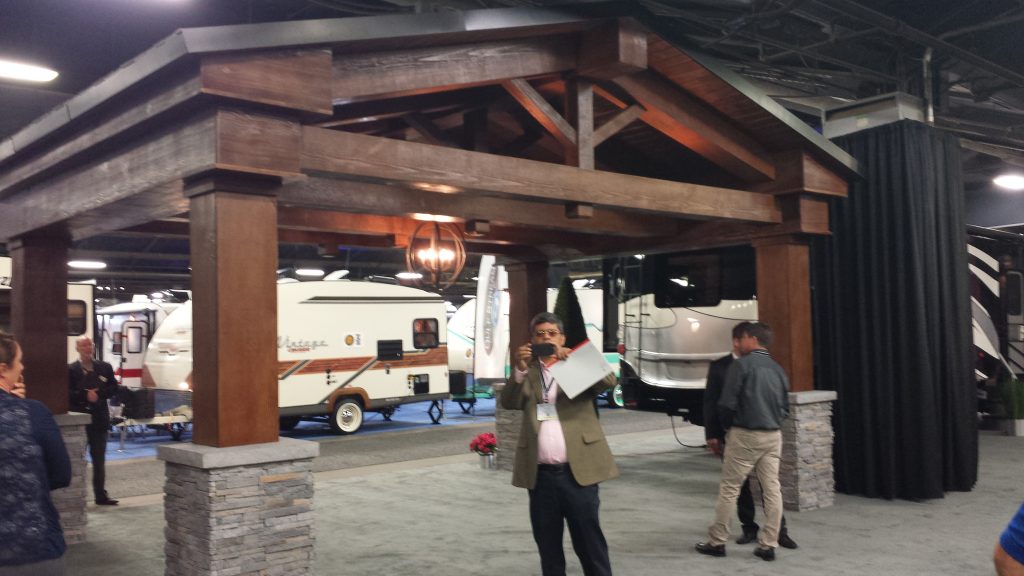 The whole thing can be disassembled and moved easily.
Many times in this blog you'll see our faux wood and stone products described as 'better than the real thing.' In this case, it's absolutely true. The Custom Rough Sawn Beams and Custom Woodland Planks used in this project allowed Mike to create a lightweight, easy-to-disassemble structure that's practically indistinguishable from a rigid wood-and-stone structure.
It's truly a stunning achievement, and we couldn't be more proud for our products to serve as the components for it.
PRODUCTS USED IN THIS PROJECT