There's no question - this is one of the most impressive projects we've shared: A Tuscan-style home decorated with our Custom Hand Hewn beams in walnut.
Customer Peggy Moore just sent in pictures of her beautiful, newly built Florida home, and we were blown away by what was done with our beams.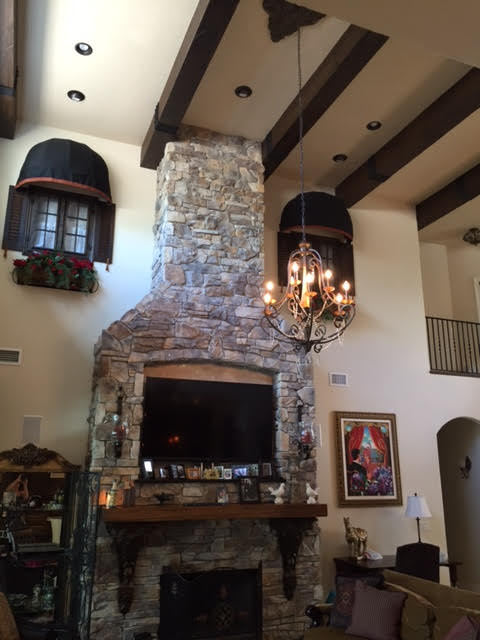 An authentic stone fireplace compliments the stunning faux hand hewn beams.
"We built a new home in 2014," Peggy writes, in the email the accompanied the photos. "The beams we added not only finished the Tuscan look we were striving to achieve, but the 20" beam we added at the staircase offers privacy in our foyer, from the view of our kitchen."
If you look at the photos, you can see what Peggy's referring to.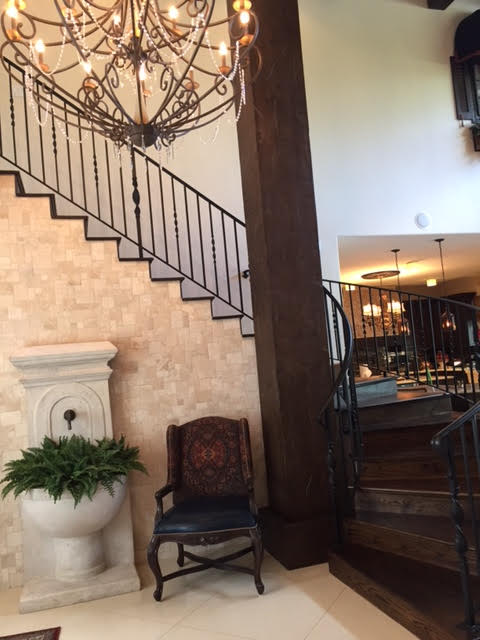 Twenty feet tall, this faux wood column is the centerpiece of the room.
Across the towering ceiling, there is a fairly standard installation of the beams. Paired with the beautiful stone fireplace, they are vividly realistic and it's pretty much impossible to tell that they aren't real wood, like the ones you'd find in a genuine Tuscan manor house.
But what's really impressive is the massive Custom Hand Hewn beam Peggy installed vertically, up to the ceiling by the stairs. It looks incredible - like a genuine supporting beam - and is practical as well as stylish.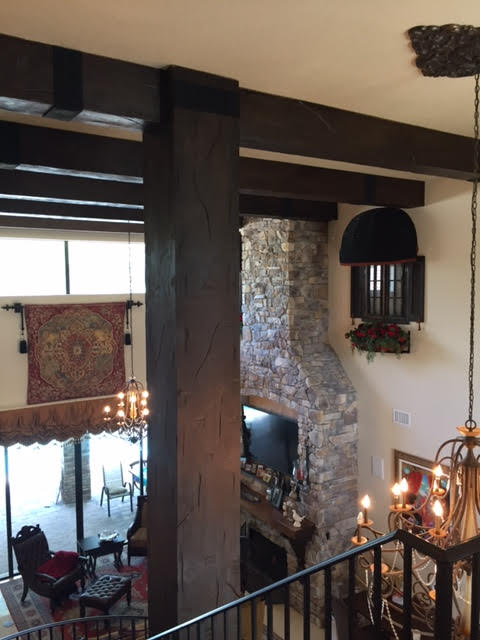 The beam is stylish, but practical - and makes for a great privacy screen without spoiling the open plan concept.
"It allowed for the open floor plan," Peggy writes, "but strategically blocked the view of the kitchen and offers a one of a kind, focal point."
It does indeed! And the great thing is that Peggy didn't need to sacrifice practicality to achieve this look. Because the beams are hollow, a structural beam of modern building material resides beneath the faux-wood exterior; yet for all intents and purposes it's the 'wooden' beam supporting the towering ceiling.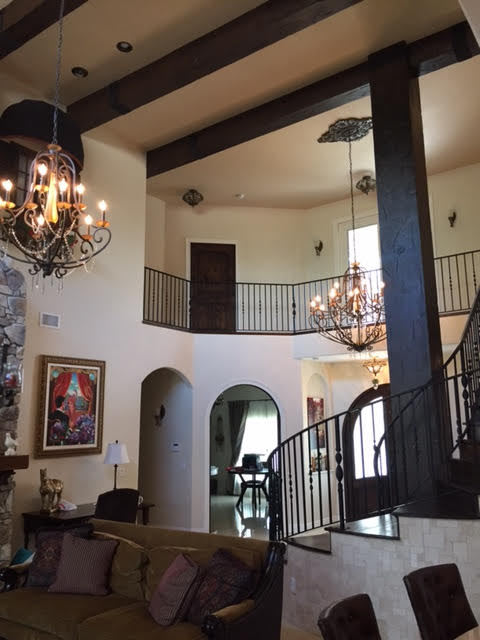 The beams help bring this Tuscan style manor to life beautifully. What a stunning home!
All together, the beams add incredible character to Peggy's beautiful home. It's a perfect combination of modern building materials and timeless design; and we're really proud that our products could be a part of it. Thanks for sharing the photos, Peggy!