In just one weekend, this family transformed their home's front entrance design with the look of stacked stone.
Nothing beats the look of stone. Rugged, solid and timeless, stone speaks volumes; and it's why it's a rare, but desirable building material in American homes.
That being said, it's not always the most practical building material - and that's presumably why it's used so rarely in home building in the United States. Stone is heavy to transport, difficult to work with, and prohibitively expensive to purchase - so it's beyond the means of most homeowners.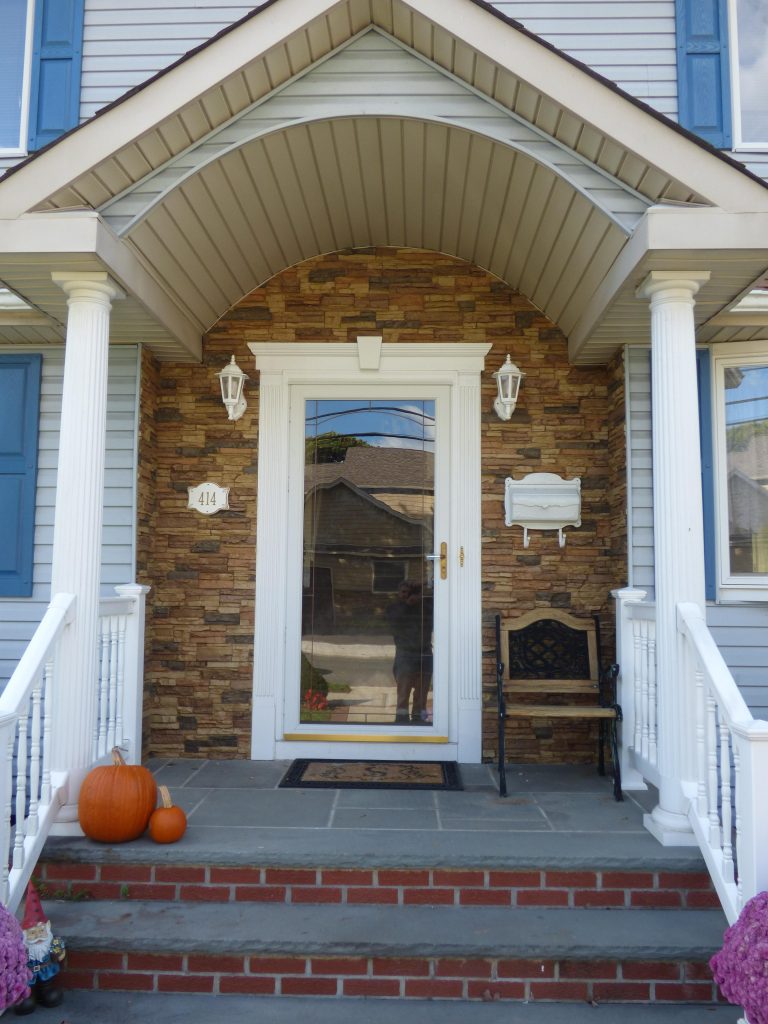 AFTER: The home's front entrance is transformed with its new stacked stone facing
Or, at least, it used to be.
In the case of the Seidel family, who recently emailed us their project pictures, there was a solution to get the stone look they wanted without dealing with any of the impractical aspects - by 'going faux.'
The family wanted to add a stone look to the front of their beautiful home. To that end, they researched online and found a solution with stacked stone style siding.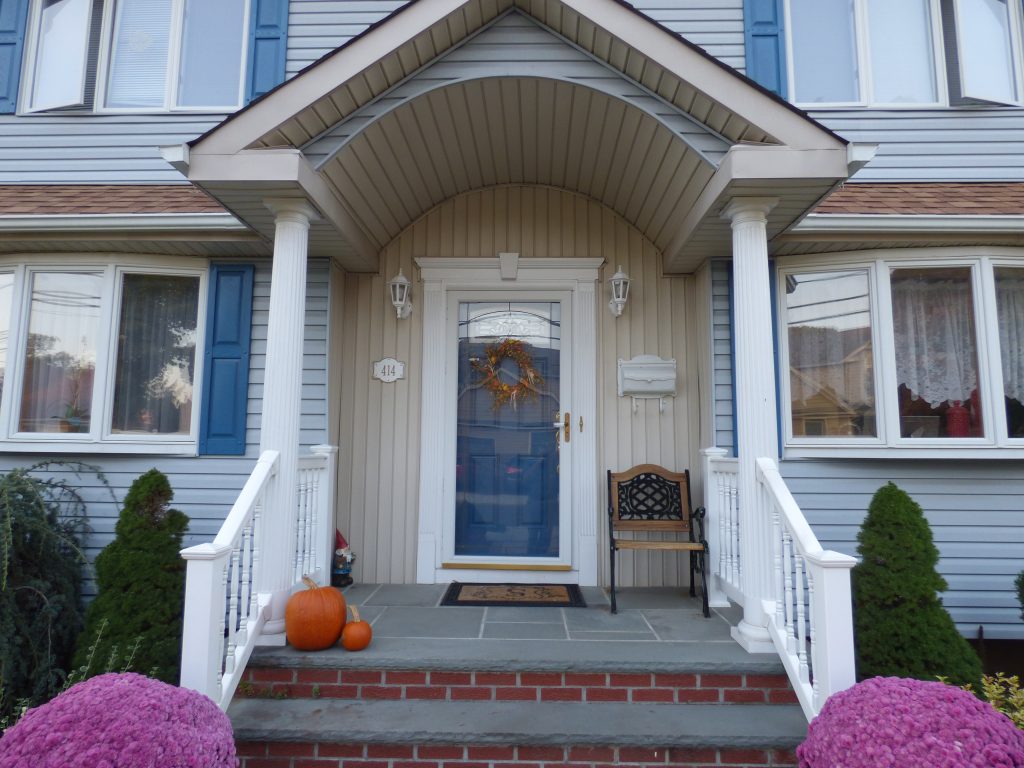 BEFORE: The original vinyl siding was drab and boring.
Beautifully molded from real stacked stone, and then detailed in realistic tones of sand and stone, these panels look just like the real thing; but are lightweight, flat, and designed to be incredibly easy to install.
In the case of the Seidel house, the first step was the remove the existing vinyl siding around the doorway and porch. Then, when the walls are bare, it was time to add Drainage Mats.
Drainage Mats are a requirement for Canadian building code, and an increasingly common part of American code, and help prevent deposits of water building up under panels used in external applications. The drainage mats fit flush with the existing wall and can be cut to shape with scissors.
Following that, it's time to add the siding panels themselves.
AFTER: The panels look just like genuine stone.
The previously-installed vinyl siding had one last use; serving as a template to mark out and cut the new panels to size.
Once the panels are marked out, it's easy enough to cut them to size with a regular wood saw. That's another advantage of 'going faux' over using real stone. Molded from high density polyurethane foam, the panels can be cut to shape with regular carpentry tools and made to fit flush inside the space available.
Once measured and cut, installation is equally straightforward. The panels fit flush with the wall, over the drainage mats, and can be secured with screws. Because each panel slots into the previous one, they combine to create an absolutely seamless stonework pattern.
In just hours, the project was complete.
"This was basically a 2 day job," Hanning Seidel wrote in his email, "and looks great. We love the look of stone!"