We already know that our faux wood beams are easy to install - but customer Justin's story takes some beating!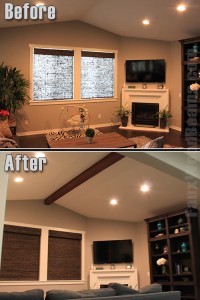 Its easy to see how this simple addition made a world of difference.
Multitasking: Install Faux Wood Beams and Still Make Dinner
FauxWoodBeams.com customer Justin T., from San Diego, sent us an email recently with some "before" and "after" pics of his faux wood beam installation. The pictures look great - but it's the story that accompanied them which got us excited!
"Attached are some shots of our family room before and after the installation of a Walnut Sandblasted Beam from you guys," Justin writes. "It's made a world of difference in the feel of the entire room and installation was a snap."
How much a snap? Listen to this:
"I managed it all by myself while watching both of my little ones AND cooking dinner!"
Talk about multitasking!
Not to belittle Justin's carpentry skills - which are clearly top-notch - but one of the signature characteristics of our faux wood beams is that they're breathtakingly easy to install. Molded from high density polyurethane foam - which perfectly captures every grain and imperfection of real wood - they weigh a fraction of what real wood does, making each beam easy to maneuver and lock in place.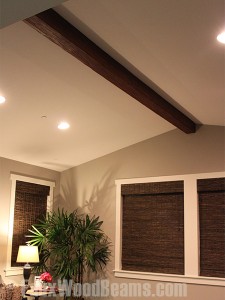 Justin's DIY project was quick, simple and done before dinner!
In Justin's case, he mounted blocks to the ceiling with regular screws and then slotted the hollow beam over them, securing them in place with regular trim-head screws. It's a simple process which resulted in a stunning design fixture that required no heavy lifting or additional structural support.
The only other step in the process is measuring the beam beforehand and cutting it to size to match the width of the room. Justin could do that with a regular wood saw and the immortal watchwords: "Measure twice, Cut once."
The installation was so straightforward, and the results so striking, that Justin signs off his email by admitting: "I'm now looking for anywhere else in the house I can put them and have recommended your product to all of our friends and neighbors. Thanks again."