Rustic Yet Modern Marthas Vineyard Farmhouse
Lonny Magazine recently showcased a Martha's Vineyard farmhouse complete with reclaimed wooden beams - and highlighted how modern features can complement classic rustic design.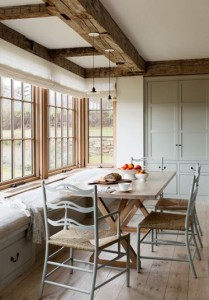 The kitchen featured in Lonny magazine features hollow reclaimed wooden beams.
At a glance, the kitchen and dining room of the stunning farmhouse showcased in this month's Lonny magazine look like they've stood like that for a hundred years. Aged wooden beams criss-cross the ceiling, and add a timeless and historic look.
But examine them a bit more closely and you will notice something odd - there are light fixtures dangling from the beams themselves, with no wires in site. That's because the vividly realistic beams are actually hollow - with an interior perfect for running wires, pipes and other design details inside.
That's actually one of the unique elements of the Lonny home - which pairs timeless design with modern and innovative features like solar panels and recessed lighting. What looks ageless and historic is often a modern-day recreation with strikingly modern and practical elements hidden within.
Now, we don't believe the reclaimed beams featured in this home come from FauxWoodBeams.com, but they are very close to products we do sell, and that offer the exact same benefits.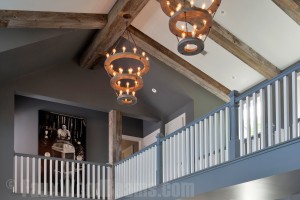 Our reclaimed wooden beams look just like the real thing, but are similarly hollow and versatile.
We have a range of beams made from reclaimed wood that look like solid timber, but are actually u-shaped, which makes them much more affordable, lighter and easier to install. You can add features like recessed lighting and hidden wiring to them easily - and yet they're still made from real wood; which is important to many interior designers.
The beams themselves are made from planks of wood salvaged from barns, buildings and other historic structures; and brimming with character details like knots, stains and 'perfectly imperfect' touches. If you're looking for realism, you simply can't do any better.
Don't discount our faux wood beams - they, too, are vividly realistic.
That being said, while the designers of the Lonny home and some of our customers prefer to use reclaimed wood, don't discount our faux wood beams for the exact some purpose. While they are made from high density polyurethene foam, rather than actual wood, they too are vividly realistic and generally impossible to tell from the real thing except by touch.
Both our faux beams and reclaimed beams offer what traditional timber doesn't - the sort of modern design inspirations that can result in magazine-worthy homes like the one featured in Lonny. We get pictures sent to us all the time from customers who use our products to weave similar magic in their own homes; and we're hugely excited to be a part of their creativity.