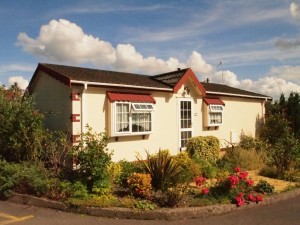 Mobile homes are increasingly favorable alternatives for people who want to downsize their standard of living while maintaining or increasing their quality of life. As of 2013, 6.4% of U.S. housing is made up of mobile homes, of which there are nearly 8.5 million.
Approximately 20 million people in the country currently occupy them. By choosing this option, people rarely face expensive down payments, pricey monthly payments, high maintenance fees, or steep property taxes.
And despite much of the stigma attached to the lifestyle that surrounds them, many owners of these homes today are happy in them, and think of them as permanent, instead of temporary.
While many mobile homeowners know that they always have the option of moving with their home, most are happy where they are, and never actually move. This is one reason many are taking their mobile home designs more seriously. It's important for them to make sure their homes have a warm feel with a lasting visual appeal, both outside and in.
Modern Mobile Home Designs Featuring Skirting Panels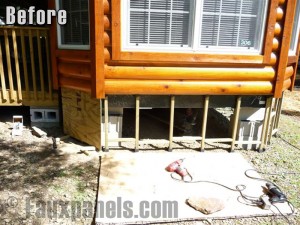 Put skirting mates and plywood boards in place before installing your skirting panels.
On mobile home exteriors, skirting panels are essential. Not only do they conceal the unsightly framing structure under the home from view, but they also keep wild animals from nesting underneath. Additionally, skirting protects against temperature extremes while reducing utility bills year round.
When used as long-term fixtures, though, the materials that commonly skirt mobile homes can have drawbacks. Examples of these materials include brick, cinder block, aluminum, plywood and vinyl. Below is a list of the disadvantages of these kinds of skirting when used on a more permanent basis:
Bricks and cinder blocks can be pricey and require a labor intensive installation.
Aluminum can be unattractive.
Plywood skirting can be damaged from wood-eating pests.
Vinyl skirting can easily melt when exposed to high summer temperatures.
Artificial brick and stone, on the other hand, present a sensible alternative as material for mobile home skirting panels. Possessing the look and texture of real brick and stone, they provide the look of a permanent foundation while adding to your home's appeal.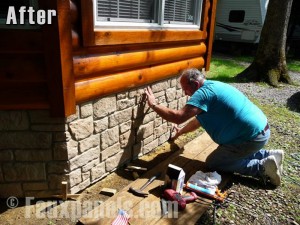 Faux stone skirting panels add a look of comfort and permanence to mobile home designs.
Our customer, Brenda E., sent us the comment below about the panels she installed on her home in El Cajon, CA:
"The front of my mobile home gets the most sun, and quickly fades the paint, particularly the brown. So my contractor suggested that we put faux panels on the front brown section, and with the warranty you offer, I would not have to worry about the fading and repainting for a very long time. I used the Nailon used brick."
The polyurethane composition of the panels also gives them a very light weight, making the installation process easy enough for anyone to carry out in as little as a weekend.
Easily screwed onto the plywood that's fitted to skirting mates for the frame, faux panels also protect the underlying wood from termites and other wood-eating insects.
The panels are also highly durable against weather extremes, and are waterproof and maintenance free. Coming in a wide range of colors and styles, they are able to suit almost any style preference.
Mobile homes today often have up to three bedrooms, two bathrooms, and a kitchen with an island counter. In addition to using artificial stone to skirt your mobile home, you can also use it to decorate the interior.
As you can see in the before-and-after images below, the paneling adds a comforting touch to the interior of mobile home designs.

Faux stone panels also enhance the interior of mobile homes.
In addition to using the panels for skirting, some have even used them to side their mobile homes, as seen in the picture below.

To get inspired on how you can upgrade the skirting or siding of your mobile home, take a look at our exterior home design ideas!