Fauxpanels.com customer Mark Gerns sent us pictures of his DIY project - a magnificent new media center and fireplace - and we couldn't wait to share them with you!
The sign of a creative mind is the ability to look at an empty space and see... something. A vision of what you'd like to fill that space with. That's exactly what Mark did with this stunning project; completed using Wellington Drystack panels.
Mark had a number of features he wanted to incorporate into his living room - a fireplace, TV and other media hardware - and didn't want the typical hodgepodge of tables, wires and cables. So he mapped out a stunning shelving unit incorporated into the wall itself, and built it from scratch.
Mark's amazing shelving system used the Drystack panels to add character and contrast.
The shelves span two walls, each with their own centerpiece. To the left is a fireplace, framed and then covered with the Wellington panels; resembling an authentic stone hearth. To the right, a series of wooden shelves were attached to the wall, and then covered and spackled to resemble a clay/adobe style like you might see in the southwest. The pièce de résistance is how Mark used a single column of Wellington Drystack on the right hand side of the shelving as well, to make it really look like a rock column.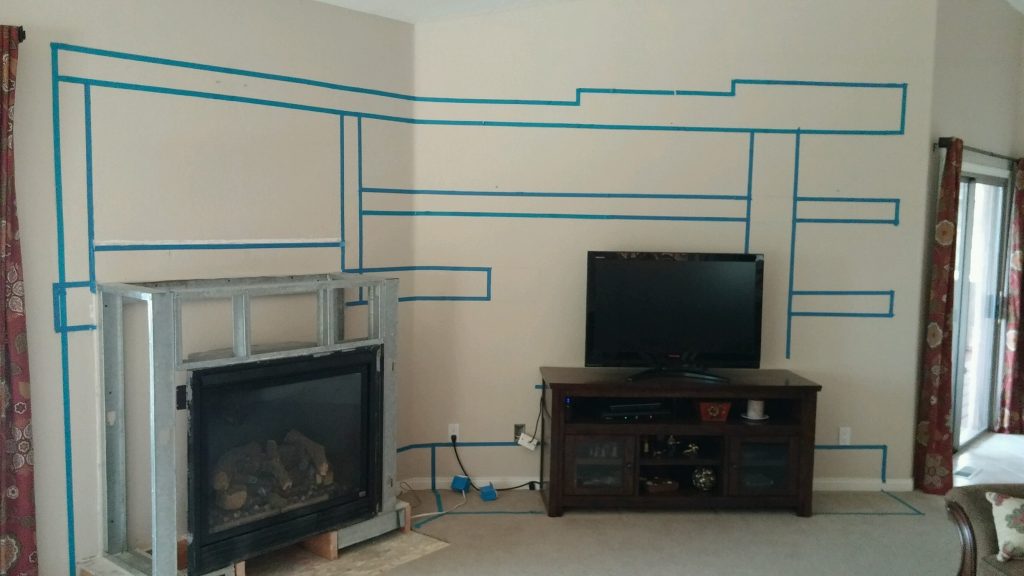 It's difficult to believe the finished product started out like this - nothing but masking tape on an empty wall.
With the addition of recessed lighting and the ability to hide all the cables for the TV and cable box, the finished product looks amazing, and it's impossible to believe that Mark once looked at that empty space and saw such incredible potential. We're really excited our product were a part of it, and hopefully it will inspire other customers to create similar masterpieces.
PRODUCT USED IN THIS PROJECT