Hurricane Irene devastated the eastern seaboard last weekend; with millions of Americans suffering devastating damage to their homes and properties.
Weekend Labor Day Sale at FauxWoodBeams.com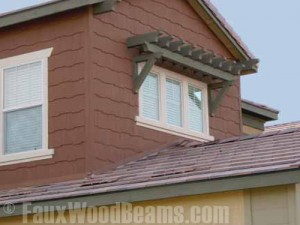 Faux wood outlookers are a great way to add a rustic look to your roof
Fortunately, many ultimately escaped with relatively minor damage; flooding basements, roof damage, fallen trees and other inconveniences that were chilling warning about how much worse it could have been.
And while cleaning out waterlogged basements and hammering in new shingles is time consuming and expensive, many homeowners are taking regular repair projects and expanding them those home design schemes they've been putting off for a while.
Our faux wood ceiling beams and other faux products are great tools for making those repairs turn into impressive redesign projects. Our faux wood beams look great in finished basements, and our outlookers and rafter tails can transform the appearance of the exterior of your home.
And, even better, you'll be able to instantly save 5% this Labor Day when you order using a special Labor Day sale coupon exclusively available from FauxWoodBeams.com.

Labor Day sale coupon
It's easy to use. Just fill up your online shopping cart and enter the Labor Day sale code at checkout – SMP11.
This savings code is valid throughout September 5, 2011 – and must be used at the time of purchase and cannot be combined with any other savings or sale offer.
Let us know what you buy! And if you send in before and after photos of your project to info@fauxwoodbeams.com, we'd love to use them on our blog.