FauxPanels.com customer Kelly recently sent before and after pictures of a fantastic project - using stone style panels for her kitchen's wall coverings, breakfast bar and backsplash. Take a look!
We love getting pictures of our panels being used in people's homes - but before Kelly sent hers in, we hadn't had photos that caused such a stir in the office for a while!
The finished kitchen: walls, breakfast bar and support columns covered in Wellington Drystack wall paneling.
For the walls, backsplash and breakfast bar she covered them with Wellington Drystack panels in the Boston color. These are molded from lightweight and durable polyurethane, and attach directly to the drywall with screws and construction adhesive. They had to be cut to fit within the cabinet space; but that was easy enough with a regular wood saw.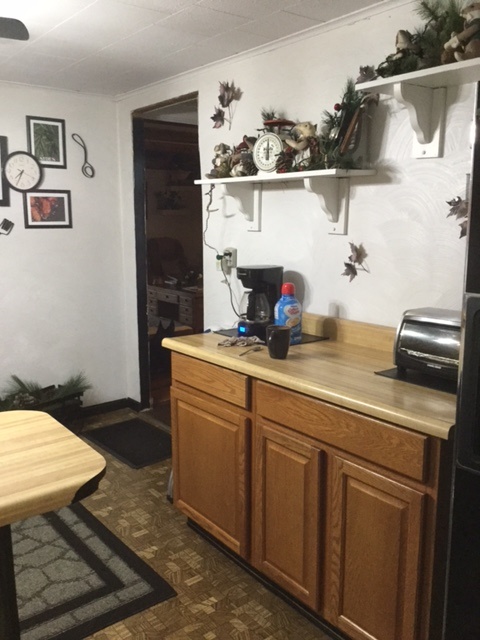 BEFORE: The while wall with the shelves was removed, and replaced with support columns
"We are very pleased with the results," Kelly writes. "The panels were very easy to work with."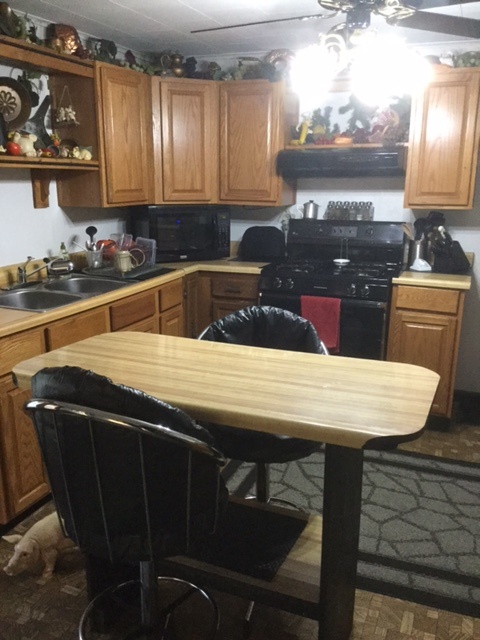 BEFORE: Drab white walls and dated cabinetry.
For a cohesive look, Kelly also added Wellington's Drystack column wraps to the support columns around the breakfast bar. In the 'before' pictures you can see some white shelves on a wall. Kelly actually removed that wall entirely, and added the wraps to cover the column supports on either side of it. This opened up the whole room and perfectly matched the rest of our panels - but perhaps offered the only challenge to the project.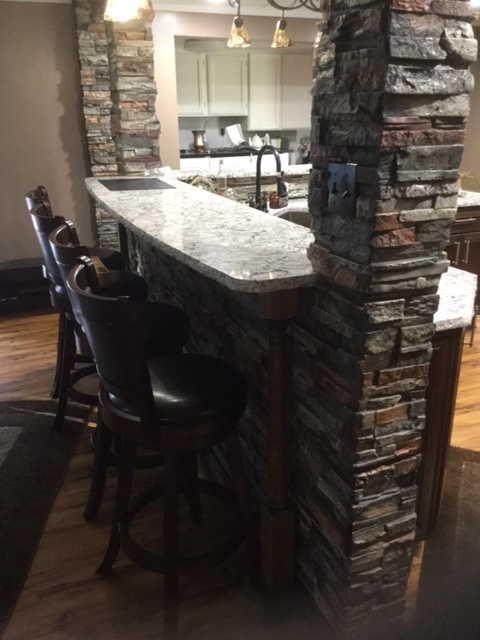 AFTER: This used to be a solid wall. Now the open plan allows for a breakfast bar
"The mitered corners, especially around the columns, were a little tricky to work with," Kelly admits, "but with a little touch-up paint, it still looks good."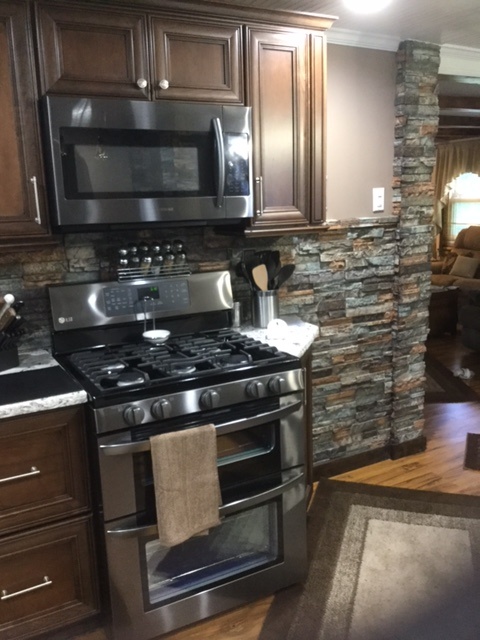 AFTER: Our panels are waterproof, which makes them idea as a kitchen backsplash.
'Mitering' is when you cut 45 degree slices out of two adjoining panels to 'fold' them over for a seamless 90 degree corner. It's a moderately advanced carpentry skill - and we even offer pre-made corners for those who don't want to tackle the challenge - but Kelly seems to have managed it admirably; and after adding colored caulk and touch up paint, it's practically impossible to tell where the corners were made.
The concept of the project is simple, but the execution was great! Ready to see more kitchen transformations? Check out our Kitchen Design Ideas.