A customer tired of \"weighting around" was delighted to use our panels to create this stunningly beautiful accent wall in her kitchen.
"I had recently put quartz counter tops in the kitchen, and the weight of the counter top on the island alone was 700lbs! So, I was very pleased to find your Faux Panels were so lightweight - and got the look I was seeking without the weight of real stone!"
Jeanne was encountering one of the most serious problems with using real stone as a building material - it's heavy! Using real quartz as a counter top makes sense - after all, it needs to be resistant to knives, dings and other trauma. But there was no such need when it came to the wall Jeanne wanted to finish with an authentic stone look.
This is why she chose our Norwich Dry Stack panels in Sierra Brown. Molded from casts of authentic stacked stone, they recreate every detail of the stone in stunning three-dimensions with a durable polyurethane foam that weighs a fraction of what real stone does.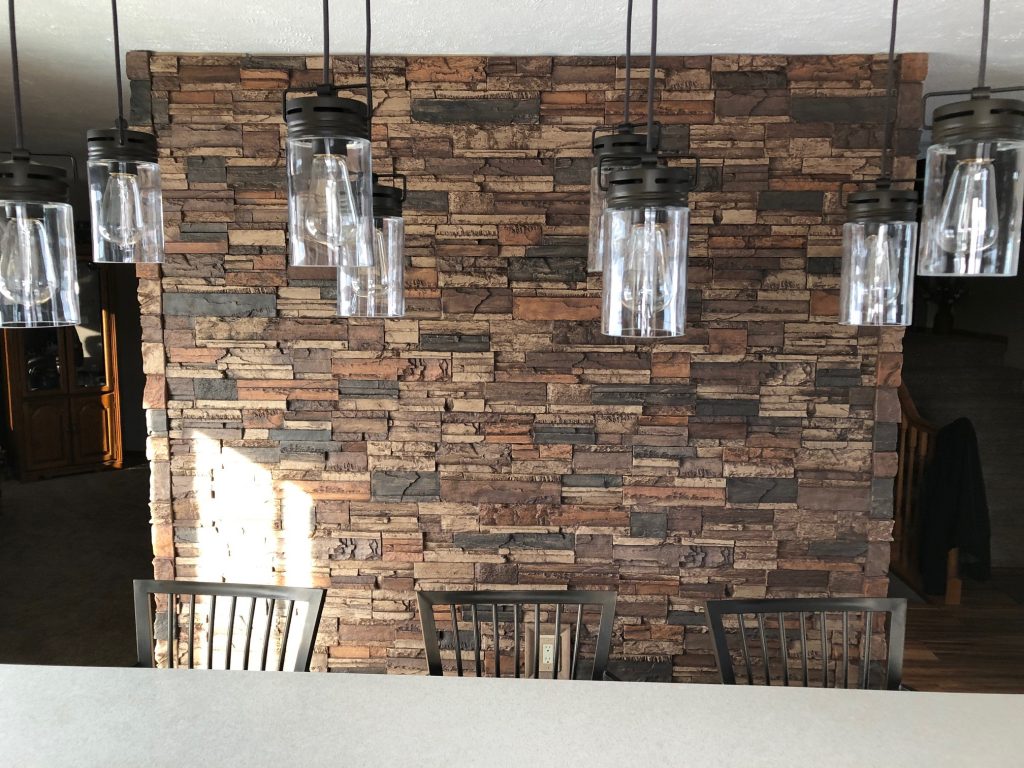 In fact, our panels were so lightweight and practical that Jeanne found the installation process to be a breeze.
"Our wall took us just three and a half hours from start to end to install and about 45 minutes of touch up painting - which, by the way, was very easy to use and the colors blend so well!"
Our wall panels install directly onto drywall with construction adhesive and screws, and the most complicated step in the process is using a wood saw to trim the edges of the final panels to fit flush with the wall.
Jeanne purchased our color-matching touch up paint in addition to our panels, so once they were installed she could make sure that the look and color was seamless from top to bottom.
"Love, love, love your product," Jeanne writes. She also praises the help she received from our customer service superstar Mariann.
"Thanks again for all your help with my questions. You are great at what you do and it's all appreciated deeply. I have attached a couple pictures of my project so you can see the finished look that you assisted with!"
The photos are amazing, and they demonstrate exactly what Jeanne was talking about - that the installed panels look just like natural stone; but without the expense or difficult installation.
This look, Jeanne found out, is something you don't need to 'weight' around for!