We received these stunning before and after pictures of magnificent king post trusses created by the Parkinson Building Group in Little Rock, AR.
King Post Trusses Add Magic to a Cathedral Ceiling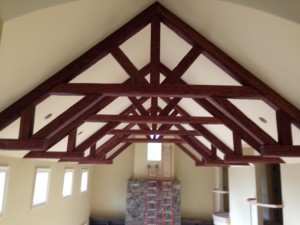 Created using our Timber style beams, these ornate trusses added a stunning focal point to their customer's towering cathedral ceiling; and instantly gave the impression of historic, timeless structural beams even though the house they were being installed in was built using modern building techniques.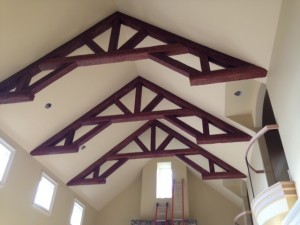 Once installed, it's almost impossible to tell these king post trusses aren't made of real wood.
Decorative trusses are one of the best uses of our beams as they take full advantage of all the benefits faux wood has to offer.
To create a real wooden truss would require expensive timber, expert carpentry skills, a large install crew and a ceiling strong enough to support the weight of the wood. Faux wood, on the other hand, looks almost identical to the real thing but weighs in at a fraction and is much lower maintenance.
Another angle
Check out our page on designing trusses for a glimpse at the possibilities our beams offer imaginative designers.
The beams are a great option for trusses because they are molded from tough and durable high density polyurethane foam - which can easily be cut with a regular wood saw, making angles and joins simple and straightforward to accomplish.
The beams are also hollow, which contributes to their lightweight nature and is also handy for hiding supporting structures, wiring and more from view.
And the best part? They are attached to the ceiling with simple wooden mounting blocks and screws - something not so easy to accomplish with real wooden trusses that can weigh significantly more.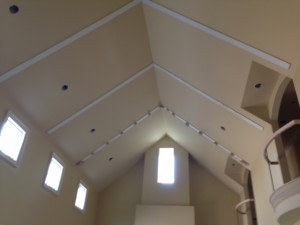 BEFORE
If you've used faux to create a truss, we'd love to see it. Send us pictures to info@fauxwoodbeams.com. With your permission, we might even feature them here!