The firefighters of Independence, Ohio build a firehouse replica in honor of a fallen comrade.
Kid-Size Firehouse Pays Tribute to a Fallen Hero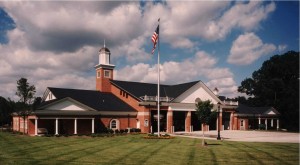 The real fire station in Independence, Ohio
If you think you know small town America, think again - it doesn't get much smaller than Safety Town, in Independence, Ohio.
Located by the Liberty Station Building and Playground, this small-scale suburb was created to help teach kids about road safety; and features an entire town built to kid-size; complete with traffic signals and lights.
Children bring their bikes and big wheels to Safety Town; and receive a lesson in how to navigate safely in traffic.
Recently, a new addition to Safety Town was constructed. In tribute to a fallen comrade, the firefighters of Independence built a replica of the town's firehouse to keep Safety Town as safe as they kept the rest of the city - and we donated the panels that helped them get the job done.
The fire house was built using traditional framing and wood; but to match the look and feel of the real fire house, the fire fighters finished it using Nailon brick siding we'd donated. Made from tough and durable polypropylene, molded from real brick, these panels install just like regular vinyl siding; and give the seamless appearance of real brick.
It's an awesome tribute to their colleague; and a great addition to Safety Town. Even better - as part of Safety Town's mission to help keep kids safe - this beautiful, replica firehouse is continuing the mission of the man it was built to honor.
Firefighters built the Safety Town firehouse from the ground up.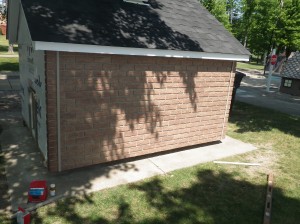 Once installed, the siding gave the seamless appearance of real brick.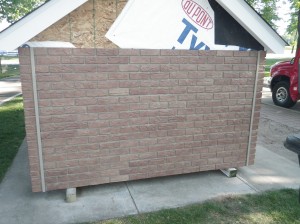 Panels could be cut with a regular wood saw to cover the apex of the station.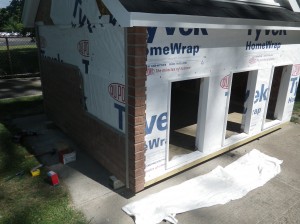 Corner pieces allowed for a seamless finish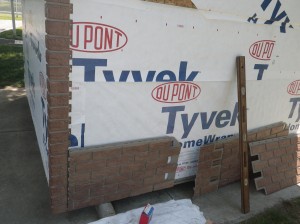 Each panel interlocks seamlessly, for an incredibly realistic brick appearance.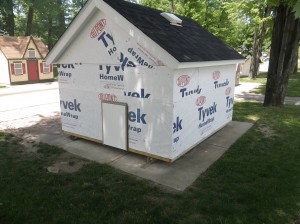 The firehouse was originally constructed with framing and regular wood. The panels fitted directly over the top.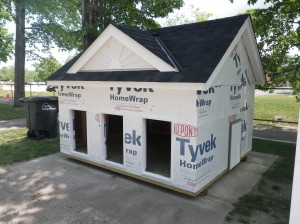 When it's finished, this miniature fire station will the be talk of the (Safety) Town.