A customer from Maryland shows us a walk-in closet remodel that's straight out of a spy movie - made using our Stacked Stone panels.
James Bond-Inspired Walk-in Closet Remodel
At first glance, the rear wall of Greg's bedroom closet just looks like a stylish accent wall.
Greg R., from Westminster, can neither confirm nor deny that he's a secret agent. What he can do, though, is share with us pictures of his recent bedroom closet redesign that looks like something straight out of a 007 movie!
"I recently finished my project," he emailed to tell us, enclosing pictures, "and I think you guys will be impressed."
That's an understatement!
"I installed these panels with a slight twist. I actually made a hidden entrance to a back room, off of my bedroom closet."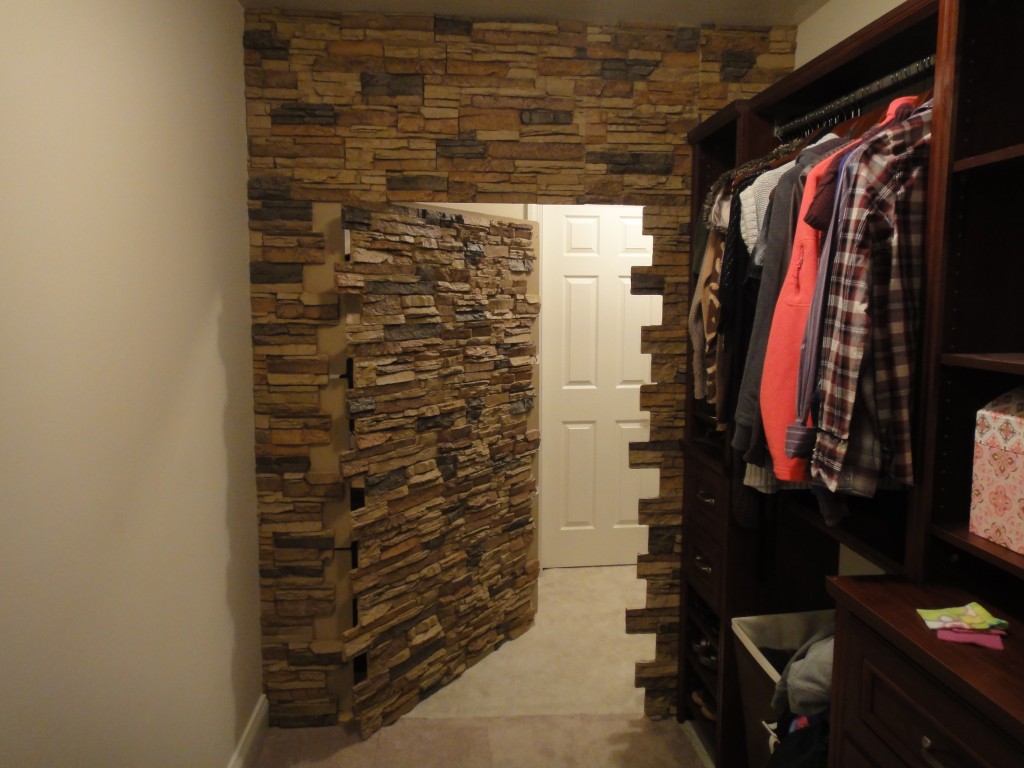 Surprise! The panels actually act as a hidden doorway, opening to another room behind the closet.
Totally invisible to the naked eye, our Norwich Stacked Stone panels actually hide a swinging doorway - to a back room that could contain a top-secret computer, a secret weapons lab or (more probably) some extra shoe storage.
Whatever top secret plans Greg has for the hidden room, we love the concept AND the execution. It's one of the more original design projects we've seen.
"The panels worked great, but the project was difficult because they were not designed to move like this," Greg admits.
He actually took an unorthodox approach to making this secret door work. Normally, we'd have recommended building a wooden door frame to add the panels - they can install directly onto existing drywall with regular construction adhesive and a few screws.
Instead, Greg actually used the panels themselves as the doorway - taking advantage of the way the panels interlock to create a totally seamless pattern when the door's closed. It was a little more challenging to build due to the flexible nature of the panels, but it some ways makes the secret doorway even more clandestine; as there are no tell-tale seams or gaps to give the doorway away.
In any event - we love this project. Thanks for sharing, Greg!