Manufactured or mobile homes have come a long way in recent years, with more stylish options as well as a greater selection of sizes and floor plans. While mobile homes initially gained popularity in the early 1900s as an affordable way to live, today they are also selected for their flexibility, amenities and style in addition to their affordability.
With an emphasis on green building principles (such as an emphasis on energy efficiency and recycled materials), and styles ranging from traditional to contemporary, a manufactured home can be a great way to get the style of home you're looking for at an affordable price. One way to maintain the attractive appearance of your manufactured home is to upgrade the exterior with customized DIY skirting.
While less-expensive corrugated metal has long been used as skirting around mobile homes, today there are many more options that improve curb appeal and also help add valuable insulation to the home. Such sophisticated products and a wider array of affordable materials have made it so that it's often difficult to distinguish a mobile or manufactured home from a site-built home. With the right DIY mobile home skirting ideas, you can refresh your home exterior's overall appeal and make it look like it has received an expensive upgrade.
Why Does Your Mobile Home Need Skirting?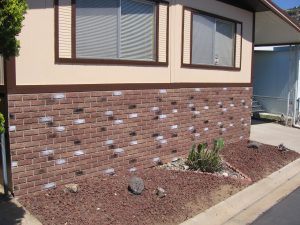 Faux Stone panels instantly transform prefab or mobile homes.
The combination of stricter housing codes and more affordable building materials has benefited today's manufactured homeowner. Although they're still referred to casually as mobile homes (the official terminology for any mobile home built after 1976 is "manufactured home"), the fact is that they really aren't mobile. Most of them match regular building codes and, once they are installed, become permanent fixtures.
Skirting is designed to cover the space from the bottom of your home to the ground, which is usually at least 3 feet high. It's more than just an accessory, however; in most areas of the U.S., skirting is legally required on manufactured homes.
The type of skirting used around the base of the home plays a significant role in its overall appearance and can immediately change its curb appeal. Skirting made from stone or brick veneer is not only attractive, but it lends a greater sense of permanence and stability to your home. However, skirting does much more than just improve the appearance of your mobile home.
While you want it to look good, you also are adding skirting to protect the underbelly of your home. Skirting helps conceal and protect the utility and structural components, and it lowers the amount of cold and heat that flows underneath — which means you'll have more efficient heating and cooling bills. It also can help keep animals and insects from moving in under your home.
Choosing design elements that will help with that insulation and protection gives you more bang for your buck. Factoring in the protection skirting provides and how long it will last helps you make a more informed decision on the investment.
The style of your home will be one of the big deciding factors in what type of skirting you use, but your decision can also be affected by such regulations as local zoning, city ordinances or rules of the community you live in. You also want to consider durability; while some options may save you money up front, you could end up paying more in the long run if that low-cost product has to be repaired or replaced frequently. Keep in mind that, in those cases, you'll have to find a way to match the existing skirting (which will usually show signs of wear and weathering) with newer materials.
Choosing Faux Stone or Brick for Your Project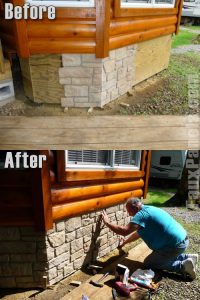 Faux stone or rock veneer panels are quick and easy to install.
Visually, choosing faux stone or brick for your mobile home skirting gives the immediate impression that your home is built on a solid foundation. Stacked stone panels like our Colorado Dry Stack Stone have a solid appearance in a variety of colors that are well-suited for many different home styles. The Carlton line of faux rock, stone and brick panels are unique in that they provide the appearance of cut stone or hand-laid brick, while our popular polymer Windsor panels are available in three distinct styles: Random Rock, Slatestone and Stacked Stone.
If you would prefer to add the look of a solid wood foundation, our Woodland Wall Panels come in four colors — cedar, walnut, oak and unfinished — so you can choose the one that best complements your home's exterior and surroundings.
Beyond the advantages of a wide selection of styles and colors, faux panels are a great choice for your mobile home skirting because they are designed to stand up to even the harshest of climate conditions. They're fade-resistant, resist termites and other insects and are tougher than real stone or brick — yet they are lightweight and easy to work with. Since they are made from high-density polyurethane in molds that were cast from real stone and brick, they have a completely natural appearance.
As you choose the type of faux panel that works best with your home's design, you can also incorporate the faux stone or brick into other areas of your home's exterior, such as your stairs or around the main entrance. Not only does this give your home's exterior a more cohesive look, but the appearance of masonry immediately adds a touch of elegance and makes your home stand out.
Thanks to the lightweight construction of our faux stone, brick and wood panels, you don't need heavy or expensive equipment to create your own DIY mobile home skirting. Using your own tools, and following our helpful installation videos, the panels are easy to cut and install and will transform the look of your manufactured home in just a few hours.