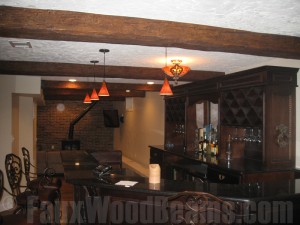 Faux beams installed successfully on a stucco ceiling.
One of our Facebook fans recently asked this question:
"All of your photos show faux beams on a smooth ceiling. What about a stippled ceiling? Can you use beams on them?"
Great question, but let's make sure we're all on the same page before delving into it.
A stippled ceiling is one with a texture, like a "popcorn" ceiling. They're often used by contractors to save time and money because the ceiling doesn't have to be mudded, taped, sanded, primed or painted. Stucco is another type of textured ceiling.
Yes, our beams can be installed on a stippled or stucco ceiling – with a few conditions.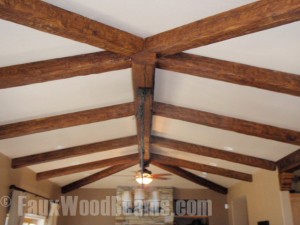 There's a clean line when the beams are attached to a smooth ceiling.
First, inspect the ceiling to make sure it and the ceiling surface are in good shape. Are there any signs of the surface peeling, chipping or cracking? Any signs of water damage? You never want to affix a beam to any ceiling if the material is failing.
Second, how pronounced is the texture? The degree and depth of texture can vary widely. If the texture or protrusions are a quarter of an inch or less, you can install the beam on top of the ceiling as it is.
If the protrusions are greater than a quarter of an inch, there will be a visible gap between the beam and the ceiling. In addition to being unattractive, it means the glue (which is used in addition to screwing the beam into place*) won't have a tight hold or there will be a visible glue line that's very thick.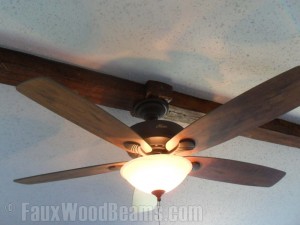 This stippled ceiling appears to have been lightly sanded before the beams were installed.
In that case, sand the ceiling before beginning the installation. It doesn't have to be sanded perfectly smooth – just sanded enough to ensure the texture is a quarter of an inch deep or less.
Once the ceiling texture is more level, you can install your beams using the normal instructions.
*Always, always, always follow the official installation instructions offered at fauxwoodbeams.com, which will involve installing blocks of wood and screwing the beams into the wood blocks, in addition to gluing the edges. Glue alone is not sufficient to hold beams into place, regardless of size or location.