We just recently this photo from Camelia - a customer of ours from Canada - that beautifully demonstrates how to install a chandelier through a faux wood beam from Barron Designs.
Camelia chose our Beachwood beam in Walnut and paired it with a gorgeous wrought iron and crystal chandelier to reinvent her bedroom. Read on to see how it was done.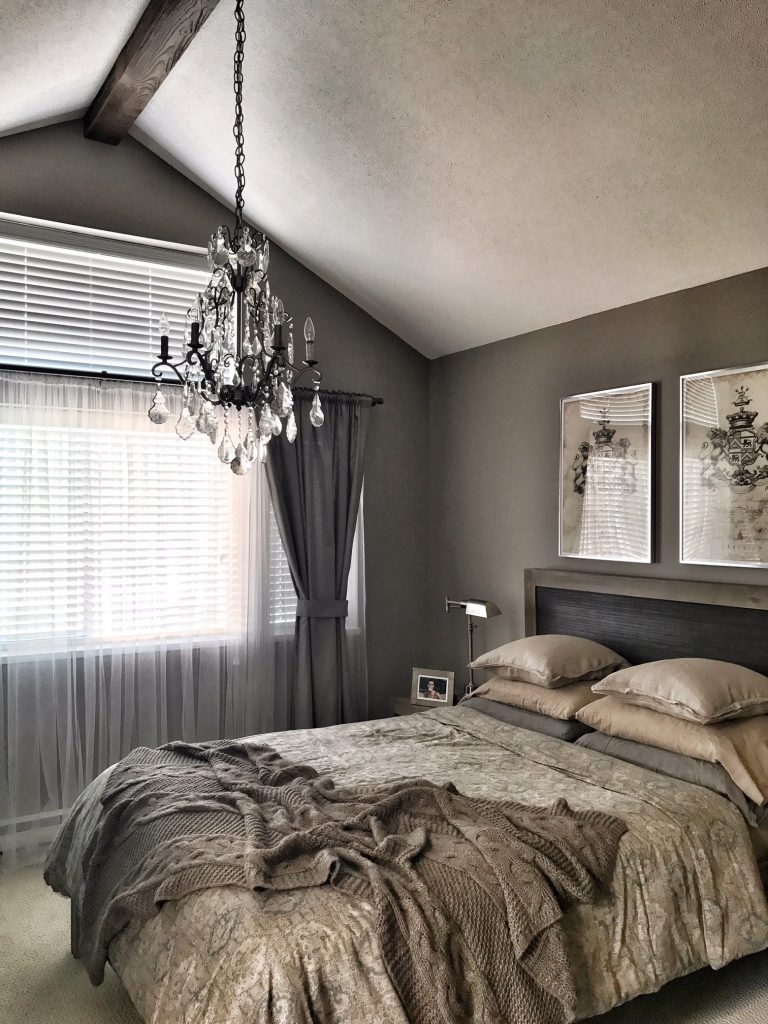 In a traditional timber-framed house, the weight of a heavy crystal chandelier on a solid wood beam would pose no issue.
However, despite all the advantages of faux beams, one thing to remember is that they're not load-bearing. But as this customer picture demonstrates - they don't have to be.
So what's the trick? Well, in point of fact there isn't one. In this case, the chandelier is actually supported by mounts on the studs in the ceiling, and just extends through the beam.
During the install process, the chandelier was removed from its original spot on the ceiling and the point at which the supporting chain hung down was marked on the beam prior to installation. Then Camelia just used a regular hole drill to cut a circular hole in the beam for the chain to hang through. Once the canopy was fit flush with the beam - and secured with screws - it looked as though the chandelier was hanging from the beam.

Always mount chandeliers, ceiling fans and lights to the ceiling studs, and feed them through the beam.
Because our beams are made from lightweight and durable polyurethane foam, making a simple cut like that takes minutes, and requires nothing but a regular power drill and hole bit - and the results look fantastic.
But it's important to note that taking a step like this is very important. Although our beams are strong and secure, you should never attempt to hang lights - and definitely not chandeliers - off the beams themselves. Make sure those fixtures are secured to the studs beneath the beam, to keep the installation secure and anybody standing below out of danger.
We think this project looks fantastic, and so does Camelia. In the email that accompanied this picture, she writes: "I wanted to thank you for the awesome product I just received from you. It's up and with a chandelier hanging from it! I'm thrilled! It looks so realistic!"
We couldn't agree more, Camelia! Great job, and thanks for sharing the picture with us.