Inspired by home improvement superstar Joanna Gaines, an article from The Cheat Sheet highlights how 'going faux' can increase the value of your home.
We recently stumbled across a brand-new article by Amanda Harding, an entertainment writer and do-it-yourself junkie for The Cheat Sheet, in which she listed the best things you can do to increase the value of your home; all inspired by Joanna Gaines of HGTV's Fixer Upper.
A few of the recommendations jumped out at us, as they're the perfect projects to complete using our faux wood products.
Number Two on the list - and a familiar favorite to anybody who's watched Fixer Upper - is to add some shiplap to your home.
Shiplap is a type of interconnecting wooden plank that resembled the exterior of a ship - hence the name. While reclaimed or new wood planks are an option, our Shiplap Panels offer a number of advantages and may be the better solution.
The panels are constructed in master molds of real wood boards salvaged from antique barns. In addition to being significantly cheaper and easier to source than reclaimed wood, these panels' durable, closed-cell polymer is completely VOC free.
Another recommendation on the list is to install faux wood beams in your home. The author points out that "Joanna Gaines typically adds wood beams to high ceilings, which makes a nice contrast to the white walls" and argues that while "real wood beams can cost thousands, installing faux beams made from lightweight materials costs very little and still makes a dramatic change in your whole home."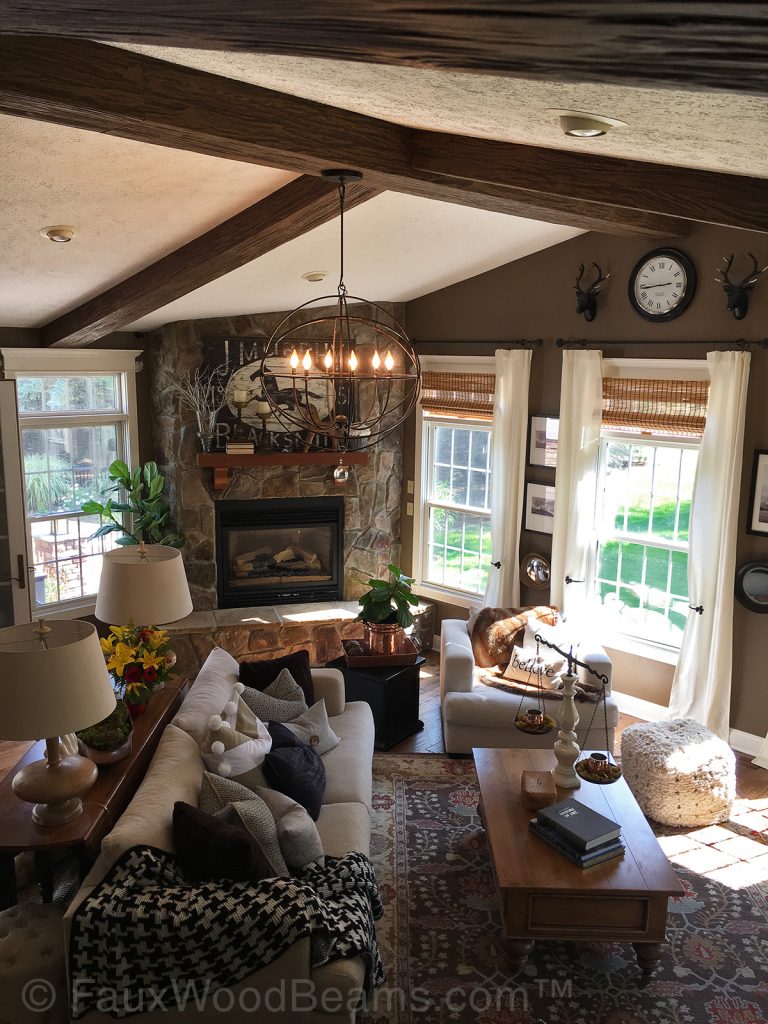 We couldn't argue with that appraisal! In fact, it's something we've been saying for years. Even better, the range of vividly realistic faux beams we have available means that 'going faux' isn't just better for your budget; it also looks as good or even superior to the 'real thing' sometimes.
Number #5 on the list is the suggestion to "redo the fireplace" with emphasis on the importance of a wood mantel. "A mantle creates a focal point for the room that's not the television."
We offer both faux and real wood mantels in a wide range of textures, colors and custom sizes -- all easy to install with a little glue and a few screws.

Anybody who's watched Fixer Upper knows that Joanna Gaines knows a thing or two about design - so it's really validating to see how so many of her tried-and-tested suggestions for increasing the value of your home can be achieved using our products.
Even better, 'going faux' can be better for your family's health, lighter on the renovation budget, and you never need to compromise on looks. It's truly a great option - and articles like these demonstrate why the market for faux wood is increasing each and every year.