A FauxPanels.com customer sent in these project pictures which answer the question of how to finish a kitchen backsplash when there's no natural stopping point.
If you look through our Photo Galleries, you'll see hundreds of pictures of fantastic panel projects, including dozens of examples of our panels being used in people's kitchens as stylish and practical backsplashes. After all, our panels are made from durable and waterproof closed-cell polyurethane, so they're a natural choice to protect your walls from moisture, splashes and spills.
One thing you'll see in most of those pictures, though, is that there's a natural end-point to the backsplash. In many situations, homeowners fill an entire wall with our panels, or the cabinets themselves create a natural barrier which forms a logical end to the panels - they're just cut to fit the space available.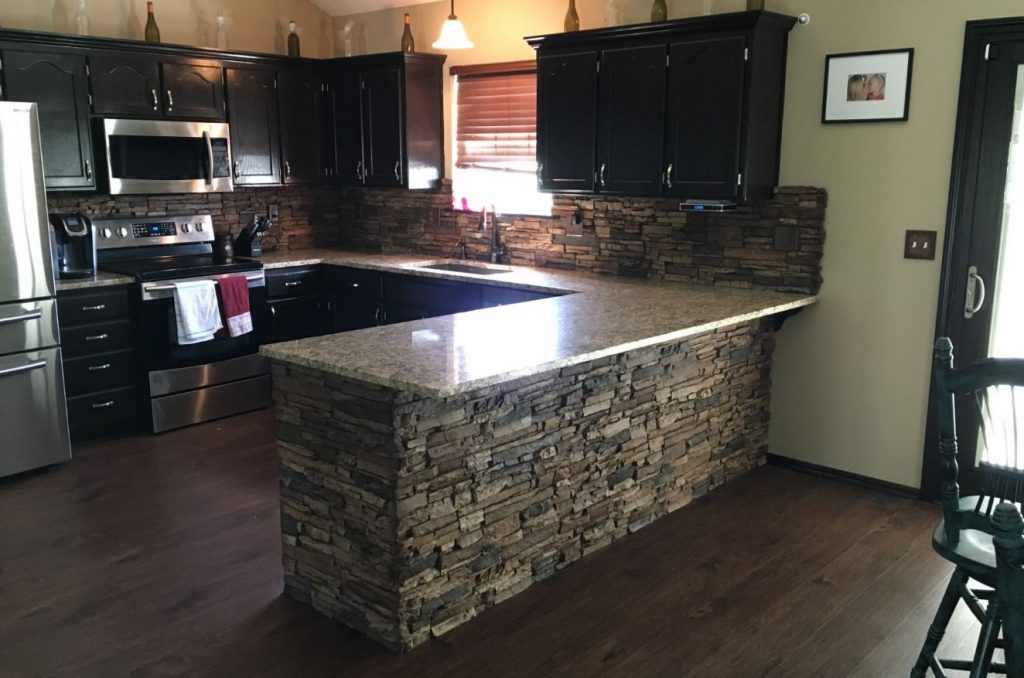 Kitchen island and backsplash covered in Norwich Stacked Stone panels in Sierra Brown.
The panels' polyurethane material makes that easy enough to do with a regular wood saw.
In customer Travis' case, however, there's no natural end-point to where he intended to install the backsplash. While one wall formed a natural space to fill, the other wall ran seamlessly into the next room; and there was no obvious point at which it made sense to stop.
Now, one obvious solution to this could have been to simply create one with a Ledger accessory which are made to match many of our panel styles. These ledgers serve as borders for the panels, allowing you to create a stylish surround.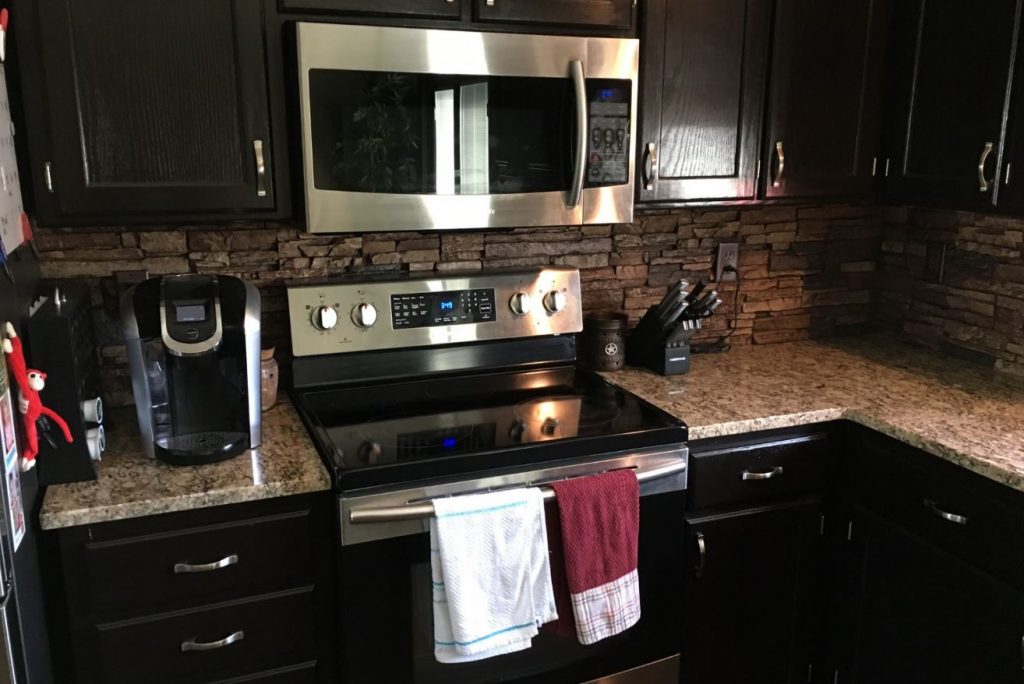 The western wall created a natural border to the installed backsplash.
But Travis decided to use a different technique. He used a saw to cut out a natural stone pattern on the corner of the final panel, and just leave it like that. The end result makes it look like the backsplash is made from individual stone, simply ending at the end of the counter space.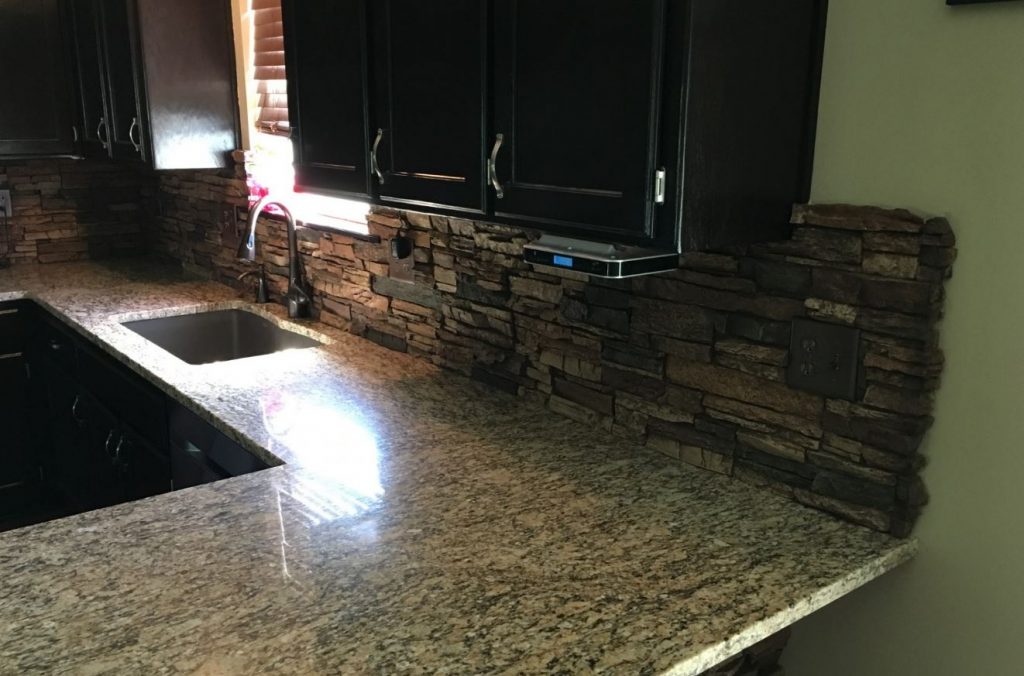 The end of the backsplash had no natural stopping point, so Travis carved out the stone pattern to create one.
If Travis had just left the panel as-is, it would have revealed that the beautiful stonework is actually faux. But by cutting the ends, he cemented the illusion and helped make the entire backsplash even more realistic.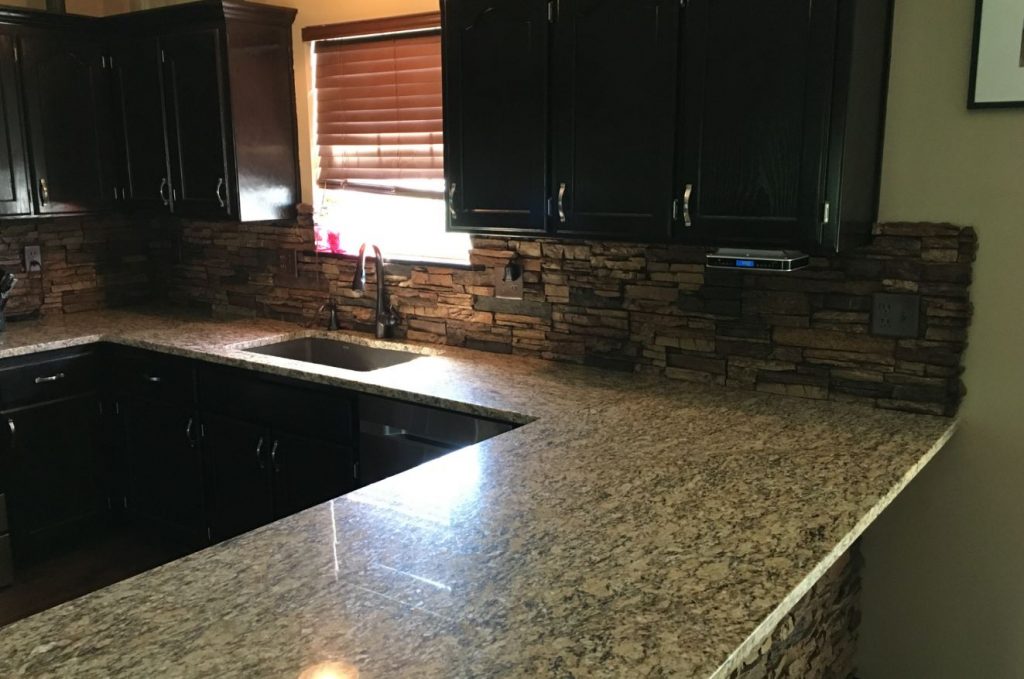 The panels are simple to cut and shape - Travis even cut holes out for the power outlets.
It's a deceptively straightforward design technique that's elegant in its simplicity - and we think it looks terrific. We're excited to share Travis' pictures here, because it's an idea that I'm sure will give inspiration to some other eager designer. If that's you - be sure to send us pictures of the end result!
Product used in this project: