Going 'faux' offers a wealth of opportunities - like 21st century air conditioning in a classic, timeless home.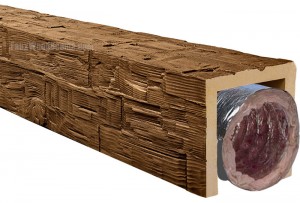 Faux beams are hollow, making it easy to run A/C ducting through without compromising style. Old world style and modern convenience don't always go well together. That's why folks who collect classic cars still tend to drive to work in a modern vehicle - a '55 Chevy might look cool, but it's not so much fun on the daily commute without air conditioning, disc brakes and satellite radio. The same rule applies in people's homes. Classic Victorian houses look amazing; but there are a wealth of issues to deal with when tackling turn-of-the-century wiring and antique plumbing and heating. This is one of the areas in which faux wood can help. Because our beams are hollow, they offer the opportunity to add a wealth of modern convenience to a home, while retaining its authentic rustic look. We've written posts before about recessed lighting and concealed speakers - but one more opportunity that's particularly relevant during this long, hot summer is the ability to run air conditioning ducts through our beams.
| | |
| --- | --- |
| | |
Faux beams are available in a variety of different sizes, but the 8" by 8" beams are perfectly sized for running standard 7" AC ducting through. This would enable you to have a regular air conditioning unit in the room (cleverly concealed behind wood panels, perhaps) and the ability to run ducting up the walls or across the ceiling.
Click here to see the step-by-step instructions
on how to install AC ducts and vents inside the beams.
Ducting can be run seamlessly across an entire room, covered beautifully with faux beams. In a modern home in which the beams are a new addition, this is a great way to get a rustic look. They're made from high density polyurethane foam and are almost indistinguishable from real wood.
If the rustic look isn't for you, Smooth Beams offer the same opportunity to cover wires or ducting, but with a more modern look. If you're thinking of adding AC to an actual historic home, we have additional options that are even more suitable. Our real wood beams are also hollow in the center. This provides the utility of faux with the genuine look, texture and quality of real wood. With so many options available, the possibilities are endless - and air conditioning is just one modern technology that our products can facilitate. If you've used our beams for similar purposes, we'd love to hear about it! Send us an email to
info@fauxwoodbeams.com
and we might even feature your idea on the blog!