There's nothing quite like receiving an effusive testimonial from one of our customers! Jeanette Hiscox, from Arizona, and her husband used our sand blasted ceiling beams to completely transform their home. Jeanette was able to unify her common spaces and provide a rustic charm to her previously humongous, yet bare, ceiling. Here's what Jeanette had to say about her project, in her own words:
Jeanette's Room Makeovers with Faux Ceiling Beams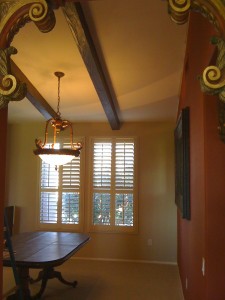 We are thrilled DAILY when we enter our "public rooms" and see the beams on the ceiling! Everyone's jaws just drop and then they recover with a "WOW"! Most people ask us if the house was built with the beams and we let them know that we recently installed them.
The Hiscox House Transformation
We bought this house as our retirement abode. We liked the vaulted 16' ceilings and all the space they created in the nearly 1300' public room area. This area includes the dining, living, media and kitchen and kitchen dining rooms. For the first two months after we bought the house, I was searching for a way to unify these spaces.
It took a while to convince my husband to use the faux wood ceiling beams, but now he proudly accepts compliments for the installation! Thank you for supplying the samples because that allowed us to look at the material, gave us a chance to practice custom staining the beam and practice mitre cuts. The sample practice went so well, we knew we could take on this project successfully— even if it meant staining all 15 beams that were 19' long each!
The Ceiling Design Project Begins
From the time we ordered the faux beams from you, we were anticipating the shipment. Delivery day came and we did exactly what you instructed us to do. My husband and I helped the truck driver unload the amazingly light but really long boxes. We laid them in our driveway and proceeded to cut the straps and peel off the long corner protectors. As you know, most boxes had 4 beams but the 9" deep "headers" arrived in individual boxes. Each beam had it's own plastic sleeve. My husband and I easily maneuvered the beams, being careful not to stack them more than two high. We found one that was cracked and the driver so noted it and your company immediately replaced it. Initially we thought we should use one continuous piece for each beam, but after doing this project we see how one could easily piece any beam length together, just as you could wood products.
I personally primed each beam, which I found easy to do—if you have the space! I also custom-stained each beam to a rich, dark brown color. I followed the exact primer deep base product recommended on your website. I used a Home Depot deck stain for the staining process. Personally doing this part provided me a great sense of accomplishment.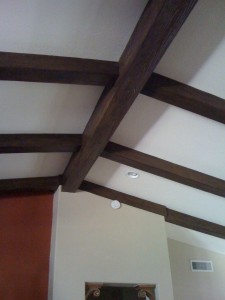 Installing the Faux Ceiling Beams
We followed your online directions: snapping chalk lines for location identification and putting up wood blocks in which to screw the beams to. Planning which beams to start with and actually installing the first one seemed to take the longest time. Once the first beam was in place, we knew this ceiling design project would have incredible results. We also spent a lot of time admiring the first two header beams once they were in place! By the way, we did this installation during the hottest month of the year— outside temps were over 100 degrees and we are nearing retirement age!
We used a mitre saw outside on saw horses that were padded as to protect the stained beams. We measured, cut and installed each beam one beam at a time. We started with the large "header" beams and worked outward. Each 17' beam segment got 4 wood blocks installed in the ceiling to help hold it in place. We never used any glue product...it was not necessary. It took two of us two days working 5 hours per day to install the 15 beams.
We found the ceiling beams were very easy to cut, whether it was an angle cut on the ends or long lengthwise cuts. We had a couple of mitre or fussy cuts that took more attention and time— exactly as a real wood beam would need.
Beam Design Finishing Touches
We are "detail driven" people, so I did put dark color wood putty over the screw heads. I also had a little jar of stain and a small brush to re-apply the stain in a few areas as needed. I should mention that preparing the beams with primer and stain allowed me to apply these products where we made fresh cuts to the beams so there would be no original color showing.
Once again, the product was easy to work with and provided amazing results. I even told my husband to stop calling them "faux" beams and start referring to them as simply beams! Your company's beams have helped us transform a vast plain ceiling into a spectacular 5th wall!
Thanks again, Jeanette Hiscox