One popular place to use our faux wood products is in a media room - whether that's the family TV room, or a dedicated \"home theater." Here's why:
Hiding Surround Sound Speakers with Faux Wood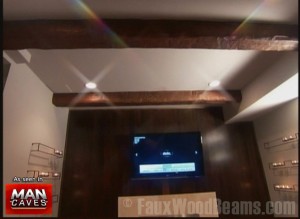 Beams in a media room are a versatile option for enhancing your multimedia experience.
Not only do our beams look great in a home media room - perfect for recreating the cinema atmosphere - but they also offer great acoustics and some awesome features ideal for media use.
For example, the beams are hollow - making them perfect for housing surround sound speakers and hiding all their cables and wiring.
Installing recessed speakers in the beams is very similar to the process used for recessed lights; see the instructions here.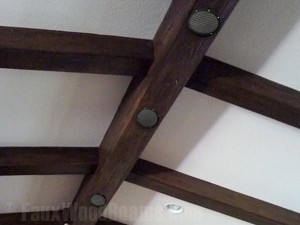 This sandblasted beam has speakers fitted inside it - for awesome sound with a seamless look.
Depending on what type of speakers you want to fit, you'll simply need to cut the correct-sized hole with a regular wood saw and then attach them with screws or glue. Run the wires and cables through the empty space inside.
The advantage of hidden speakers is that they can be placed in strategic locations that might otherwise be inaccessible. For example, if you want a pair of rear speakers JUST behind the couch, you could install them in a ceiling beam above to get the awesome sound without trailing wires or bulky hardware ruining the decor.
Another advantage of faux beams is that they offer great acoustics. They're molded from durable polyurethane foam, which absorbs sound really well -- so your room will sound as good as it looks!
Have you experimented with recessed speakers, or using hollow beams to run wires or cables? If so, we'd love to hear about it. Please send in your stories and pictures to us at info@fauxwoodbeams.com and we'll feature them right here on this blog.