Happy Thanksgiving, from everybody at FauxPanels.com!
FauxPanels.com is Wishing you a Happy Thanksgiving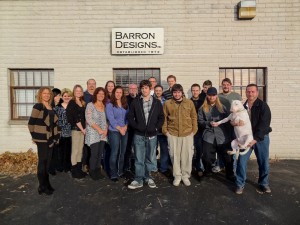 We're thankful for our amazing customer service, warehouse and web development team this Thanksgiving!
We take Thanksgiving very seriously here at FauxPanels.com. It's when we look back over the past year and acknowledge all that we have to be thankful for.
And this year, we are blessed with even more to be thankful for than ever - like our 40th anniversary of being in business!
We started out in the 1970s as a traditional building supplies retailer - yet over the years, our loyal customers have enabled us to grow into a dynamic, national online retailer, featured in print and on TV.
And while the way we do business has revolutionized, we like to think the service and quality we've always offered never has. We've continued to strive to offer the best products possible at the best value available, all backed by the highest standards of customer service.
Because it's our customers that are what we've always been thankful for.
Their loyalty has kept us in business all these years; and their referrals and recommendations have helped us grow to become a national retailer. Despite all the years, we feel a huge sense of pride when we see pictures of the design projects our customers have created using our products; and are always excited to receive more.
That's a side to our business that you can't always see online. There are lots of other websites that sell (or claim to sell) products similar to ours. But many of those are run remotely - sometimes even by a single guy in a home office. While we know every detail of our products, they often serve as nothing more than the middle man between the customer and the wholesaler - and once they've made the transaction, they remove themselves from the equation. This can mean it's difficult - or impossible - to organize returns, refunds or tackle problems with the order.
We pride ourselves on doing the opposite - working with customers before, during and after the sale to make sure they get the products they want, when they want - and to help them if there are any issues. we try and treat our customers like family.
Because for us, the FauxPanels.com team is family. Many of us have worked together for years, and we look out for each other just like real family does - and that's something to be really thankful for.
Have fun, stay safe and be thankful.
Happy Holidays, from everybody at Fauxpanels.com