The Modern Southwest Style home, which is frequently seen in New Mexico, Arizona, and Colorado, is derived from a mixture of influences from indigenous peoples and early Spanish settlers.
This architecture, also known as "Pueblo Revival Style," is characterized by the prevalent use of wood, warm earth tones, sloping or flat roof lines, beautiful stacked stone, and wide porches.
Early Pueblo-style homes were built with adobe to withstand the harsh heat and sun of the local climate. These homes also made use of natural earth tones to blend into the surroundings. Today, Modern Southwestern Style homes pay homage to those early influences and pull inspiration from them to build homes that are both strong and beautiful.
Custom Homebuilder, Judd Singer, of Villa Custom Homes in New Mexico, describes the Modern Southwestern style home this way:
"Villa Custom Homes is known for building distinctly New Mexico homes. Our homes are inspired by the traditions of the landscape, pueblo homes, adobe homes, and the stylistic influence of the Southwest."
Singer goes on to say, "When building and renovating homes of this style, they use a lot of wood and exposed wood beams. They also incorporate wood corbels under the beams and wood vigas for exteriors."
Today, it's easy and affordable to create or revive the exterior of a Southwestern Style home using faux wood and stone products. Keep reading to learn more about which faux products can enhance the exterior of your Southwestern Style home!
Create the Southwestern Style Look on the Exterior of Your Home
The Southwestern Style Home has become more and more popular since its initial resurgence in the early 1900s and is loved by many for its strong, natural features. This look is easy to achieve through faux wood beams, viga tails, corbels, and stacked stone panels.
Viga Tails Add a Touch of Southwestern Style
A viga is a highly recognizable, projecting wood beam used to support the roof in traditional Pueblo Style homes. The viga tail is what you see protruding from the surface of a wall. Today, viga tails are used purely for decoration.
In the early Pueblo Style home, and many Modern Southwest Style homes today, viga tails are made from real, natural wood. Because of this, they are susceptible to dry rot and fading in the harsh sun. And, pests can easily penetrate and destroy real wood viga tails, leaving you with the hard task of maintaining and replacing them annually.
Faux wood viga tails are made from polystyrene and are finished with a thin layer of concrete, making them both durable and lightweight. Solid viga tails are available in natural-looking barked and debarked textures, to suit your Southwestern-style home.
Whether you're replacing old viga tails or installing them for the first time, faux viga tails are easy to install with the use of a few simple tools.
Wood Corbels and Southwestern Architecture Go Hand in Hand
As New Mexico home builder Judd Singer stated above, wood corbels are a quintessential element of the Southwestern Style home. They can be used not only on the inside of a home but on the exterior as a decorative support that aligns with the Southwestern aesthetic.
But just like real wood viga tails, wood corbels are susceptible to decay, damage from pests, and color fading in the sun. Faux wood corbels are made from durable high-density polyurethane, making them low maintenance and resistant to harsh UV rays and rot. Faux wood corbels add Southwestern flair to your front porch, underneath the windows, or beneath the roof.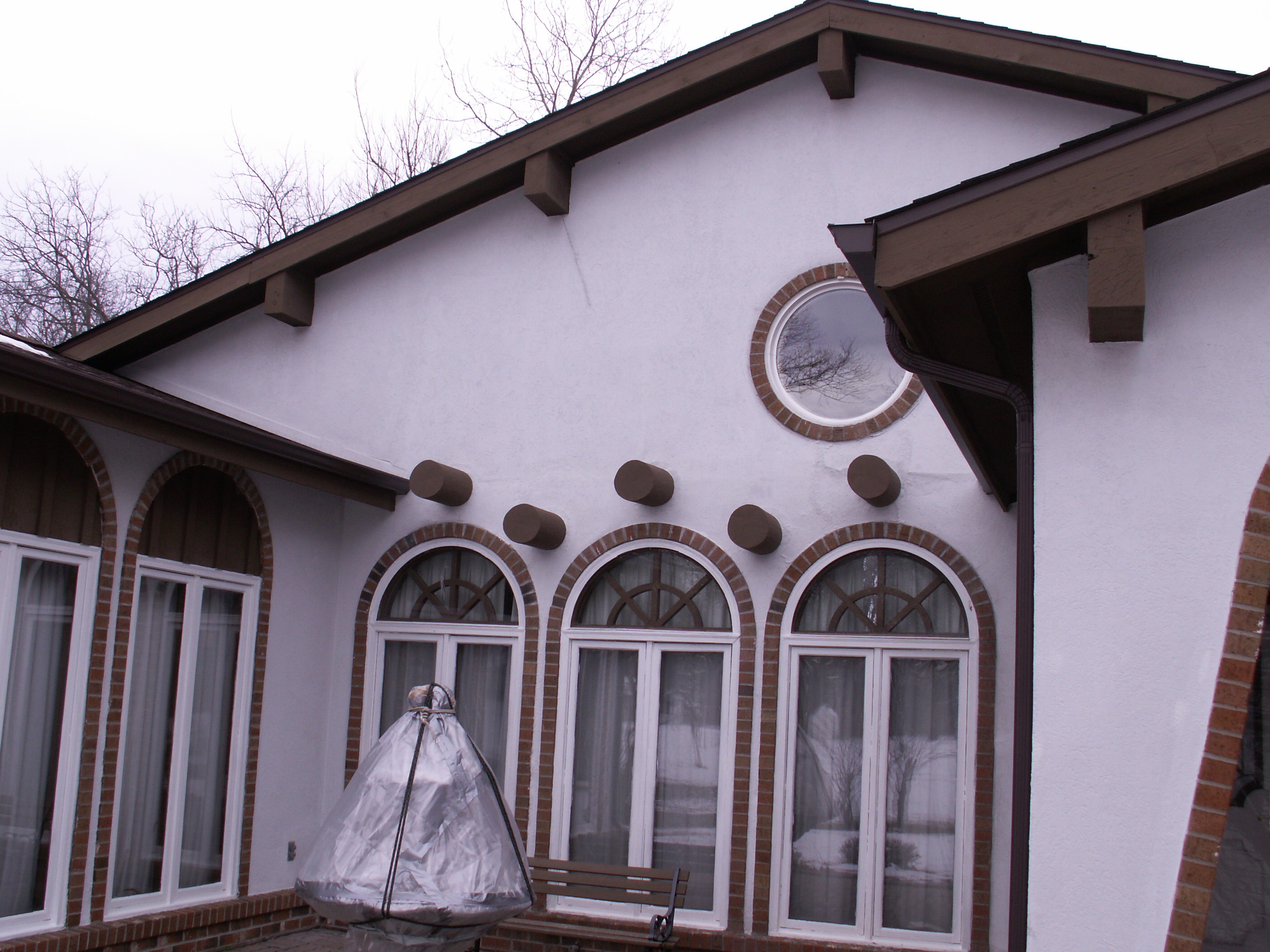 Plus, they're available in a wide variety of colors to match your home's Southwestern exterior.
Install Wood Beams That Last a Lifetime
Exposed wood beams and wood accents are a vital part of Southwestern home design and architecture. Beams offer a rustic, distressed wood charm that is a tell-tale sign of the Southwestern Style.
Install faux wood beams across the ceiling of your front porch for a bold, welcoming entryway. Or, do the same on your back porch to create a natural, Southwestern-style entertaining area.
Since they're built to withstand harsh climates and sunlight, faux beams are ideal for use on the exterior of your home. Unlike real wood beams, faux wood beams will last a lifetime and don't require any regular maintenance.
Stacked Stone Offers Rugged Warmth
Modern Southwest home design makes use of not only natural wood but stone as well. Consider installing stacked stone panels as a retaining wall on your home's exterior or use them to wrap around your front porch columns for a timeless, natural look.
For a desert-like feel, use neutral colored-stack stone around the base of your home or on a portion of your home's exterior walls for an impressive decorative accent. Even your landscaping gets a boost of flair with a stacked stone wall dressing it up.
Installing faux stone to the exterior of your home is as beautiful and natural looking as real stone, but much easier to install. Real stone is heavy and unwieldy without the help of a contractor. Faux stone, on the other hand, is lightweight, durable, and easy to install on your own.
Benefits of Using Faux Exterior Products to Complete Your Southwest-Style Home
There are several advantages to using faux wood and stone products to finish off your Southwestern Style home exterior:
Using faux exterior products, you can create the Southwest Style look, regardless of where you live!
Faux wood and stone products are lightweight and easy to install yourself, with the use of basic tools and materials.
Because you can install faux exterior products yourself, you'll save more money on your project since you won't need to hire someone to do the job.
Faux wood products, like beams, corbels, and viga tails are molded from real wood and so have the same look and feel.
Faux stone products, like stacked stone panels, are also cast from real stone to ensure a natural texture and look.
All faux exterior products are made to resist intense UV rays, pests, and dry rot and are available in a wide array of colors and sizes, including natural earth tones that suit the Southwestern style.
Faux viga tails are available in custom sizes and finishes.
Learn more about our products to complete your Southwest Style Home!