If you've ever driven past a home that had decorative outlookers installed under its roofline or its overhanging eaves, no doubt you were impressed by the beauty of the house, but maybe didn't have enough time to figure out why as you rode by.
Eye-Catching Gable Roof Design
A house like the one pictured below may be one with the kind of gable roof design you've once briefly admired. Could it have been the paint color, the porch columns, the landscaping, or maybe the fence?
Most likely, it was all of those things combined.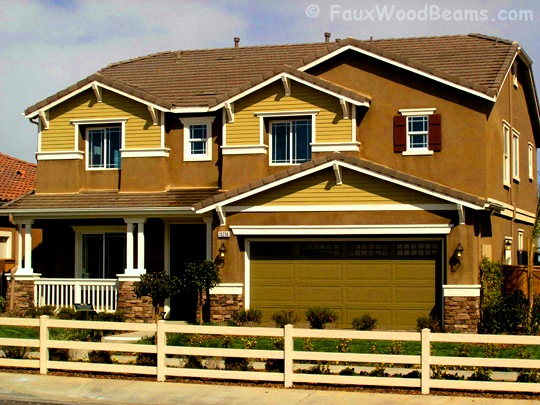 If you look closely for a few seconds, you'll see that the house has decorative brackets under the eaves. These brackets are also known as outlookers, or outriggers. Although not meant to be structural eave supports, these outlookers are a perfect way for pulling everything in the home's exterior design together.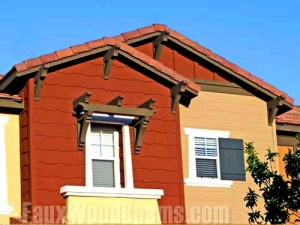 Providing a cozy, but majestic appearance, faux wood outlookers make a home stand out from the rest. In the process, curb appeal is magnified. A fantastic addition to any home or building, they can be installed not just to accentuate eaves, but for the enhancement of beams, arches and balconies. The beauty and distinction they give a home is unmistakable.
Offered in a wide variety of sizes, finding the right combination for custom exterior designs is an easy thing to do. Available in Rough Sawn texture, these outlookers are offered in two colors; Unfinished and Walnut. The unfinished color comes in a primer tan coat, and can be stained or painted to match your design or preference.
Our customer, Frank G., from San Rafael, CA sent us the picture he took of the outlookers and beams he painted white and installed over his garage door, along with the comment below:
Hi,
Just a note of thanks for a great product! We are still getting raves from the neighbors on the Chamfered Outlookers we installed over our garage as a custom-looking arbor. Your product was a snap to install, and of perfect quality. And, they really do look like real wood — without the weight! That was a real plus when handling these nine feet above the ground. When our contractor painted our house after the installation, he couldn't believe they weren't really wood! From ordering, delivery, to installation, your company was great to work with!
To see how you can use decorative outlookers to perk up the appearance of your home's exterior design, take a look at our Outlookers Design Ideas.