Over on our Facebook page, we just shared a link to our Great Rooms Gallery - a collection of truly inspiring room designs that showcase the possibilities of our faux wood products. If you haven't checked it out yet, here are some highlights.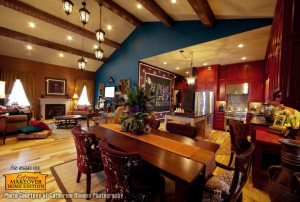 Faux Wood Beams! As seen on Extreme Makeover: Home Edition!
Great Beams and Great Rooms
The season finale of ABC's Hit TV show Extreme Makeover: Home Edition saw Ty Pennington at the EMHE team travel to America's heartland, in tornado-ravished Joplin, Missouri. The picture above comes from one of the homes they built especially for families who'd lost everything in the tragedy - and we were proud to donate the beams used to complete the design.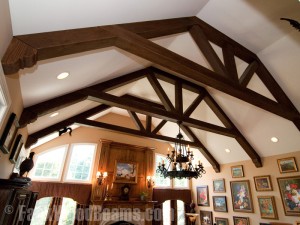 Trusses are one of the most imaginative uses of our faux wood products
There are many reasons why our faux wood products are "better than the real thing" - but the fact that they are versatile and lightweight enough to create stunning truss designs out of remains one of our favorite. A real wooden truss can weigh too much for your ceiling and could require additional structural supports. With our faux wood beams, you can create complex and stunning ceiling designs with nothing more than general carpentry skills and regular tools.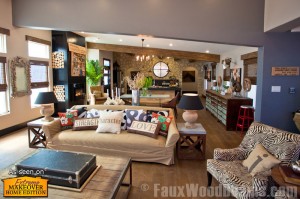 Rare wood? Find a better way by "going faux."
Another shot from an episode of Extreme Makeover: Home Edition, this picture demonstrates one of the other uniquely versatile aspects of our faux wood products. In this project, the EMHE build team wanted some subtle wood accents - and settled on the look of rare and endangered Pecky Cyprus wood.
Because the wood is expensive and non-sustainable, we were able to donate our Pecky Cyprus faux wood beams which are molded directly from the real wood itself. Formed from tough and durable high density polyurethane foam, these faux wood products are indistinguishable from real Pecky Cyprus once installed but come with none of the ethical or environmental concerns.
Check out more awesome faux wood photos in our Great Rooms Gallery - and let us know which ones inspired you!