Most home fences have a function, whether they demarcate property lines, provide privacy or keep children, pets or animals safe from harm. But there's no reason why style has to be sacrificed for function. Faux stone fence columns and posts can add the charming look of real professionally-laid masonry to your fence without wiping out your bank account or valuable time. The columns shown below are made from medium density p
olyethylene 
(MDPE) which is both lightweight and highly resistant to extreme temperatures, sun exposure, moisture and other harsh elements. Molded in one piece, they can easily be installed in one day following our simple step-by-step instructions and a few basic tools. Some of the columns are stackable to reach taller heights, while others can be buried for shorter applications. Ashford Ledgestone columns in Brown with optional column caps provide a bold touch to this large privacy fence:
Ashford River Rock posts
 give a little added charm to this home's picket fence and driveway gate: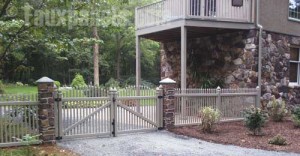 Our stone fence columns are beautiful! The shapes and colorations of the stones look and feel like the real thing. No one knows they didn't cost tens of thousands of dollars to build and install and we have privacy and elegance. Thank you!
-
Eric Greenwich, CT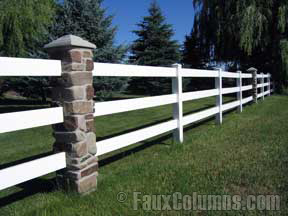 Ashford River Rock posts in Calico beautifully accent this property's split rail fence: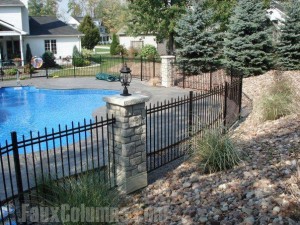 Carlton Ledgestone pillars placed in intervals around a wrought iron pool fence blend perfectly with the surrounding landscape.
To see more examples of faux columns used on fences and many other applications, visit our Pinterest boards.