Forming a ground-breaking partnership with Gibson Guitars in 2011, FOX5 had a vision of creating an exclusive performance space for the musicians and recording artists who regularly stop by their KVVU-TV studio in Las Vegas when passing through the city. They believed that the artists who visited them deserved a place where they could be comfortable and enjoy playing in.
New Gibson Guitar Showroom for FOX5 Studios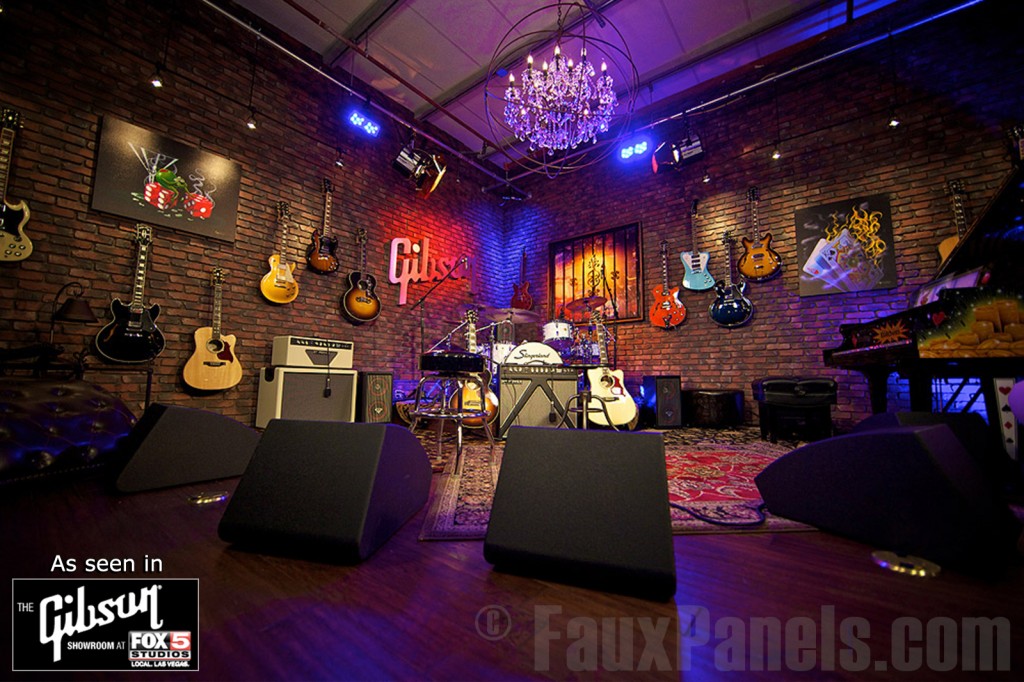 Fox5's KVVU-TV studio loft transformed into a beautiful performance space with Old Chicago brick veneer panels
After looking at the spare room in the loft on the 2nd floor of their KVVU studio, the project quickly turned into something that had never been done before. It would be Gibson's first showroom inside of a television station.
It was fantastic news for us here at FauxPanels.com when we learned that FOX5 chose our Old Chicago brick veneer panels to make their vision a reality. The result was a state-of-the-art performance space that musicians love performing in.
Previously bare and unused, the 600-square-foot room now resembles an old Chicago speakeasy or a classic New York coffee house. According to FOX5 Las Vegas, the performance space has created a lot of buzz in the broadcast and music industry. In the debut of the Gibson showroom on television, Sean McAllister of KVVU-TV says of the room, "Just standing in this space, you know that it's something special."
Old Chicago Antique brick veneer panels provide a stunning backdrop to showcase these Gibson guitars
In addition to being a premier performance space, the showroom also houses a collection of Gibson's most illustrious guitars, along with a grand Baldwin piano first played in the showroom by founding member of The Smithereens, Pat DiNizio. It's easy to see how the room's transformation made possible by faux panels made all the difference for the station, Gibson Guitars, and the musicians who visit.
Among the artists who've played in the Fox5 Gibson Showroom are:
pop singer, Jon Secada
R&B musician, Ashanti
rock band, Daughtry
famed R&B group, The Jacksons
rap star, Flo Rida
a cappella group, Straight No Chaser
American Idol star, Taylor Hicks
actor and singer, Ben Vereen
John McEuen of the Nitty Gritty Dirt Band
wife of Carlos Santana, Cindy Blackman Santana; and many others.
Videos available for viewing on FOX5 Las Vegas's Gibson Showroom web page showcase the performances of these artists. Watching them, it's easy to tell how much they enjoy playing in the room. And there's no doubt in our minds that our panels play a key role in that very enjoyment these musicians experience when playing in this room.
What's more, the station managers were just as impressed by how quickly our faux brick panels turned the room in their loft space into what it is today. With the ability to offer them everything at our materials cost, we were also able to ship our products to them in under two weeks, as opposed to the standard two weeks.
"I loved working with your product designing this room," writes Terri Peck, Director of Marketing & Entertainment Programming at KVVU FOX5.
"It was such an easy way to transform our 2nd floor loft in our studio into something extraordinary," she says.
"It's made for a beautiful set here at FOX5 in Las Vegas and our celebrity artists are blown away by what they see. Thanks for all of your help and great customer service!"