Today we're featuring a garage exterior remodel sent it by customer Jim from Carson City, NV. He used our panels and window/door trim to give his garage an amazing new look.
One of the benefits of our faux stone, brick and wood panels is that they're infinitely more versatile than the 'real thing' - and you can do things with them that you simply wouldn't be able to using natural materials. Typically, the only limit is your imagination. One of the most exciting things we see is when different customers tackle similar design challenges - and end up with completely different, but equally-awesome results.
Remodel complete
Jim's project is one such example. Jim wanted to finish the exterior of his garage in faux stone and chose Colorado Dry Stack panels in Earth color. On paper you'd think his design would be similar to many other exterior panel projects we've featured here in the past.
But Jim and his wife Kathleen took a slightly different route. In lieu of cutting the panels to fit flush with the doors, walls and edges of their garage - a technique which looks great, we might add - Jim took it a step further by cutting all the panels short, and using the matching Window/Door trim to create a beautiful stone style border.
You can see how it turned out from the photo - the garage doors and vinyl roof siding are all surrounded by a neat border which fits flush with the edge of the panels. At a glance it looks like an enterprising craftsman hand-laid stones around the edges and built the stacked stone wall in-between; the intricate and detailed sort of artistry that makes stone such a dramatic material to work with.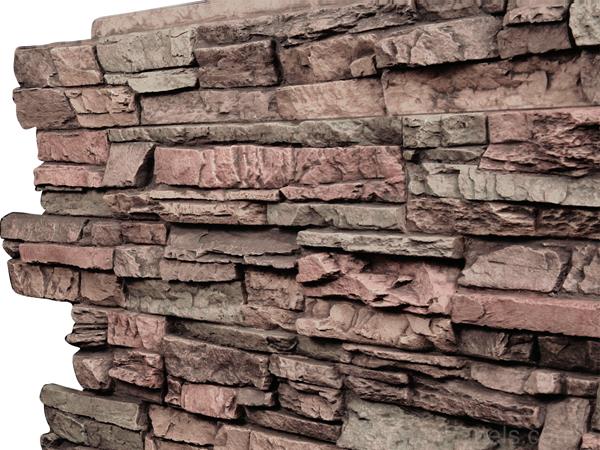 Regency Stacked Stone panels in Earth color are incredibly realistic.
Of course, to create a real stone exterior like that would be prohibitively expensive and wildly impractical - especially on a modern home like Jim's. But thanks to the vivid three-dimensional texture of our panels - molded from real stacked stone walls - it's almost impossible to tell the difference from the real thing.
And the window/door trim just makes the whole project look more realistic. It's the sort of detail many people wouldn't think, but it looks fantastic. We're definitely going to share this blog post with future customers looking to take their panel installations to the next level.
But what do you think? Let us know in the comments section below.