What We Offer for Front Porch Wood Beams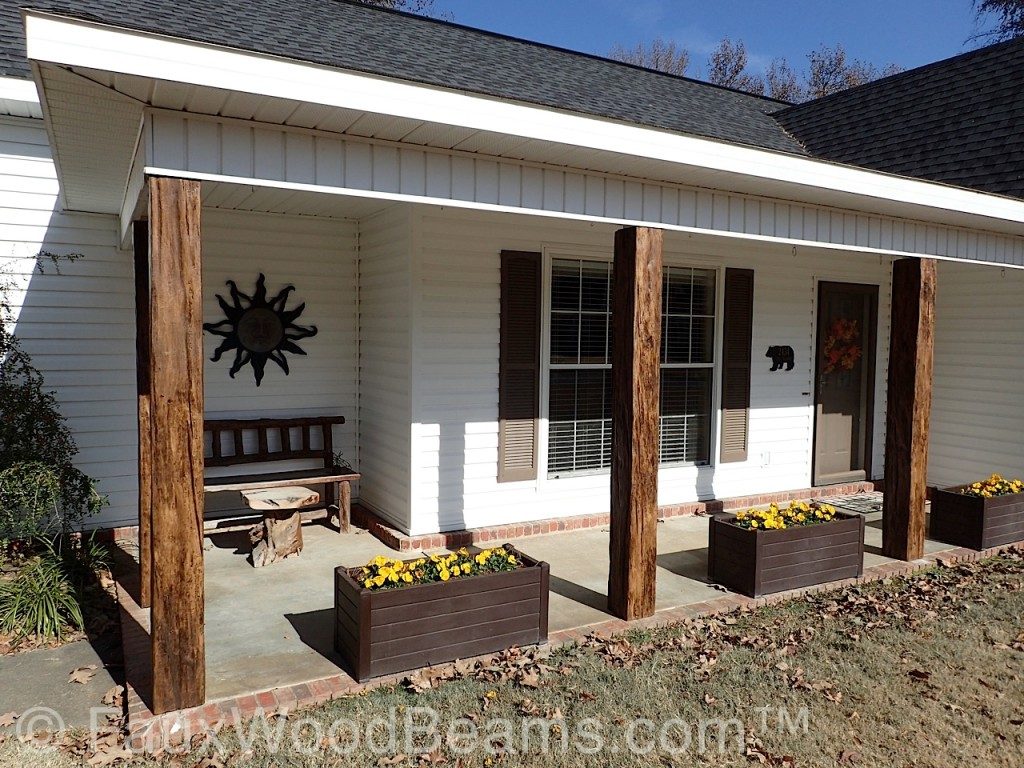 Barry's porch looks fantastic, now he's using our Timber Beams as faux wood columns.
When family and friends visit your home, you want them to feel like you're giving them a warm welcome. And that includes the way your home greets them when they pull into the driveway. If you have a porch, adding front porch beams or upgrading your existing beams can make your home look more inviting.
If you're considering changing the look of your porch beams, you don't have to spend a fortune hiring a contractor or dropping serious dough on real wood beams. Our faux wood beams are easy to work with and can create immediate curb appeal for your home.
If you're ready to take on a new DIY project and find inspiration from other projects completed by customers, read on.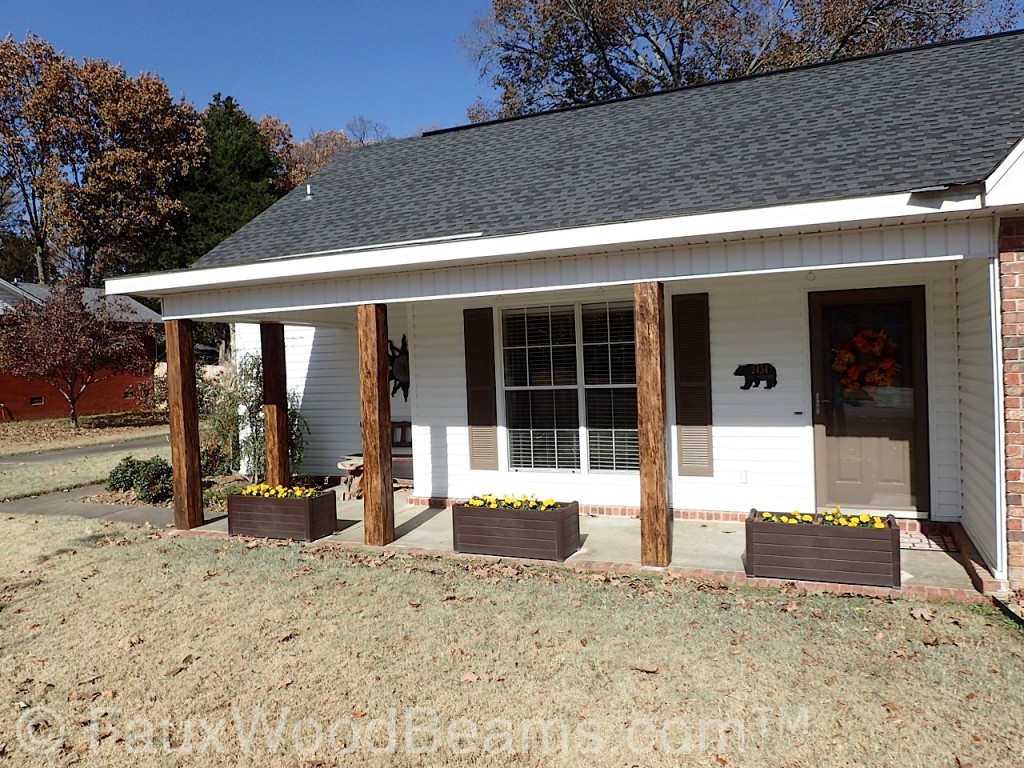 Faux Wood Beams customer Barry from Russellville, AR, was thrilled with his Custom Timber front porch beams.
All About Our Custom Timber Front Porch Beams
As carriers of Custom Timber Support Beams, we give customers thousands of size options. No matter what the measurements of your design project, or the style you're looking to achieve, there's a front porch beam in our online store that will suit your needs.
These beams are crafted from molds made of actual timber beams, and feature all the distinctive marks and grooves found on genuine wood beams. While they look like the real thing, they're even better. You can make your home look incredible without the inconvenience of real wood beams.
Unlike a beam made of real wood, faux timber won't ever rot, warp or crack. Termites and other insects will leave them alone, too. These benefits will save you money, time, energy and a huge headache both in the short and long term. Because faux beams are not made of real wood, you don't need to worry about repairs and they require little to no maintenance — typically just a UV coating or stabilizer depending on where you live.
Our front porch beams are made of high-density polyurethane, which means they're durable enough to withstand the wear and tear of time and weather. That makes them perfect for use outdoors, especially in areas where heavy snow, rain and wind can wreak havoc on a home.
Installing Our Front Porch Beams
Before placing your order for faux wood posts, order our product samples so you can decide between the many gorgeous finishes available in our Timber line for your project. You can see which one will better match the existing aesthetic of your porch and make the most sense for your upgrade. You also can choose between custom cut or regular faux wood posts that you cut to size yourself.
Installing our front porch beams is easy. Any DIY novice, with the help of a family member or friend, can complete this exterior project over a weekend.
When our front porch beams arrive, you can log onto our website and check out our installation guides. You'll have the opportunity to learn from both written and video instructions. When following these simple instructions, always put safety first. That includes making sure your power tools, such as your drill, are fully charged so you aren't stepping over wires and risking a fall.
Always inspect your wood saw thoroughly before using it, and putting on a safety mask and goggles when you're ready to start cutting. (Also, don't ever try and test your wood saw's sharpness with your hands. Use an object instead.)
In addition to a wood saw and a drill, you'll need glue, measuring tape and screws. Depending on the type of timber beams you order, you may need additional materials.
Note: If your project involves covering existing porch posts, we recommend that you order our four-sided beams. The fourth side is removable, allowing you to slide the three-sided beam over the post and then fit in the fourth side so that it looks like one solid piece.
Are you ready to start your front porch beams redesign, but need something custom-made? Check out our Custom Timber Support Beams to find the product that's just right for your project.
If at any point you get stuck or have any questions about installing our front porch beams, we are here to answer your questions. Just call us at 1 (800) 651-4223. We are open from 9 a.m. to 5 p.m. EST, Monday through Friday.
Testimonials from Happy Customers
We think our faux wood beams are an excellent solution, but don't just take our word for it. Reach what some of our happy Faux Wood Beams customers have to say:
"Thank you for your wonderful product. We couldn't wait to show you the finished product." - Alissa, Huntsville, AL
"Wow. When my first order of beams arrived I was amazed at how easy they were to put up. I knew they'd be light and much less work than real wood, but I was amazed at how fast my customer's place, an old Victorian, became the bed and breakfast he wanted. No sanding, sealing, heavy lifting or waiting. We used your stuff throughout the entire place. My customer thinks I am a rock star!" - Jerry, Cape May, NJ