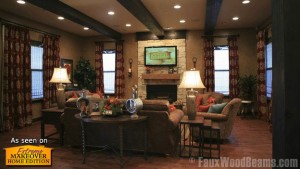 Extreme Makeover living room
Over many years now, our products have been regularly featured on home design TV shows, like Extreme Makeover: Home Edition, American Dream Builders and Brothers on Call. It's not just the quality and affordability that makes our products a favorite among TV professionals. Working to tight deadlines, our speed-of-delivery is also important.
But did you know we also offer that same speed to regular customers?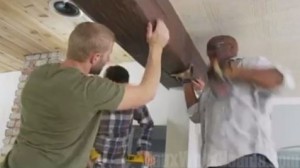 Our Quick Ship range of products are the same top-quality replica wood beams we offer across the rest of our site, but are part of a popular range specifically selected so we can ship them out within 5-7 business days.
For those working under tight deadlines - like people flipping a house - that means they don't need to wait around the get the amazing-looking wood style features they need to complete their projects.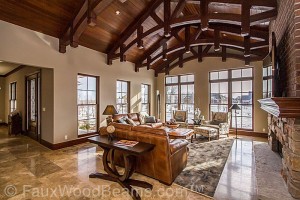 Rough Hewn beams form a beautiful truss in a formal sitting room
To check out what products are available as part of out Quick Ship range, check out that page on our website. For the most part they're available in the same sizes and lengths as our regular beams, and occasionally at a deep discount.
There are some additional considerations to bear in mind. For example, our Quick Ship Timber Beams are different from our Custom Timber Beams, and you shouldn't try to mix and match them, because they won't necessarily work ideally together.
But for the most part, this range of products delivers the look and savings that characterize our products - and just adds an additional benefit with the reduced shipping time.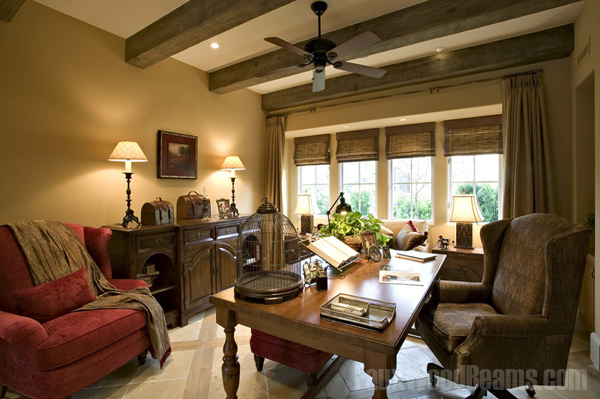 Timber beams add stunning character to this cozy living room
If you've already used Quick Ship beams, we'd love to hear the circumstances. We get dozens of photos of completed projects, and love them all, but sometimes it's nice to hear the story behind them as well - and learn why speed-of-delivery made all the difference. Email them to us at info@fauxwoodbeams.com.