Check out this great picture, sent to us by a Barron Designs customer! We always love getting sent customer photos of our faux stone panels "in action" - and this is a great example!
Fireplace Wall Gets a Classic New England Style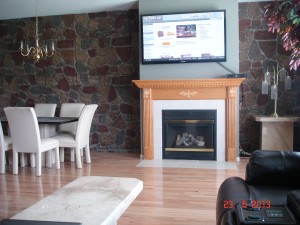 One of the most popular uses of our faux stone panels is in fireplace surrounds.
After all, they have the stunning, vividly-realistic texture of real stone or brick, but are a fraction of the price and infinitely easier to install than using the authentic materials (for added piece of mind, many of our faux panels are also available fire-rated.)
With this project, though, our customers have taken the opposite route.
They've left their fireplace framed by classic wood and matte grey walling, and instead decorated the entire rest of the wall in our Carlton Fieldstone faux stone panels.
It's a great choice - making it look like the entire wall is constructed from a unique mosaic of rocks and boulders plucked from a freshly-furloughed field. It's timeless, classic and contrasts beautifully with the sleek lines of the existing fireplace.
Bringing a project like this to life couldn't be easier: Our faux stone panels attach directly to a wall or drywall using regular construction adhesive, and screws at the edges. You start at the bottom and connect the panels to each other like pieces of a giant jigsaw. When one row is completed, you simply start the one above.
A trick that this customer has used very effectively is to offset each subsequent row. This avoids any repetitive patterns in the panels from being noticeable; in keeping with the randomness of real field stone walling. It's an easy thing to do - just measure out an offset from the first panel in each subsequent row (either cut off the first 15 or 20 inches, or cut the panel in half) and then slot the next panel into place just as you did the row beneath in.
The benefit of our faux stone panels is that they're made from tough and durable polyurethane foam; which means cutting these panels to size, and creating the offset effect, takes nothing more than a regular wood saw (and careful measurement.)
Ultimately, that means creating a stunning wall project like this one requires just standard carpentry equipment, and some basic do-it-yourself experience. Given the stunning effect the finished project has, that's a lot of payoff for not much investment; which continues to be one of the leading reasons why our faux stone panels remain so popular.