They say everything's bigger in Texas - but this gorgeous little mantel installed in a fireplace alcove proves that size isn't everything!
When one Barron Designs customer heard that their friend was moving to a large, new house in Texas, they wondered what to get them as a housewarming gift. It's difficult to pick something meaningful that a new homeowner will be comfortable displaying in their house; but it's always gratifying to see the gift you bought right up there for the world to see.
In the case of this customer, they spotted the perfect opportunity in the living room of this gorgeous Texas home.
With towering ceilings and a solid wood floor, the room was dominated by a gorgeous marble fireplace. Yet there was something missing from it - the way the pale marble blended into the white walls.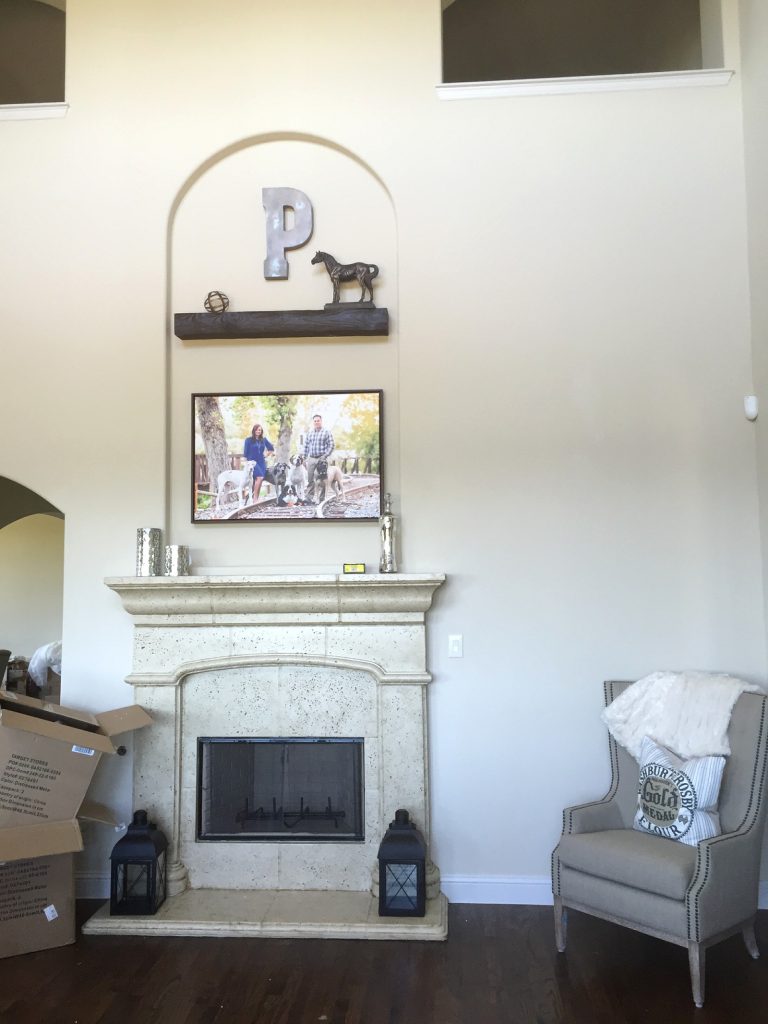 The mantel is a subtle, but stylish addition to the alcove above the fireplace.
For our customer, that was the opportunity - and they purchased a small faux wood mantel to go in the alcove above the fireplace. It's so discreet you might not have even noticed it the first time you looked at the AFTER picture; but you probably got the 'feel' of the fireplace just looking more 'right' from it being there.
Here in this blog, we've often talked about how 'less is more' when it comes to certain applications of our products. Well, this is like the crystallization of that philosophy. The mantel is a small change that makes a HUGE difference to the look of the fireplace.
You can see that without the mantel, the fireplace looks large and sparse.
And going 'faux' in this application with a Custom Beachwood Mantel was the perfect idea. For a mantel that size, you could have easily taken a real timber beam and used it - but that would have been expensive to purchase, and a lot more difficult to install. Even a small real wood beam weighs a lot; whereas this mantel was easy to secure with mounting blocks and screws. Even better, it can still be used as an actual shelf for lightweight items and trinkets.
It's a super-subtle use of our product, but one we like a lot and are happy to share with you here. What do you think about it? Let us know in the comments section below.