When FauxWoodBeams.com customer Lesley wanted to add some character to her finished basement, our Windswept beams fit the bill.
Lesley recently emailed us pictures of her completed basement remodeling project - and we couldn't wait to share them with you:
\"Last February, we purchased several beams for a basement/man cave renovation," she writes, in the email accompanying the pictures, "and we have finally finished the project. I wanted to share some pictures with you."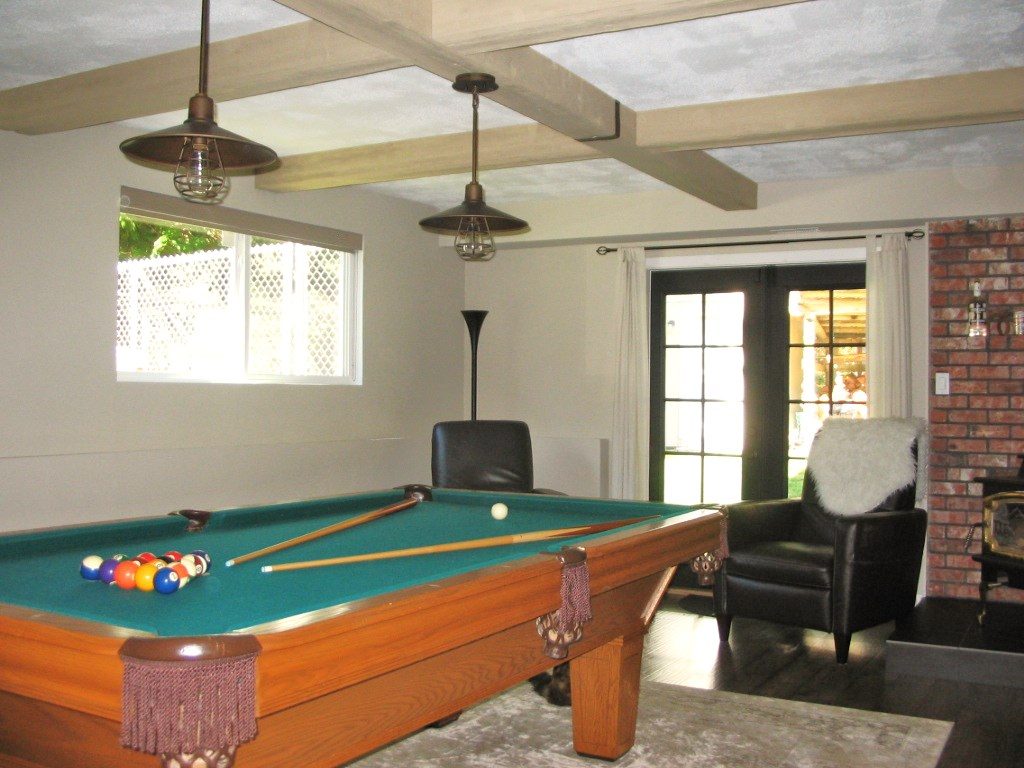 The light color of the beams keeps the basement from looking too dark.
Lesley's home has an above-ground basement; a fairly common configuration that presents a number of design challenges for homeowners. Although the basement has windows and lets in light, it's difficult to really make it feel like part of the home without some canny design details.
And that's where our beams came in. Lesley installed them on the ceiling in a configuration that resembled authentic exposed beams, making the basement feel like an intrinsic part of the home structure, and rich with character.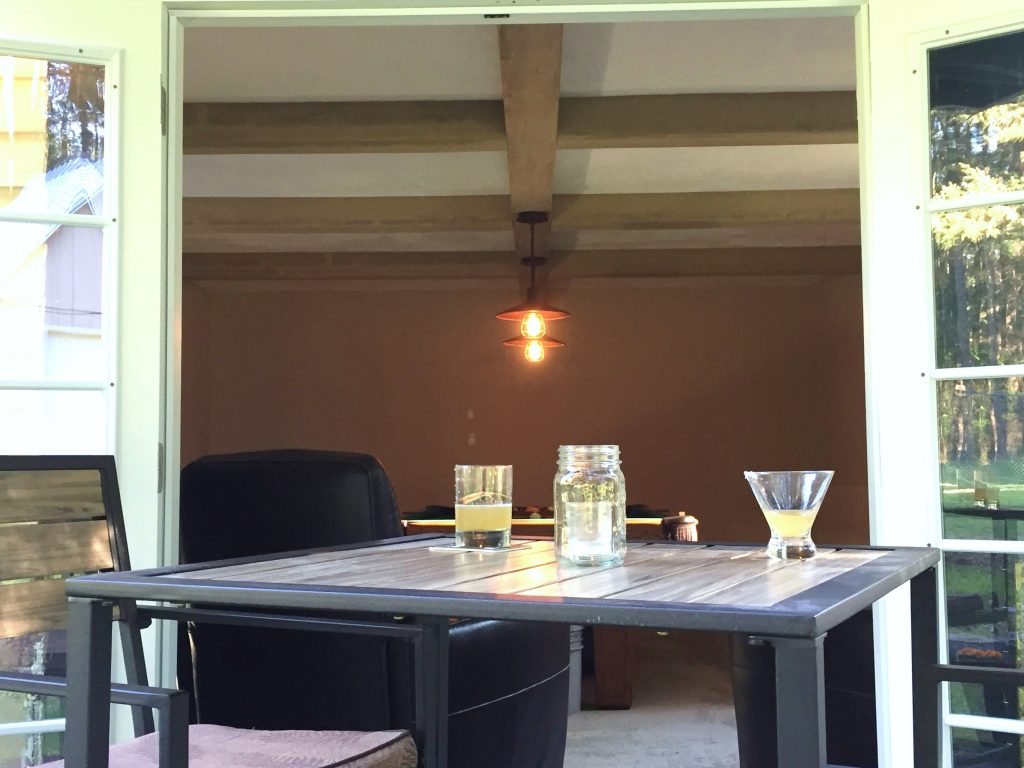 The beams are assembled like a real timber supporting roof, and feature integrated lighting.
At first glance, Lesley's installation seems fairly straightforward. She purchased the Windswept beams and installed them on the ceiling with mounting blocks. The blocks are screwed into the studs beneath the drywall, and the hollow u-shaped beams then slot over the blocks and are secured in place with regular wood screws.
But in this instance, there are more than a few additional design tweaks.
For a start, Lesley studied the design of real timber beams and mirrored the configuration to resemble real, load-supporting construction. To achieve this, she ran a central beam and placed cross-members extending out in parallel. Fortunately, our polyurethane beams are easy to cut to size with regular woodworking tools, so all it took to achieve this look was some accurate measurements.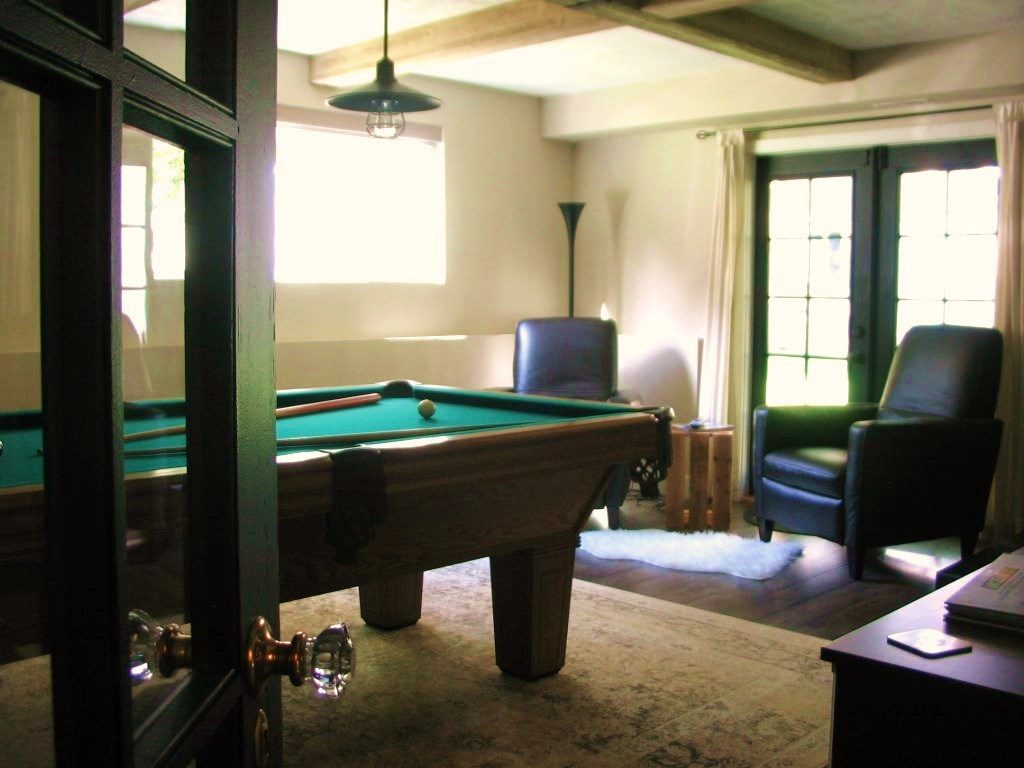 Lesley ordered them unfinished, and stained them herself - for a unique finish.
One challenge was that the central beam wasn't long enough to extend fully across the room. Even after doubling up the beams, Lesley faced an unsightly seam where the two ends of the beam joined.
To solve that issue, she used one of our decorative beam straps. Once installed, they impressively resemble the old cast iron beam straps that were used in the past to support heavy timbers. They also added another element of authenticity, covering up the seam to create the illusion of a single beam spanning the entire ceiling.
Lesley's next clever trick was to run the wires for her suspended lights through the beams.
This is one of those details that reinforces how 'going faux' is actually better than using solid wood. Beneath the central beam were the wires for the basement lights. Using mounting blocks to support them, Lesley installed some suspended lights - to hang over a pool table - through the hollow center of the beam; hiding all the wiring for the lights, but letting their light shine through. It looks great, and is the sort of thing you can only achieve with beams like ours.
Impressed yet? Well, there's one final detail that is worth mentioning. Our beams are available in a wide variety of finishes, each resembling real wood like cherry, oak and walnut. In Lesley's case, she actually ordered the beams unfinished and stained them herself; for a realistic light wood finish that matches the other wooden fixtures in the basement.
In short, while the process was fairly straightforward, a lot of thought and clever carpentry went into this project; and that's why it came together so nicely.
"The beams turned out amazing," Lesley herself writes, "and they are definitely now a focal point for this room."